Lady Gaga Does David Bowie, Very Fast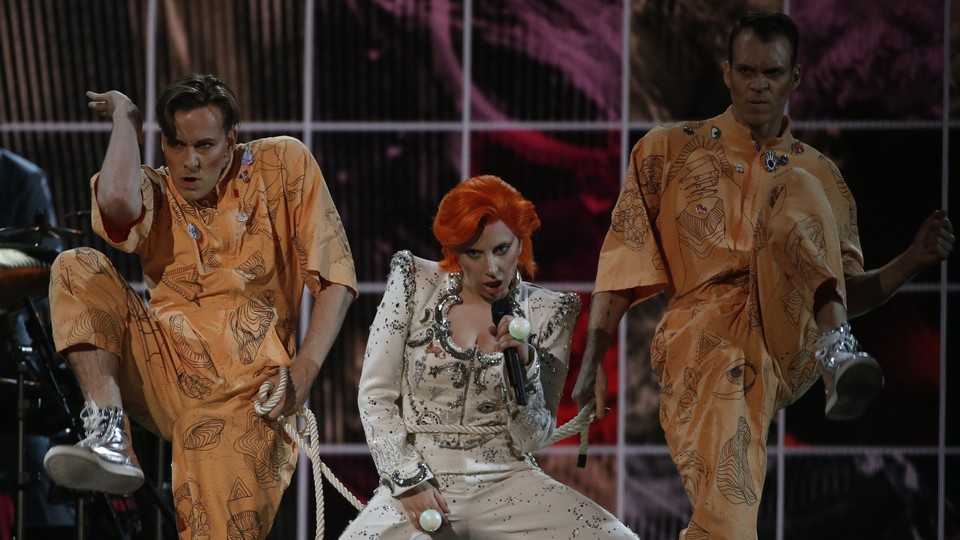 Editor's Note:
This article previously appeared in a different format as part of The Atlantic's Notes section, retired in 2021.
David Bowie's music contained ache, hope, mystery, memories, foresight, experimentation, tradition, and so many other things. Lady Gaga's version of David Bowie's music, as seen in a frenetic medley at the Grammys, contained only energy and a gappy grin.
It opened with various bits of Bowie iconography—the Aladdin Sane thunderbolt, the third eye, a spider—projected onto Gaga's face (thanks to technology by Intel, as laughingly self-important ads before and after the performance told viewers). Working at an unforgiving pace, mugging and twirling and hip-shimmying, she and her band then ran through snippets of  "Space Oddity," "Changes," "Ziggy Stardust," "Suffragette City," "Rebel Rebel," "Fashion," "Fame," "Under Pressure," "Let's Dance," and "Heroes."
It was Bowie as a series of fragmented pop hooks and dance moves, right on the line of camp—and very, very fun to watch. If the treatment felt vaguely sacrilegious, it also seemed difficult to think of a possible Bowie tribute performance at the Grammys that wouldn't. Gaga's commitment certainly couldn't be doubted, even without factoring in the Bowie tattoo.