Kendrick Lamar Saves the Grammys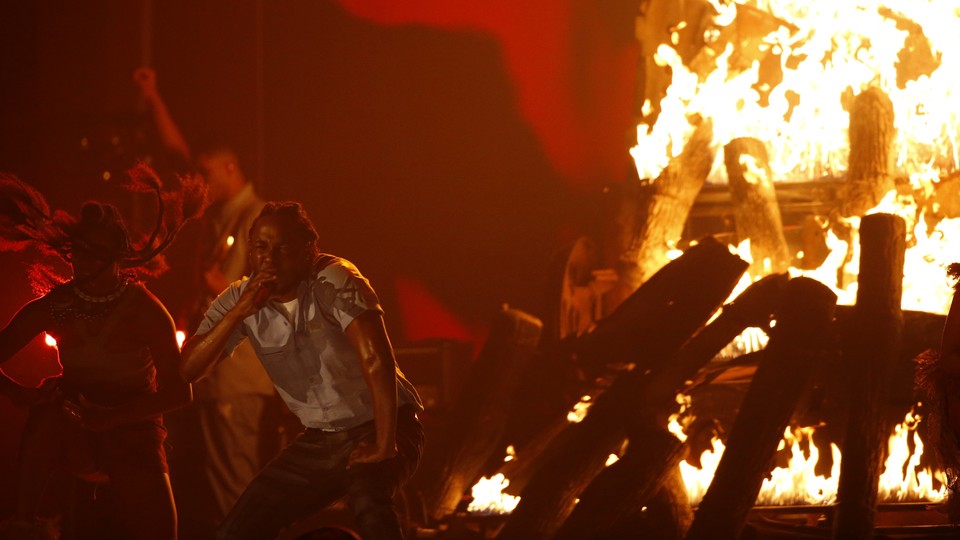 Editor's Note:
This article previously appeared in a different format as part of The Atlantic's Notes section, retired in 2021.
Tributes to late artists and respectable crooning from young ones were pretty much all the Grammys offered until Kendrick Lamar arrived to remind the world what music engaged with the present and unafraid of offending can achieve. He showed up as an inmate in a mock prison, and if the racial implication of the image wasn't clear, he performed the first verse of the fiercely political confession "Blacker the Berry," with stop-start instrumentation that somehow made the song even more intense than the version on his album.
The performance morphed into what looked like a tribal ceremony with an eye-searing bonfire, as Lamar broke into "Alright," which is nominated for Song of the Year and has become a rallying song for Black Lives Matter. The set then shifted again as Lamar performed alone in front of the mic; quick camera cuts created a chaotic, hallucinatory effect. When the music ended, behind Lamar was a silhouette of Africa—but inscribed with the word "Compton," the home of Lamar and a birthplace of gangsta rap.
After Beyonce's performance at the Super Bowl a week ago, we can officially say a Black Power moment in mainstream pop has arrived.