'I Shall Always Hold It as a Beacon'
Editor's Note:
This article previously appeared in a different format as part of The Atlantic's Notes section, retired in 2021.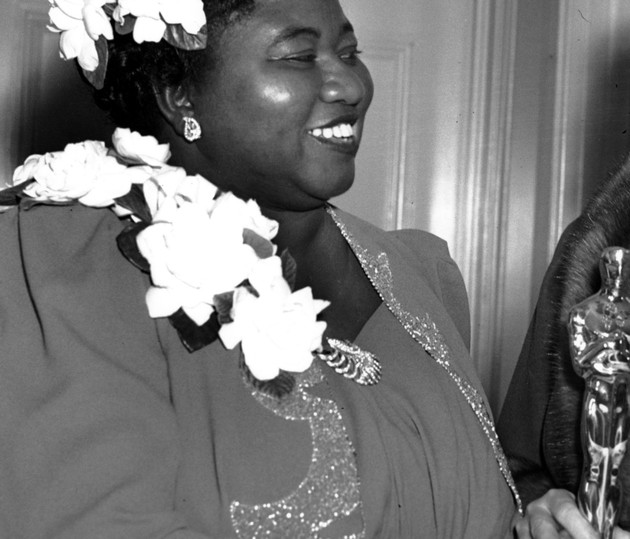 Seventy-six years ago today, on February 29, 1940, Hattie McDaniel became the first African American to win an Oscar, taking home the gold for Best Actress in a Supporting Role for her performance as Mammy in Gone with the Wind.
But not all was perfect in Tinseltown: The film itself was highly controversial. Leonard J. Leff wrote about the racial politics of Gone with the Wind in our 1999 December issue:
Carlton Moss, writing in the Daily Worker, sternly condemned the picture. "Sugar-smeared and blurred by a boresome Hollywood love story," he told readers, Gone With the Wind offered up a motley collection of flat black characters that insulted the black audience. Hattie McDaniel's Mammy was especially loathsome in her love for a family, the O'Haras, "that has helped to keep her people enchained for centuries." The reviewer for the Chicago Defender called GWTW a "weapon of terror against black America."

Black activists responded with actions as well as words.
As Gone With the Wind opened in American cities throughout the early 1940s, organized blacks made signs and walked picket lines in front of box offices. "YOU'D BE SWEET TOO UNDER A WHIP!" read one placard outside a Washington theater. "Gone With the Wind glorifies slavery" and "Negroes were never docile slaves," demonstrators shouted in Chicago. [...]

By February of 1940, as the Academy Awards ceremony neared, even hostile voices in the black press had joined the rooting section for Hattie McDaniel. On Oscar night, wearing an ermine stole over a blue gown, McDaniel arrived at the Ambassador Hotel and, like the other stars, entered to the cheers of movie fans black and white. For her and Selznick International the evening would be as radiant as the Oz of The Wizard of Oz, so magical that nothing could spoil it, not even a small band of demonstrators outside the hotel, protesting against the racism of Gone With the Wind. Inside the Coconut Grove, as McDaniel collected her Oscar, Clark Gable shook her hand and Vivien Leigh kissed her. At the podium, tearfully, she told the audience and newsreel cameras that she hoped to "always be a credit to my race."
Here's the full, tearful acceptance speech: