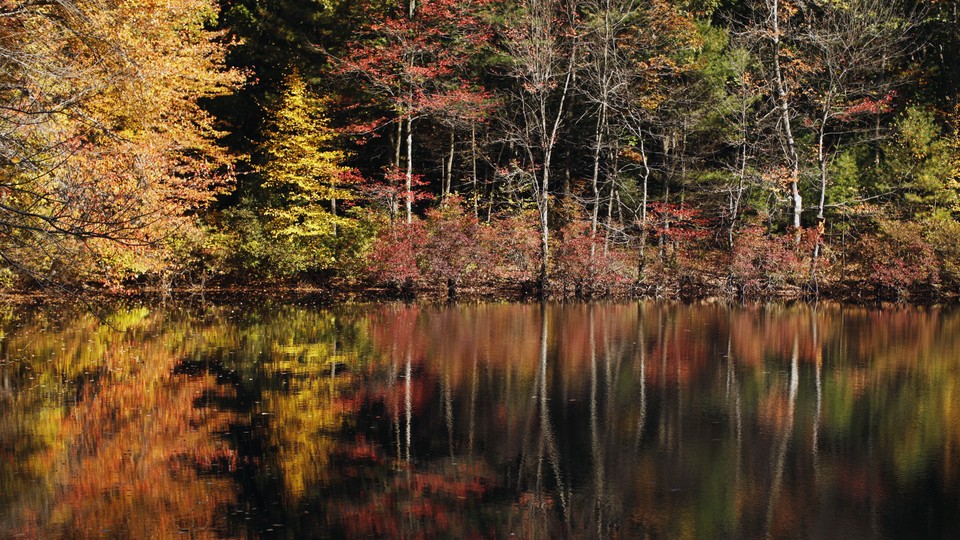 Editor's Note:
This article previously appeared in a different format as part of The Atlantic's Notes section, retired in 2021.
Our magazine has always been something of a meditation on nature: the solitude within it, the divinity of soil, the necessity of the national parks, on apples, on birdsong, on green—all running through The Atlantic's 159 years. Each generation, every century, someone is walking through the woods.
In 1981, Gretel Ehrlich brought to Atlantic readers the solace of open spaces in Wyoming. In 1937, Rachel Carson wrote an essay, "Undersea," that became her first book, Under the Sea-Wind. John Burroughs camped with Teddy Roosevelt in 1906. Over and over again there was John Muir, father of American environmentalism, fathering in August 1897. Wilson Flagg listened to the birds in 1858. Ralph Waldo Emerson, who co-founded The Atlantic in 1857, covered country life and his friend Henry David Thoreau—the O.G. woods-walker, who wrote famously and quite literally on walking.
This month, the magazine features a Will Deresiewicz essay on Annie Dillard, the Pulitzer Prize-winning nature writer:
Dillard declared her arrival, at the age of 28—brash and bold and talented beyond belief—with Pilgrim at Tinker Creek (1974). The book was unabashed about its lineage.
An ardent young American takes to the woods, anchoring herself beside a water. Sojourning for many a season, she distills her experience down to a symbolic single year. "I propose to keep here," she announces at the start of her account, "what Thoreau called 'a meteorological journal of the mind.'" She scrutinizes nature with monastic patience and a microscopic eye. She delivers doctrine with the certainty of revelation and the arrogance (and agedness) of youth. She summons us to wake from dull routine. With flourishes of brass, she proclaims a new dawn.
Last February, also in The Atlantic, Diana Saverin named Dillard "Thoreau of the Suburbs," explaining that when she wrote Pilgrim at Tinker Creek, Dillard didn't think she could make a "Virginia housewife" marketable to a genre dominated by white men, so she edited her suburban life out of the book and replaced it with rural and solitary surroundings. Here's Saverin:
[I]t wasn't long before my copy of Pilgrim was nearly as tattered and broken as my Walden. When I found out about her Yale archive, I dove in without looking for anything in particular—maybe a few more lyrical passages and some answers to nosy questions, like what her parents had thought when she'd married her professor as a 20-year-old, why she'd divorced that husband, and how she'd met her new one. What I found, though, was evidence of her deliberate effort to join the ranks of American authors who had ventured alone into the wild.
But today Deresiewicz asks, "Where Have You Gone, Annie Dillard?" In 1973, a year before Pilgrim at Tinker Creek, she was here, in the pages of The Atlantic, walking:
The world has signed a pact with the devil; it had to. It is a covenant to which every thing, even every hydrogen atom, is bound. The terms are clear: if you want to live, you have to die; you cannot have mountains and creeks without space, and space is a beauty married to a blind man. The blind man is Freedom, or Time, and he does not go anywhere without his great dog Death. The world came into being with the signing of the contract. A scientist calls it the Second Law of Thermodynamics. A poet says, "The force that through the green fuse drives the flower/ Drives my green age." This is what we know. The rest is gravy.