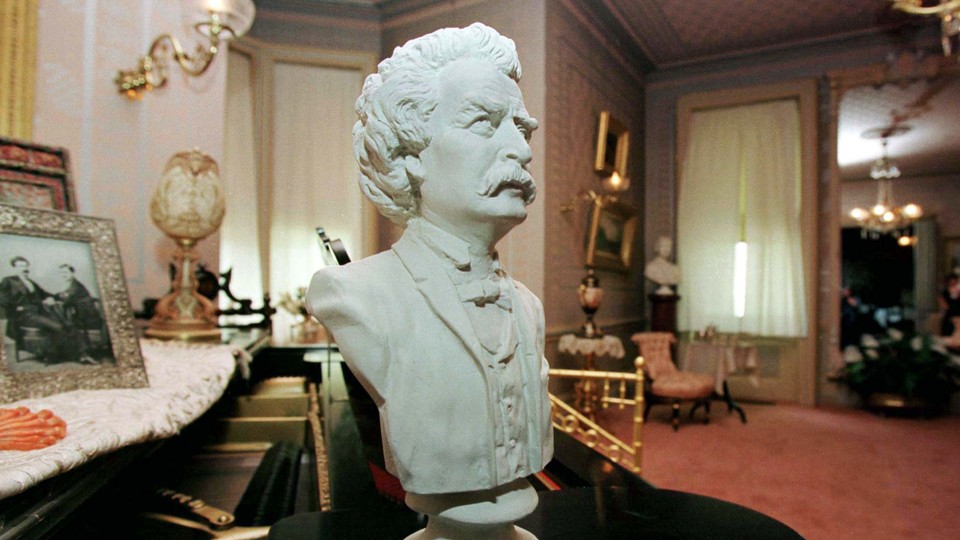 Editor's Note:
This article previously appeared in a different format as part of The Atlantic's Notes section, retired in 2021.
Happy (American) birthday to you, The Adventures of Huckleberry Finn! On this day in 1885, the Mark Twain novel was first published in the United States, having previously been published abroad in Canada and the United Kingdom on December 10, 1884. (The American edition was delayed only because of a last-minute change to an illustration plate, according to The Guardian.) Here's a short blurb about the U.S. release from the April 1885 "Books of the Month" section of The Atlantic:
Mark Twain's new book for young folks, The Adventures of Huckleberry Finn (C. L. Webster & Co.), is in some sense a sequel to The Adventures of Tom Sawyer, though each of the two stories is complete in itself. Huckleberry Finn, Tom Sawyer's old comrade, is not only the hero but the historian of his adventures, and certainly Mr. Clemens himself could not have related them more amusingly. The work is sold only by subscription.
The book—long considered a classic in American literature—has a fraught history of being banned and un-banned. Here's Domenica Ruta for PEN International, the literary and human rights organization:
Wikimedia

Mark Twain's The Adventures of Huckleberry Finn was banned for the first time just one month after its publication. "Not suitable for trash" was the opinion of the Concord, Massachussetts, librarians who banned it in 1885. Nearly 130 years since then, this novel has been challenged, defended, banned, expurgated and bowdlerized numerous times by parents, educators, publishers and librarians. It is currently ranked number 14 on the top 100 Banned/Challenged books in America.
The controversy surrounding Huckleberry Finn's use of a racial slur reignited in 2011, when a college professor at Auburn University revised the book to swap mentions of the word "nigger" for "slave." The New York Times reported:
Throughout the book — 219 times in all — the word "nigger" is replaced by "slave," a substitution that was made by NewSouth Books, a publisher based in Alabama, which plans to release the edition in February.

Alan Gribben, a professor of English at Auburn University at Montgomery, approached the publisher with the idea in July. Mr. Gribben said Tuesday that he had been teaching Mark Twain for decades and always hesitated before reading aloud the common racial epithet, which is used liberally in the book, a reflection of social attitudes in the mid-19th century.

"I found myself right out of graduate school at Berkeley not wanting to pronounce that word when I was teaching either 'Huckleberry Finn' or 'Tom Sawyer,' " he said. "And I don't think I'm alone."
Ta-Nehisi tackled the controversy at the time:
Jamelle [Bouie] writes:

Erasing "nigger" from Huckleberry Finn—or ignoring our failures—doesn't change anything. It doesn't provide racial enlightenment, or justice, and it won't shield anyone from the legacy of slavery and racial discrimination. All it does is feed the American aversion to history and reflection. Which is a shame. If there's anything great about this country, it's in our ability to account for and overcome our mistakes. Peddling whitewashed ignorance diminishes America as much as it does our intellect.

I'm obviously not Mark Twain, but having written a book, I can only imagine how hard Twain worked. I would be incensed if someone went through my book and took out all the "niggers" or "bitches" or "motherfuckers." It's really just a hair short of some stranger, in their preening ignorance, putting their hands on your kid.

To me that's the worst part; surely we are, as Jamelle says, peddling whitewashed ignorance, but much worse we're actually peddling it at Twain's expense. I think the worse part of censoring Twain, is that it's a shocking act of disrespect toward the writer, executed by people who claim to hold up his legacy.

I am remembered to the historian Elizabeth Brown Pryor, who aptly noted that when people whitewash Robert E. Lee, and claim he was anti-slavery, what they are implicitly claiming is that the actual Robert E. Lee—one of the greatest generals of the past two centuries—isn't good enough.

This is actually much worse, because the invocation of nigger by Twain is not a moral failing. But because of our needs, Twain isn't good enough. Because we can't handle the story of who we were, and evidently who we are, Twain must be summoned up from the dead and, all against himself, submitted before the edits of amateurs.This is our system of fast-food education laid bare: Children are roaming the halls singing "Sexy Bitch," while their neo-Confederate parents are plotting to chop the penis off Michelangelo's David, and clamoring for Gatsby and Daisy to be reunited.

Let us all live in a world of warm snugglies. Let the air-conditioning anesthesia sprawl free. May the flowers of happiness multiply out. May Mark Twain's ghost haunt us all.
He still haunts our archives.