Tarantino Falls Into a Rut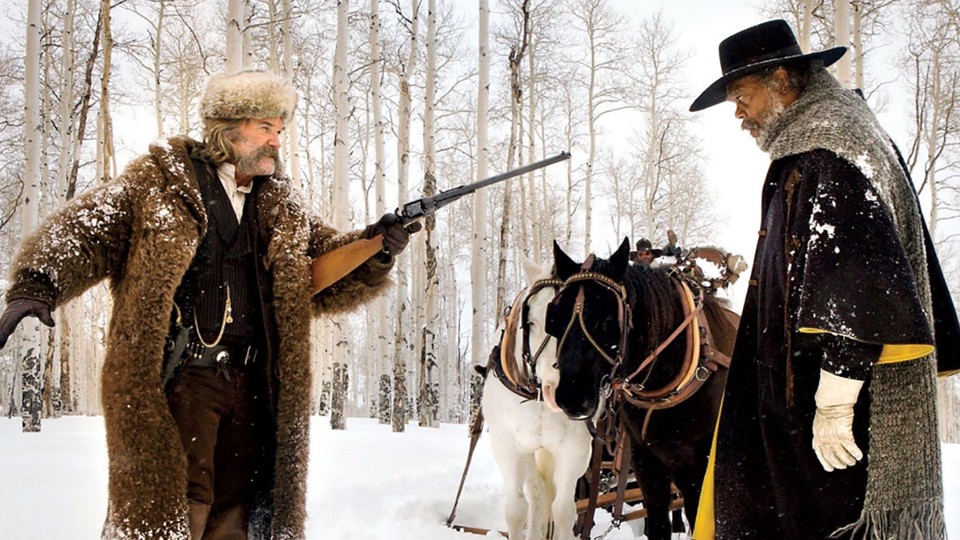 Editor's Note:
This article previously appeared in a different format as part of The Atlantic's Notes section, retired in 2021.
I have a few quick thoughts that I wanted to add to David's excellent review of Quentin Tarantino's The Hateful Eight. First off: yes to the 70mm film and to the special "Roadshow" stagings across the country. It would be nice if other directors had the nerve to take such aesthetic and experiential gambles.
But no, I fear, to pretty much everything else. At a full three hours, this is famously Tarantino's longest film (with the exception of the reattached Kill Bill, which the studio was considerate enough to release theatrically in two portions). It's also his most violent, which is saying quite a bit. And, as David noted, its most memorable scene "indulges all of Tarantino's worst impulses to shock his audience with embarrassingly gross content." (More on this in a subsequent note. Update: It's here.)
But as important as The Hateful Eight's excesses are its paucities. The dialogue is the flattest that Tarantino has yet committed to screen. The plot, insofar as it exists at all, is dull, plodding, and repetitive: In the hands of a less self-serious auteur, it could have been knocked off in a slender 90 minutes or less. And the resolution of the movie's central mystery—the payoff for which we are made to wait so very long—is a shocking letdown, a deus ex machina that would have Agatha Christie spinning in her grave.
Tarantino has fallen into this rut before. Following his razor-sharp (literally) debut in Reservoir Dogs, he lifted his game to remarkable sophomore heights with Pulp Fiction. But when Jackie Brown—his least violent film to date—met with a lukewarm reception, Tarantino was terrifically upset and set out to make, according to Peter Biskind in Vanity Fair, the "anti-Jackie Brown." Hence the Kill Bill movies, which were, like The Hateful Eight, short on plot, heavy on bloodshed, and absurdly indulgent in running time. (I referred to them at the time as "gore for the masses and genre lessons for the film-geek crowd.")
Tarantino righted himself somewhat with the stripped-down wickedness of Death Proof, and then fully with the inventive audacities of Inglourious Basterds. (Despite its flaws, it is still arguably the second-best of all his films.) Django Unchained was a modest step backward from the narrative complexity of Basterds. But The Hateful Eight is something altogether different, a film that exhibits all of Tarantino's worst attributes as a filmmaker and scarcely any of his best. We'll wait to see whether he can pull himself out of the rut again.