Ricky Gervais at the Golden Globes: So Outrageous We Forgot to Laugh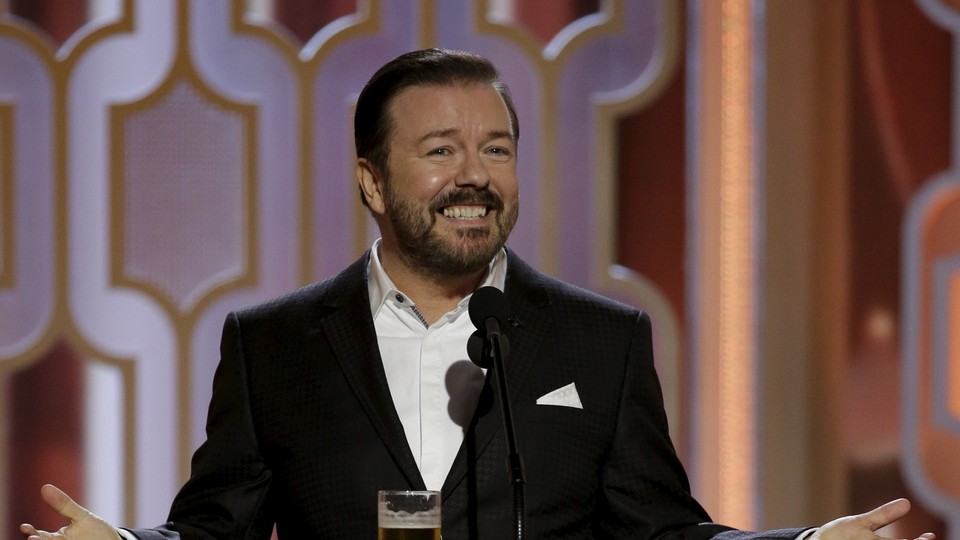 Editor's Note:
This article previously appeared in a different format as part of The Atlantic's Notes section, retired in 2021.
The 2016 Golden Globes kicked off with the return of Ricky Gervais's self-branded "edgy" comedy, which consisted mostly of warmed-over jokes about Caitlyn Jenner and Transparent and very little of the scorching Hollywood satire he promised. His return to the Globes stage comes after three years of Tina Fey and Amy Poehler in the hosting gig, and it's quite the rude awakening after their spectacular run.
Gervais prides himself on telling it like it is, but many of his targets aren't even in the room—so far Spotlight's been the excuse for a joke about Roman Polanski being a child molester, and a requisite reference to Sean Penn's interview with El Chapo preceded five minutes of general rambling about the pointlessness of awards in general.
The best thing to say about Gervais so far is his monologue was pretty short—and that it produced a lot of unimpressed looks from actors in the audience, who the producers kept gleefully cutting to. Jeffrey Tambor's nonplussed gaze said it all, although producer Harvey Weinstein seemed amused when Gervais jokingly called him out for outright buying awards for his clients. Just a few minutes later, Andy Samberg presented Best Actress in a TV Comedy, did a one-minute riff predicting some wild events to come, and made a solid case for why he should take the gig from Gervais next year.