The Ever-Widening Scope of Comic-Book Characters
Editor's Note:
This article previously appeared in a different format as part of The Atlantic's Notes section, retired in 2021.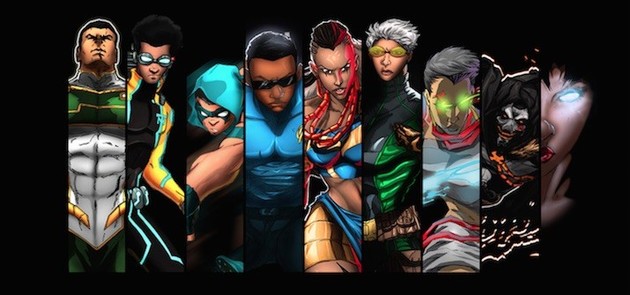 Meet "Africa's Avengers," nine superheroes who come together to save the world—and in the process, they might save Nigeria's comics industry. At least that's the goal of their creators, Comic Republic, a Lagos-based startup founded in 2013 to counter the decline of comic-book culture in Africa and create new superheroes of African descent. Check out Comic Republic's six major titles thus far, available for free online.
The company is also focused on introducing new female superheroes, as the spokesperson Eduvie Oyaide explained this week to OkayAfrica:
There is a lack of female heroes in the African scene in general. Girls don't have heroines to look up to these days, rather they have celebrities of questionable character. What you end up with is a generic stereotype of the female gender ... We wanted female characters that would become icons to the African girl growing up to give them something to aspire to that they too can be heroes and it's not an all-male field.
The growing diversity within the comics industry, both in the U.S. and abroad, is a subject The Atlantic has covered a good amount.
In a 2010 Atlantic Q&A with Dwayne McDuffie—the comics writer and founder of Milestone Media, DC Comics's diversity-oriented imprint—he discussed how race informs his sensibility:
I'm conscious of race whenever I'm writing, just as I'm conscious of class, religion, human psychology, politics—everything that makes up the human experience. I don't think I can do a good job if I'm not paying attention to what's meaningful to people, and in American culture, there isn't anything that informs human interaction more than the idea of race.
But most of our comics coverage has come from Ta-Nehisi, of course. Here's a piece from February he titled "The Broad, Inclusive Canvas of Comics":
After finishing, I started thinking about the latest casting news in the world of Marvel—Alexandra Shipp as Storm—and the fact that Hollywood can't bring itself around to cast someone who looks like the Kenyan woman Storm actually is. This isn't a matter of fanboy accuracy, but white supremacy. In another world, where Lupita Nyong'o's dark is unexceptional, where her speech on beauty isn't needed, this discussion wouldn't be necessary. In this world, the one where we can accept Nina Simone's music but not her face, it matters.

One reason why I still enjoy books, including comic books, is that there's still more room for a transgressive diversity. If Greg Pak wants to create an Amadeus Cho, he doesn't have to worry about whether America is ready for a Korean-American protagonist. Or rather, he doesn't have to put millions of dollars behind it. I don't know what that means to a young, Asian-American comic books fan. But when I was eight, the fact that Storm could exist—as she was, and in a way that I knew the rest of society did not accept—meant something … Outside of hip-hop, it was in comics that I most often found the aesthetics and wisdom of my world reflected.
Ta-Nehisi recently announced that he'll be writing a new iteration of Marvel's Black Panther series that will be released this spring. The storyline will follow Black Panther as he deals with an uprising instigated by the People, a superhuman terrorist group.