Read It for the Articles
Starting in March, Playboy magazine will no longer carry nudes though it will still feature women in provocative poses. The Internet is to blame (or be credited, depending on your viewpoint).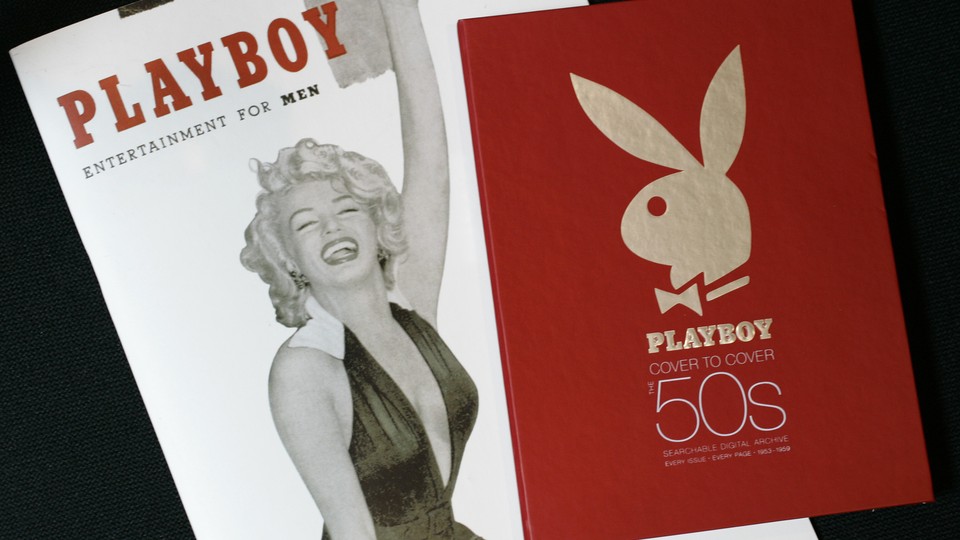 Next March, Playboy magazine will reveal a new redesign. What the magazine will no longer be revealing: nudes.
It's a change the company is attributing to the ease with which nudity and pornography are available online.
"That battle has been fought and won," Scott Flanders, the company's chief executive, told The New York Times, which reported the story Tuesday morning. "You're now one click away from every sex act imaginable for free. And so it's just passé at this juncture."
The move was approved last month by Hugh Hefner, the magazine's legendary founder and editor in chief, but it has been one that has been a long time coming. First, pornography is widely available—and easily accessible—online, making the efforts of generations of pubescent boys to clandestinely acquire copies of Playboy and magazines like it seem positively antiquated. Second, changing cultural norms have made such magazines seem exploitative of women.
Indeed, as the Times points out:
Playboy's circulation has dropped from 5.6 million in 1975 to about 800,000 now, according to the Alliance for Audited Media. Many of the magazines that followed it have disappeared. Though detailed figures are not kept for adult magazines, many of those that remain exist in severely diminished form, available mostly in specialist stores. Penthouse, perhaps the most famous Playboy competitor, responded to the threat from digital pornography by turning even more explicit. It never recovered. …

In August of last year, its website dispensed with nudity. As a result, Playboy executives said, the average age of its reader dropped from 47 to just over 30, and its web traffic jumped to about 16 million from about four million unique users per month.
The magazine's first issue, in 1953, featured Marilyn Monroe on the cover. Madonna, Sharon Stone, and Naomi Campbell have all posed for it. But Playboy wasn't just known for its centerfolds. As the old quip goes: "I read Playboy for the articles." At its peak, the magazine published fiction by Margaret Atwood, Haruki Marukami, Norman Mailer, and others. It interviewed Jimmy Carter (who famously acknowledged "lust in his heart"), Malcolm X, and Vladimir Nabokov. Those strengths are likely what Playboy will focus on next.
And for longtime fans of the magazine who skipped past the articles, Playboy will still feature women in provocative poses, which the Times points out will be "PG-13."