A Crucial Day in the Music-Streaming Wars
Editor's Note:
This article previously appeared in a different format as part of The Atlantic's Notes section, retired in 2021.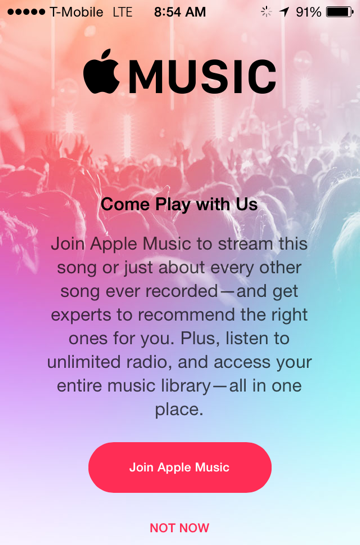 Attempting to pull up a soundtrack for my morning commute, Apple Music today greeted me with a message inviting me to join the streaming service for $9.99 a month, despite the fact that I've been using it since June. Dammit, I thought. Another bug.
Tim Cook and Jimmy Iovine's attempt to move into Spotify's market has had its perks—exclusive albums, a radio station with poshly accented DJs who make you feel plugged into an imaginary global nightclub, cultural ubiquity that's allowed it to help break The Weeknd and Halsey on the charts—but for me they've been dwarfed by the app's unintuitive interface, maddening glitches, and seeming hostility for the idea of storing songs on your phone that aren't already available in its library. (Rob has parsed many of the problems; for me, the most amusing/horrifying hiccup so far was when Apple Music was unable to distinguish between the very different Titus Andronicus songs "More Perfect Union" and "A More Perfect Union.")
But the sign-up message, turns out, was no error. I think. Today is judgement day for Apple Music: the end of the three-month trial period that brought in at least 11 million subscribers.
Perhaps not coincidentally, the upstart service Tidal chose the same day to announce a mega concert in Brooklyn, where the company's owners and allies—including Beyonce, Jay Z, Prince, Nicki Minaj, Lil Wayne, and Usher—will celebrate the 1-million-users milestone on October 20. One million is a lot fewer than numbers Apple Music have posted, but remember, Apple Music has been free till now.
In April, I wrote that the brief, Spotify-dominated golden age of music streaming was about to be replaced by a jankier, more anarchic landscaped defined by companies trying to one-up each other. This has come to pass. Tidal's exclusives have included poorly received Lil Wayne and Prince albums; Apple's have included a hugely popular collaboration between Drake and Future. Meanwhile, Spotify continues to chug along, unflashy but reliable. I've turned to it whenever Apple Music or Tidal have frustrated me, which has been often.