Vin Scully as Human Time Capsule
Editor's Note:
This article previously appeared in a different format as part of The Atlantic's Notes section, retired in 2021.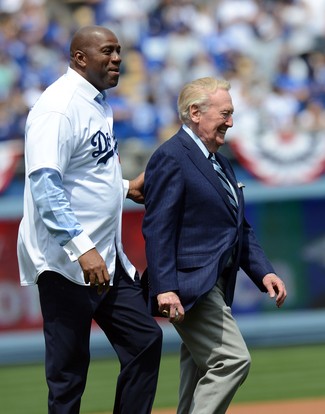 The Atlantic's Matt Schiavenza relays the welcome news that Vin Scully will return next year as broadcaster for the Los Angeles Dodgers, his 67th season in that role.
This is good news in many obvious ways — for the 87-year-old Scully himself, for the Dodgers and their fans, for the general prospects of aging well and human excellence. I want to underscore one additional aspect of how remarkable Vin Scully's achievement is.
Matt's item includes the audio of what I think is Scully's greatest performance on the air, or at least the best one I'm aware of. That is his broadcast of Sandy Koufax's perfect game on September 9, 1965. You can listen to it below, on a YouTube clip that has still photos, rather than video, to accompany Scully's narration. Come to think of it, that's closer to the experience of "seeing" the game purely through Scully's voice and words over the radio:
That game took place 50 years ago, next week. Matt Schiavenza was not born then. Nor was the vast majority of today's U.S. or world population. (The U.S. median age is now about 37.)
I was alive then. I was a Dodgers fan, as a high school student 70 miles outside L.A. in Redlands, California. On most nights through summer baseball season I would go to bed listening to Scully and his then-partner Jerry Doggett on KFI-AM radio broadcasting the triumphant Dodgers of the Koufax, Drysdale, Maury Wills, Jim Gilliam, Johnny Roseboro, Johnny Podres, etc era. On a Thursday night just after Labor Day in 1965, my brother and I were around the radio listening to this very broadcast, by Scully, of Koufax's perfect game.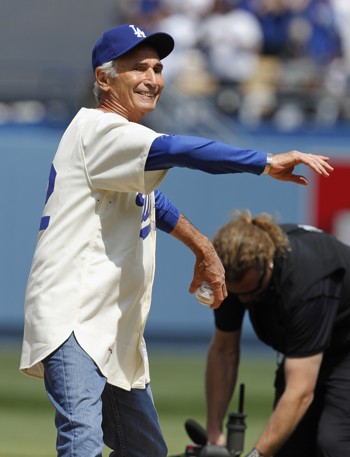 Here's the point: that was, again, 50 years ago. I was a kid then and am an old guy now. Vin Scully's broadcast partner of that era, Jerry Doggett,  has been dead for many years. So has Doggett's broadcasting successor, the dominating ex-pitcher Don Drysdale. Sandy Koufax is still around and, to judge by photos, is still in great shape. That's obviously him in this picture, throwing out a first pitch two years ago when he was a mere 77 years old.
But otherwise there's little resemblance between the world of 1965 and that of 2015, and no other connectionas clear and strong as Vin Scully's voice over the airwaves. I am very glad to have been around during his (still ongoing) run.
Update A reader who grew up in Southern California at about the same time adds this point, which I agree with:
To me the most pertinent aspect of listening to him was Scully's innate sense of when NOT to talk over the event. From the call of the last strike [in that Koufax game] at 7:14 for 40 seconds, nothing but crowd cheering. Perfect.

This is one of the things that makes him an all-time great.