The Problem With Pantone's Color of the Year
The company chose the muted scarlet "Marsala" for 2015, but immediate reactions to the hue have evoked bodily functions and decrepit buildings.
Every year, creatives from every corner of the design world look to the Pantone Color Institute for guidance in what hue will reign for the next 365 days. Last year's color, Radiant Orchid, a chirpy shade of lilac, was widely heralded as one that symbolized the economic recovery, optimism for humanity, and a sense of sophisticated purpose.
This year's color, a muted shade of scarlet branded "Marsala," has received a decidedly sour response: Social media has questioned what Pantone calls "a naturally robust and earthy wine red color" as "a color that makes you want to go to Olive Garden or order Tampax in bulk."
"Much like the fortified wine that gives Marsala its name, this tasteful hue embodies the satisfying richness of a fulfilling meal, while its grounding red-brown roots emanate a sophisticated, natural earthiness," Leatrice Eiseman, the executive director of the Pantone Color Institute, said in the company press release. "This hearty, yet stylish tone is universally appealing and translates easily to fashion, beauty, industrial design, home furnishings and interiors."
With a name like Marsala, food has been a dominant topic of discussion—not helped by the imagery accompanying the release. Design firm Sub Rosa created the visuals, portraying a casual dinner party that's at once carefree yet collected, with women in cowboy boots smilingly surveying a tray of pomegranate seeds, hunk of meat, and fruit, all surrounded by what can only be assumed to be Marsala wine. The goal reportedly was to create "a series of images that were as bold and exciting as the color of the year itself."
But bold and exciting seem controversial. While some found the color's rich burgundy tones royal and sophisticated, many pointed instead to the color's evocation of various reddish brown processes. Think rust, the grimy, gag-inducing type that lines corners or frat boy dormitory-style bathrooms. Or blood, the freaky dried kind whose iron content has been exposed to the air long enough to evoke a dull brick.
Bodily processes aside, Marsala's food implications skew decidedly un-gourmet. For a color that shares associations with wine, chicken, and mushrooms, the color also summons pfth-sounding glops of mystery meat in elementary cafeteria lunches, liver (and not necessarily of the French, pureed, pâté class) whipped into a murky abundance atop bread, pink slime gone wrong, or meatloaf (with a healthy serving of that mystery meat, perhaps?).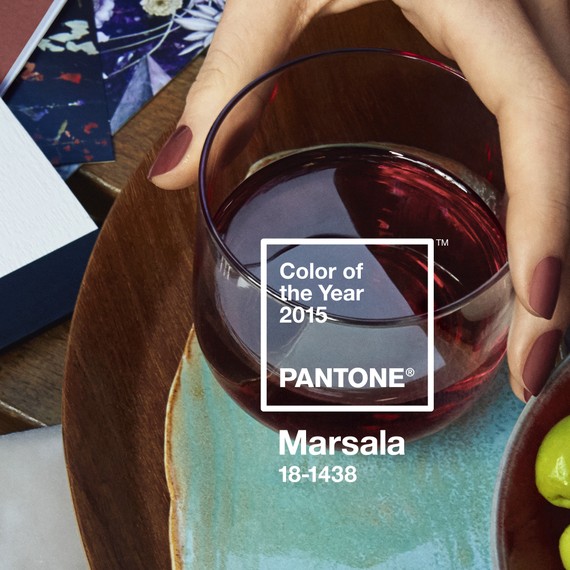 And let's not forget the period the color is supposed to elicit. The company offers interior decorating tips, calling the color "complex," "full-bodied," and "nurturing." But many will recall the '70s-era carpets that lined offices and industrial spaces, created to disguise wear-and-tear from foot traffic and errant crumbs from desk lunches. Those carpets faded to an awkward shade traversing maroon and gray that provoked questions: What happened there? What secrets is the carpet hiding? Has the carpet been cleaned? Is it even safe to walk on the carpet?
If Pantone chooses colors of the year as a predictor of what the next months will bring, then 2015 isn't looking so rosy. Or maybe some chicken Marsala paired with Marsala wine will take care of those misgivings.