Ranking the Cast of 'This Is Where I Leave You' by Emmys, Jewishness, and Every Other Important Metric
Who's the tallest? Who's had the best TV career? Is Tina Fey's "Night Cheese" better than Adam Driver's "Please Mr. Kennedy"?
This article is from the archive of our partner
.
Shawn Levy's This Is Where I Leave You hits screens this Friday and has assembled a mighty ensemble of TV stars and movie icons (well, one movie icon—Jane Fonda). The cast for the family dramedy, which sees a bunch of siblings being forced to sit Shiva for their dead father as his last request, is impressively deep. But it was largely drawn from TV stars we know and love, meaning there had to be some changes to our acclaimed ensemble cast rankings this time around. Read on and enjoy as we plumb the depths of stupidity!
Height
Adam Driver - 6'3"
Dax Shepard - 6'3"
Corey Stoll - 6'2"
Timothy Olyphant - 6'
Jason Bateman - 5'11"
Jane Fonda - 5'8"
Connie Britton - 5'8"
Rose Byrne - 5'6"
Kathryn Hahn - 5'5"
Tina Fey - 5'4½"
There's a lot of tall men in this movie. Jason Bateman, at a perfectly respectable 5'11", must have felt particularly inadequate. The male/female divide is pronounced, but there are also no particularly short women in this movie. Jane Fonda and Connie Britton could certainly both hold their own in a…height competition? Moving on.
Emmy Nominations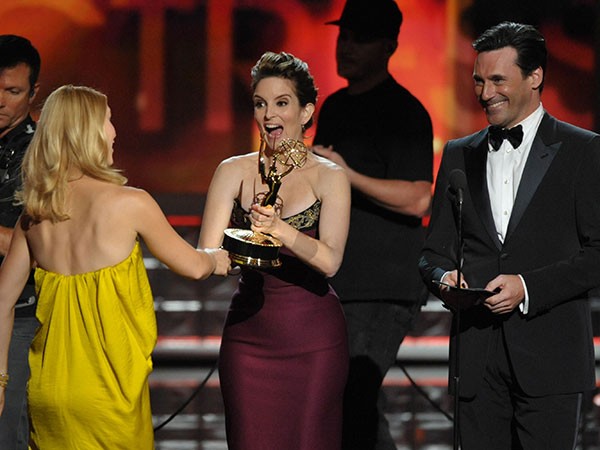 Tina Fey - 34 (8 wins)
Jane Fonda - 4 (1 win)
Connie Britton - 4
Jason Bateman - 2
Adam Driver - 2
Rose Byrne - 2
Timothy Olyphant - 1
Corey Stoll - 0 (but he kinda deserved one for House of Cards)
Kathryn Hahn - 0  
Dax Shepard - 0
Fey's Emmy total is so staggering I had to break it down: she's been nominated seven times for producing 30 Rock, another seven for acting in it, another four for writing it, plus she has four nominations from her two Golden Globe hosting performances, eight for Saturday Night Live (three for writing, five for guest appearances), three for 30 Rock webisodes and one for a 30 Rock song. She makes Connie Britton's very respectable four acting nominations look like a joke. Oh, and Jane Fonda won her Emmy for The Dollmaker in 1984. No, I don't know what it is either. But she's halfway to an EGOT!
Place of Birth by Coolness Factor
Timothy Olyphant - Honolulu, HI
Jane Fonda, Corey Stoll - New York, NY
Rose Byrne - Balmain, New South Wales, Australia
Adam Driver - San Diego, CA
Connie Britton - Boston, MA
Jason Bateman - Rye, NY
Kathryn Hahn - Westchester, IL
Tina Fey - Upper Darby, PA
Dax Shepard - Milford, MI
Who knew Timothy Olyphant was from Hawaii? Oh, be quiet, anyone who knows that. No wonder he's so good in A Perfect Getaway, our editor Joe Reid's favorite movie. [EDITOR'S NOTE: It's so good. — JR] Rose Byrne gets high placement because apparently Balmain is the birthplace of the Australian Labor Party.
Age at Which They Made Their Major Screen Debuts
Jason Bateman - 18 (Teen Wolf Too)
Rose Byrne - 20 (Two Hands)
Jane Fonda - 23 (Tall Story)
Dax Shepard - 23 (Hairshirt)
Adam Driver - 28 (J. Edgar)
Connie Britton - 28 (The Brothers McMullen)
Timothy Olyphant - 28 (The First Wives Club)
Corey Stoll - 29 (North Country)
Kathryn Hahn - 29 (How To Lose a Guy in 10 Days)
Tina Fey - 32 (Martin and Orloff)
This was mostly to squeeze Teen Wolf Too into the conversation (of course Bateman's TV debut was at the age of 11 in Little House on the Prairie). If Tina Fey hadn't been in weird UCB movie Martin and Orloff, Mean Girls would have been her film debut. She was 34!
Ranking by Objective Jewishness, as Decided by David Sims
Corey Stoll (he is Jewish)
Kathryn Hahn (married to a Jew at the very least)
Adam Driver (of Baptist stock, but he's versatile)
Tina Fey
Jason Bateman
Rose Byrne
Dax Shepard
Timothy Olyphant
Jane Fonda
Connie Britton
Not everyone in this movie is explicitly playing Jewish (there are some spouses and whatnot) but the fact remains, This Is Where I Leave You is about sitting Shiva and only has one Jew in the main family cast (Ben Schwartz, who plays a Rabbi, is also, of course, chosen). And you believe it with some of them, but even Jason Bateman has a repressed Scotch-Irishness he just can't shake, no matter how kvetchy he gets.
Number of Workout Videos Produced
Jane Fonda - 23
Everyone Else - 0  
This feels like an area of growth for Connie Britton especially. I'll buy anything with her name on it.
Likability of Their Most Definitive TV Character
Connie Britton (Tami Taylor, Friday Night Lights)
Tina Fey (Liz Lemon, 30 Rock)
Timothy Olyphant (Raylan Givens, Justified)
Jason Bateman (Michael Bluth, Arrested Development)
Dax Shepard (Crosby Braverman, Parenthood)
Adam Driver (Adam Sackler, Girls)
Kathryn Hahn (Lily Lebowski, Crossing Jordan)
Corey Stoll (Peter Russo, House of Cards)
Jane Fonda (Leona Lansing, The Newsroom)
Rose Byrne (Ellen Parsons, Damages)
I adore Liz Lemon and still Tami Taylor wins this by a country mile. This is the crazy thing about this cast, though—some of them have multiple long-running TV performances. Britton in Spin City and Nashville, Olyphant in Deadwood, Hahn in Free Agents—oh wait, I just wish that had been long-lasting. Can't say the same for Stoll in Law & Order: LA, though.
Greatest Musical Performance Committed to Screen
1. Tina Fey, "Night Cheese," 30 Rock
2. Adam Driver, "Please Mr. Kennedy," Inside Llewyn Davis
3. Connie Britton, all those songs she sings in "Nasvhille"
4. Rose Byrne, "Supertight," Get Me to the Greek
5. Jason Bateman, "Afternoon Delight,"Arrested Development
(clip sadly unavailable)
"Workin' on my night cheese!" just barely scrapes by Driver's "uh-oh!".
Number of "Utter Masterpieces" Appeared in According to the Unrelentingly Hyperbolic and Fickle David Sims:
Kathryn Hahn - 3 (

Anchorman, Step Brothers, Wanderlust

)

Jane Fonda - 3 (They Shoot Horses Don't They, Klute, Coming Home)
Tina Fey - 2 (Mean Girls, Ponyo)
Adam Driver - 2 (Frances Ha, Inside Llewyn Davis)
Timothy Olyphant - 2 (The First Wives Club, Rango)
Jason Bateman - 1 (Forgetting Sarah Marshall)
Rose Byrne - 1 (Sunshine)
Dax Shepard - 1 (Idiocracy)
Everyone Else - 0
I want to use this opportunity to remind everyone that Kathryn Hahn is a genius who never gets enough credit. And she won't get enough credit for this movie. One day, Kathryn!
This article is from the archive of our partner The Wire.