Did Clayton Kershaw Just Have the Best Summer in Baseball History?
Comparing the Los Angeles ace to the greatest seasons ever, including the Everest of Pitching: Pedro Martinez in 2000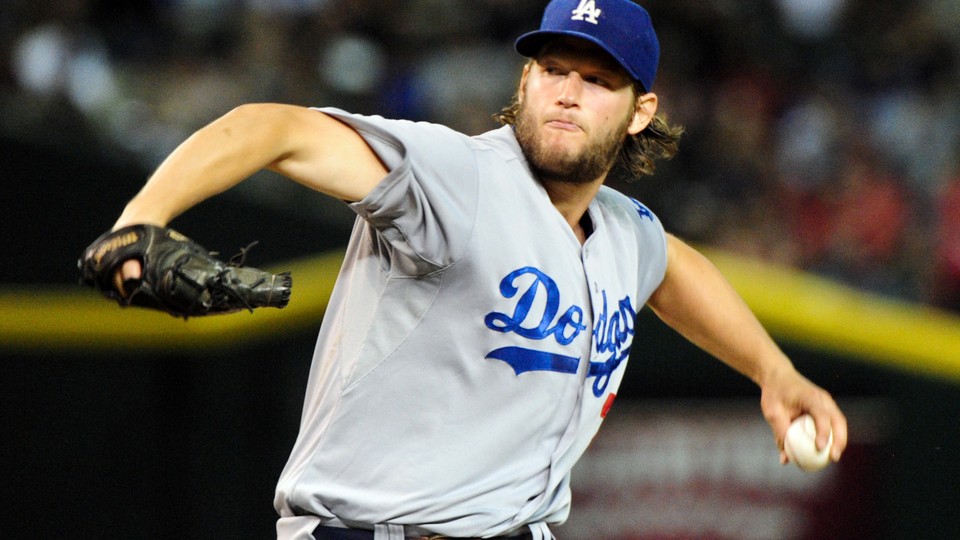 The baseball season of 2014 has been a protracted goodbye parade for Derek Jeter, but it will be remembered as the year of Clayton Kershaw.
The Los Angeles Dodgers' ace started the year inauspiciously, with back surgery and a slew of starts that drove his ERA up to a pedestrian 3.57 by the end of May. Then the calendar turned a page, and Kershaw has since morphed into a cyborg hybrid of Randy Johnson, Sandy Koufax, and Henry Rowengartner. In June, he had a 0.87 ERA and struck out twice as many batters (61) as he allowed on base (30). Thus began a summer of unprecedented pitching dominance, in which he's gone 18-1 in 21 starts.
Has any pitcher had a summer better than Clayton Kershaw in the last 50 years? In the last 100 years? It seemed like an interesting question, and, since baseball is nothing more than a series of statistical duels, a solvable question.
The quick answer is: Yes, you can argue that we've just witnessed the most dominant pitching summer in the last century.* The longer answer is more interesting.
First, to identify the best pitching seasons of the last century, I used Baseball Reference's single-season record page for ERA+ (which compares a pitcher's runs-allowed to the league average, adjusting for ballpark) and WHIP (walks and hits per inning pitched). Besides Pedro Martinez, whose 1999 and 2000 seasons are the Everest and K2 of pitching, every other pitcher gets only one entry. Maddux and Koufax, for example, had several years of similar ridiculousness, but I've included only their best summers here.
I've compared each pitcher's June-September ERA, WHIP, opponent on-base percentage, and strikeout share. Play around with this interactive graph a bit to appreciate the pinnacles of pitching dominance. If you're having trouble with it, click
here
.
---
Best Summer Ever? Kershaw vs. the All-Time Best
---
Four takeaways:
The only pitcher to have a better summer ERA than Clayton Kershaw was Bob Gibson in 1968. That year is now known as "The Year of the Pitcher," when hurlers were so dominant that the MLB changed the strike zone and lowered the mound in 1969 to restore the balance of power to hitters. So, the last time somebody had a June-September ERA this low, baseball re-wrote its rulebook. Historically speaking, Kershaw's season was borderline illegal.
 
Kershaw's summer WHIP, 0.78, would be the second lowest season-long WHIP in the last 100 years. The only pitcher to have a better summer WHIP or opponent-OBS was Pedro Martinez in 2000. More on that particular guy in that particular year in a second.
 
The only pitchers here to have a better strikeout percentage were Randy Johnson in 1997 and Martinez in both 1999 and 2000. That means Kershaw's 2014 ranks ahead the best years of Roger Clemens, Tom Seaver, and Sandy Koufax. Kershaw struck out a higher share of hitters this summer than Nolan Ryan did in 1973, the year he set the annual record for most strikeouts.
 
The Dodgers went 20-1 in Kershaw's last 21 starts. Wins are an overrated statistic for pitchers, because the outcome relies on so many factors they can't control. But it would be absurd to entirely discount a 95.2% winning percentage since June.
By these figures, Kershaw's summer was statistically superior to any summer by Greg Maddux, Walter Johnson, Randy Johnson, Nolan Ryan, Roger Clemens, Lefty Grove, Dwight Gooden, Tom Seaver, or Ron Guidry. There are other great pitchers and other great years (I also snuck a peak at Juan Marichal, Kevin Brown's incredible 1996, and Denny McLain and Luis Tiant in 1968), but I could not find any summer that matched Kershaw for ERA, OBP, and strikeout rate after June. If readers find them, they should leave a comment.
Two inconvenient truths stand in the way of Kershaw's coronation. The first inconvenience is that the quality of hitting changes by year, and Kershaw is pitching in an era of aces, thanks to a lowered strike zone, among other factors.
The second inconvenience is named Pedro Jaime Martinez.
In 1999 and 2000, at the height of the steroid era, the diminutive Boston Red Sox hurler put up the best consecutive seasons ever. He didn't just smash the record for ERA+ in a single season. Even more absurdly, he set the record for lowest WHIP, even as he was pitching into a maelstrom of historic offensive power. This is kind of like somebody breaking the Boston Marathon record in the middle of a snowstorm.
To plausibly argue that Kershaw just had the best summer ever, we have to dig deeper into how his year compares to Martinez. We'll consider three factors, two of which tip the scale toward Pedro and one that benefits Kershaw.
Designated Hitters. In the National League, Kershaw pitches to pitchers (who, generally speaking, can't hit). In the American League, Pedro pitched to designated hitters (who are paid to do nothing but hit on that particular day). So you could argue that the best way to compare pitchers is to see how they pitch to non-pitchers. Baseball Reference only has season-long data for this statistic, and you recall that Kershaw's season was marred by a bad start, but the advantage here leans strongly with Pedro.
An Era of Hitting vs Pitching. Kershaw's brilliance comes at a time when pitchers are mowing down hitters at a remarkable clip. Pedro's best season, however, happened when hitters were embarrassing everybody else who walked up to the mound. When you compare the annual offensive output at Pedro's home, Fenway Park in 2000 with Kershaw's home, Dodgers Stadium in 2014, you get a rough sense of the different environments.
Fenway Park in 2000: 774 runs scored, .272 BA, 2334 total bases,
Dodgers Stadium in 2014: 598 runs scored, .241 BA, 2009 total bases
The ERA at Fenway in 2000 was 30 percent higher than at Dodgers Stadium in 2014, and yet somehow Pedro had a lower overall ERA than Kershaw by the end of the year.
Quality Starts and Wins. Baseball, the topic of analysis, is all about numbers, but baseball, the sport, is all about winning. And Kershaw, whose team went 20-1 in his 21 starts since June, has been an unprecedented factory of wins, thanks to his consistency. For all of Pedro's genius, he had a higher summer ERA than Kershaw, and his team lost half the games in which he allowed more than two runs. Kershaw, by contrast, allowed more runners, but never allowed more than 3 earned runs in a game.
Martinez 2000, post-June:
Team record: 13-6
Games allowing more than 2 runs: 6
Losses in those games: 3
Kershaw 2014, post-June:
Team record: 20-1
Games allowing more than 2 runs: 4
Losses in those games: 1
Clayton Kershaw's summer of 2014 was more than historic. It was unprecedented. The subject consuming hours on ESPN, whether or not he deserves the MVP, is a small debate that obscures the larger observation that we could  be looking at most dominant pitcher in baseball history.
Baseball Reference keeps a list of the starting pitchers with the best career ERA+. At 26, Kershaw is second on that list. He is separated, by a statistical whisker, from the all-time record holder—some guy named Pedro.
---
*Pedantry preemption: Derek, isn't "most dominant summer ever" an arbitrary measure of pitching quality designed to make Clayton Kershaw look as good as possible while ignoring the fact that many pitchers have had better season-long ERA+ numbers? Yes, that is exactly what this is. But I feel strongly that sports fandom should be present-biased. It's miserable to think that all the best players are already retired and dead and that all the greatest sport accomplishments are behind us. So I've picked a stat that makes his year seem historically exceptional. This is somewhat devious, I guess, I don't feel that bad about it, because ~20 consecutive starts is a reasonable sample size to compare pitchers over time.