Chris Pratt, Ariana Grande and Sarah Silverman Will Lead Off the Next Season of 'Saturday Night Live'
Get ready for Chris Pratt to say "Ladies and gentlemen, Ariana Grande."
This article is from the archive of our partner
.
Reports leaked today that the first three hosts of the 40th (yeah, that's right, 40th!) season of Saturday Night Live will be Bill Murray, Sarah Silverman, and Chris Pratt, with musical guests Ariana Grande, Maroon 5, and Hozier. A bunch of local NBC web affiliates posted the news but it got quickly taken down, so it's not officially confirmed, but the hosts make sense. Bill Murray will have his new film St. Vincent to promote. Crazily, he last hosted in 1999; this will be his sixth stint as host.
Sarah Silverman is another SNL alum – although she only had one season on the show way back in 1993-1994 – and this will mark her triumphant return and first time hosting. Doesn't feel like there's anything in particular to peg her hosting gig to, but she was okay in Masters of Sex this year? Chris Pratt, riding high on the year's biggest movie in Guardians of the Galaxy, will be making his first appearance on the show and will probably kill it, because he kills pretty much everything he's in these days.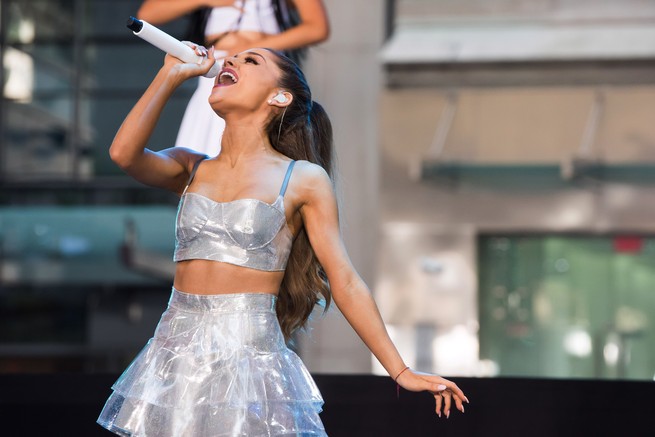 Ariana Grande and Hozier have never done SNL before; I haven't even heard of the second guy, but SNL is much better than me at picking up on young musical talent, so I'm not complaining. Meanwhile, fellow Wire writer Kevin O'Keeffe is already thrilled for Bill Murray to utter "Ladies and gentlemen, Ariana Grande." [NOTE FROM KEVIN: Would be even better if he followed it up with "of the Boca Raton Missileboob Grandes." I can dream.] Maroon 5 has done SNL four times already because life is garbage.
The 40th season has seen a slight reduction in the cast, with Noel Wells, Brooks Whelan, and John Milhiser getting let go after a one-year tryout and Nasim Pedrad departing for Fox sitcom Mulaney. The other new hires – Beck Bennett, Mike O'Brien, Kyle Mooney, Sasheer Zamata – are still up in the air, but they're all probably coming back (O'Brien feels like the only maybe). Who knows, there might be some new actors joining the show at some point. As always, Lorne Michaels moves in mysterious ways.
UPDATE: Looks like Pratt/Grande is your first pair, followed by Sarah Silverman/Maroon 5. Kevin will be so sad! And we're still waiting for news on the third host, which may well be Murray; or was that the compromised information?
This article is from the archive of our partner The Wire.