Your Awards Show Has Too Many Categories: Teen Choice Awards Edition
Fox is giving out 88 Teen Choice Awards, which is insane. Let's help them get that down to a manageable number.
This article is from the archive of our partner
.
The Teen Choice Awards, now in their 16th year of giving surfboards to celebrities who don't surf, are airing on Fox this Sunday. This year, presenters will give out 88 awards and hahaha what the hell? You're kidding, right? There are 88 awards?!
Yes, for some reason, Fox saw a really good bulk deal at Costco for 90 surfboards, but they really only needed two for their trip to Santa Barbara next weekend, so they're just giving them all out instead. This is mind-numbingly ridiculous. No awards show needs more than 40 awards at maximum – and that's for the big dogs*, like the Emmys.
All of the nominees have been invited, so it's too late to salvage this year's show. But to save us all some time next year, we're going to hack and slash away at the list of categories until we have a more manageable number. Let's say 14 – it should be a 'teen,' to stay in theme, but 13 is unlucky. We'll also break down who of this year's crop would still be nominated in the remaining categories – not totally on quality, but on what we think hope teens really love.
*We see you, GRAMMYs. We're coming for you in January.
Movie Categories
There are four individual genres of film: Action, Drama, Sci-Fi/Fantasy, and Comedy. Each of those genres has categories for the film, an actor, and an actress. That's 12 categories already. Cut everything except one of each type of category. If the Oscars don't need to break down by genre, the TCAs certainly don't. Lily Collins can live without her nomination for The Mortal Instruments: City of Bones.
But lo, we haven't yet made it out of the film categories alive. We're also cutting Choice Villain, Scene Stealer, Hissy Fit, Summer Movie, and Summer Movie Star. Most of those can be awarded in the main acting categories – except for Hissy Fit, which is a ridiculous category. We'd love to give the teens Choice Chemistry, but one of the nominees this year is Cameron Diaz, Leslie Mann, and Kate Upton in The Other Woman, so they've lost their privileges for the next few years.
We are going to keep Choice Liplock, though. There's a similar category at the MTV Movie Awards, and it's led to some memorable moments in the past. It's very much in the spirit of the ceremony, too. (Don't screw it up, teens. We see your nomination for the inappropriate Anne Frank House kiss in The Fault in Our Stars.)
Remaining Choice Movie categories: 
Movie (Captain America: The Winter Soldier, Dawn of the Planet of the Apes, Edge of Tomorrow, Godzilla, The Hunger Games: Catching Fire)
Actor (Sam Claflin, Bradley Cooper, Chris Evans, Anthony Mackie, Nat Wolff)
Actress (Emily Blunt, Sandra Bullock, Scarlett Johansson, Angelina Jolie, Shailene Woodley)
Liplock (same nominees, but without that damn Anne Frank House kiss)
Total category count: 4/14
Music Categories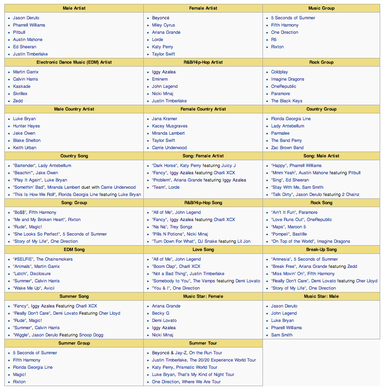 There are 23 categories here, so every person who has ever made music is nominated, we assume. There are two separate categories for Choice Male/Female Artist and Choice Male/Female "Music Star," which feels synonymous. Away the music star categories go! We're also going to remove all the summer categories (Song, Group, Tour) and the categories based on made-up genres (Love Song, Break-Up Song, EDM Song).
Country does not deserve four different categories, but we understand that they need their own place to shine. Call it "Country Act" and boil it down to one category. Get rid of any non-gender-based deviations in the artist (we don't need a Choice EDM Artist, at this ceremony or as a culture) and song categories. Group categories are going, too. Now, here's what we're left with:
Remaining Choice Music categories: 
Male Artist (John Legend, Ed Sheeran, Sam Smith, Pharrell Williams, Zedd)
Female Artist (Iggy Azalea, Beyoncé, Ariana Grande, Nicki Minaj, Taylor Swift)
Country Act (Florida Georgia Line, Hunter Hayes, Kasey Musgraves, Jake Owen, Carrie Underwood)
Song ("Happy," "Latch," "Problem," "Rude," "She Looks So Perfect")
Total category count: 9/14
Web Categories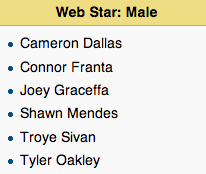 Web Star categories for male, female, musician, gaming, comedy, collaboration, and fashion/beauty. Social Media King and Queen. Instagrammer and Twit. Fanatic Fans. Viner.
Guess how many we're keeping.
Remaining Choice Web categories: 
Total category count: 9/14
Television Categories
This set is less of a mess, though we're gonna go ahead and cut all of the "extra" categories, as per usual. (Bye, Breakout Show. You're the one who nominated Chasing Life.) Fantasy/Sci-Fi having its own genre is a little ridiculous, but have you seen Tumblr recently? It can stay, but it has to be merged with Drama – and no genres for Actor and Actress. We're merging the two reality series categories into one, plus cutting Animated Show (they can compete in Comedy Show).
Remaining Choice TV categories: 
Drama/Sci-Fi/Fantasy Show (The Fosters, Pretty Little Liars, Sleepy Hollow, Teen Wolf, The Vampire Diaries)*
Comedy Show (Adventure Time, Austin & Ally, New Girl, Sam & Cat (R.I.P.), The Big Bang Theory)
Reality Show (American Idol, Cosmos, Masterchef Junior, Survivor, The Voice)
Actor (Ian Harding, Ross Lynch, Jim Parsons, Tyler Posey, Andy Samberg)
Actress (Mayim Bialik, Nina Dobrev, Laura Marano, Maia Mitchell, Naya Rivera)
Total category count: 13/14
*God, don't teens watch Scandal?
All the Rest
We've got 20 categories and only one slot left. Choice Male and Female Hottie can go – they're supposed to be fashion-based, but they never are. Plus, One Direction is all nominated as one hottie on the male side, and how is that fair to poor Zac Efron? It isn't. Not at all. Also, actual teen Bella Thorne being nominated against Beyoncé and Rihanna for Female Hottie just feels inappropriate. (Candie's Style Icon is sponsored by Candie's, so it can go, too.)
The Choice Athlete categories are nice, but they feel out of place at this show. Choice Smile? No. So that leaves us with:
Remaining Choice Other category: 
Comedian (Jimmy Fallon, Kevin Hart, Mindy Kaling, Andy Samberg, Kenan Thompson)
Total category count: 14/14
This article is from the archive of our partner The Wire.