The Wire's Movie Trailer Power Rankings: We're Checking In at The Second Best Exotic Marigold Hotel
The Hobbit also climbs, while Birdman, Interstellar, and Wild fall.
This article is from the archive of our partner
.
(Every week here at The Wire, we're bringing you an up-to-date ranking of the trailers that are already making us laugh, cry, and wonder if we'll ever be able to deliver the side-eye as well as Maggie Smith does. Our methodology involves staff-wide rankings and YouTube views, and we may or may not take into account how much mouthwatering food we spot in each trailer.)
This Week's Trailer Debuts
Following the deluge of trailers for blockbusters last week, this week turned down the volume, delivering slim new pickings. There's the first trailer for the Stephen Hawking romance-as-biopic Theory of Everything, a new trailer for the thrillerThe Guest starring Dan Stevens and Dan Stevens' American accent, and an over-long preview for the Nicolas Cage-helmed Left Behind, in which he plays one of the people who are—wait for it—left behind after the Rapture. There are explosions! Distraught daughters! Tearful fathers! Academy Award (R) Winner Nicolas Cage! (Also: The Second Best Exotic Marigold Hotel. But we'll get to that.)
---
Movie Trailer Power Rankings as of August 8, 2014
10. This Is Where I Leave You (last week: --)
This is where we leave This Is Where I Leave You: just barely in our top 10. Okay, fine, that was a cheap shot—we love this trailer for Tina Fey's punch. Let's go, Altmans!
9. Theory of Everything (last week: --)
In a place of great minds... light filters softly over Stephen Hawking's romance of his first wife Jane in the biopic starring Eddie Redmayne and Felicity Jones. The story may give off serious A Beautiful Mind vibes, but we dare you not to get weepy by the end.
8. Mad Max: Fury Road (last week: 5)
This is George Miller's fourth Mad Max foray, and it shows. The sequel to the Mad Max trilogy stars Tom Hardy, Charlize Theron, eye-popping cars, unbelievable stunts, and buckets of face paint—all of which helped bump this trailer up three places. Count us in.
7. Wild (last week: 3)
Wild may have stopped climbing our list (see what I did there?) but it's still secure in our power rankings. The trailer for Reese Witherspoon's trek up the Pacific Crest Trail and down memory lane is just as powerful in its umpteenth watch as it was during its first.
6. Interstellar (last week: 2)
Christopher Nolan's foray into space and the beyond fell a few places in our rankings, but that's okay. Like Matthew McConaughey in the film, it'll come back. I mean, he's coming back, isn't he? Isn't he?
5. The Hunger Games: Mockingjay Part 1 (last week: 7)
The third film in the series has been a staple of our rankings, and this one's still fresh in our memories, even if it loses the viral quality of the first several teasers.
4. Gone Girl (last week: 9)
Gone Girl has bounced all over the place in our rankings, but that's apt for a film starring Ben Affleck as a man whose questionable innocence divides a small town and sends his life careening in unexpected directions.
3. Birdman (last week: 1)
Michael Keaton could only hold on to the top spot for so long. The trailer for Alejandro González Iñárritu's oddball dramedy about a struggling actor heading back on stage is longer, crazier, and monologue-ier than the teaser. And we love it.
2. The Hobbit: The Battle of the Five Armies (last week: --)
Hello, Hobbit! The Middle Earth epic does not simply achieve a spot on our list, despite being eligible last week. But thanks to strongholds like Dear White People and Whiplash falling off our rankings, the teaser trailer easily climbed up to second place.
1. The Second Best Exotic Marigold Hotel (last week: --)
We've already declared the trailer for The Second Best Exotic Marigold Hotel first in our book, and it's easy to see why: You've got a delightful Judi Dench, a sassy Maggie Smith, and the welcome addition of Richard Gere. In other words, everything appears to be in order.
---
This Week's Single Best Moment from Any Current Trailer
I know, I know—The Giver is going to be the laughingstock of YA adaptations, and that's not exactly an easy title to win, when you think about it. But hear me out: The trailer for The Giver is nuts. It's got Jeff Bridges doing the best wonky Jeff Bridges since that Tron reboot, dead-eyed Katie Holmes, and this head tilt, delivered by Meryl Streep borrowing Julianne Moore's Mockingjay wig when she says, "When people have the freedom to choose, they choose wrong."
I'm also tossing in this moment, even though it's not in the trailer: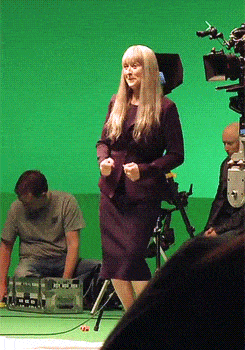 Delightful!
This article is from the archive of our partner The Wire.