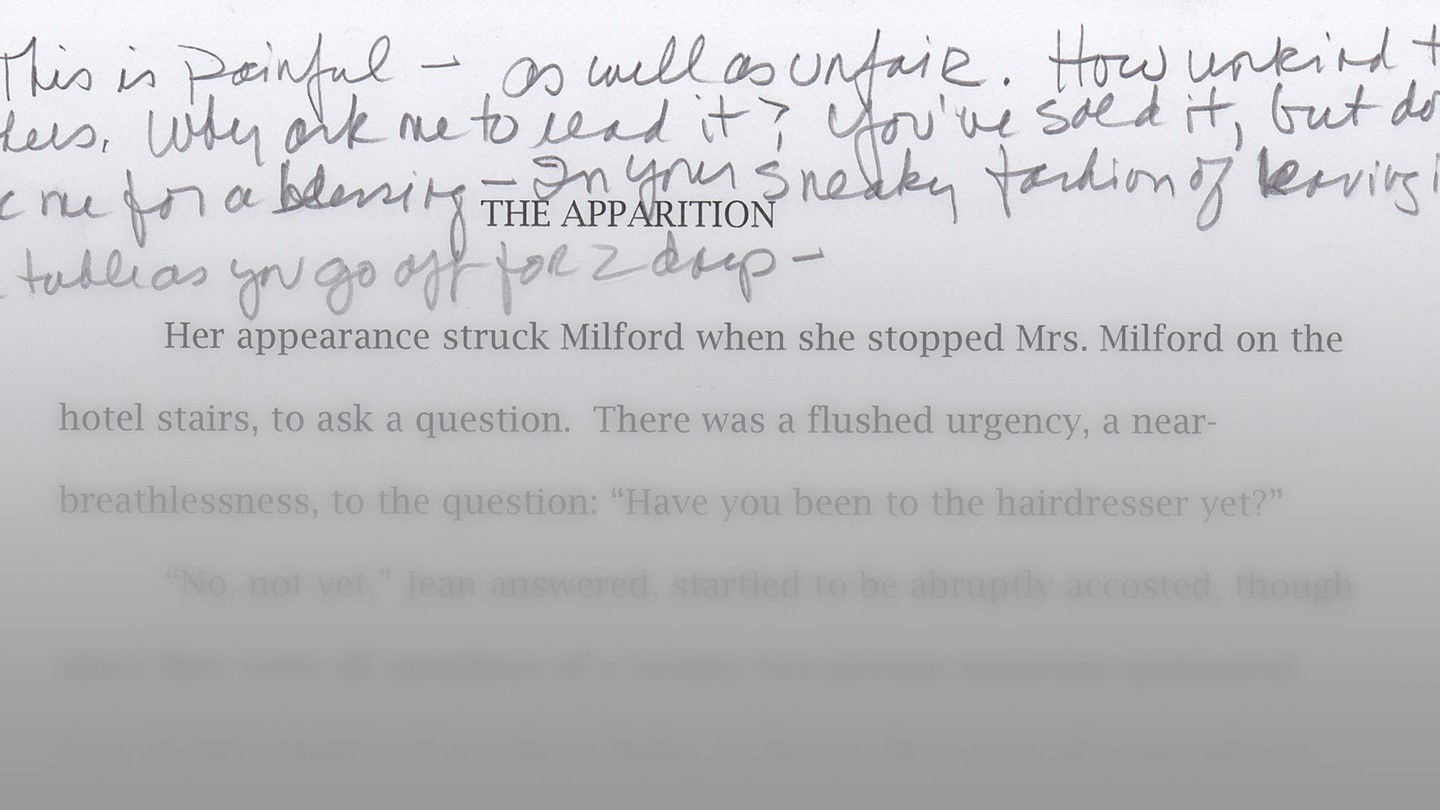 The Man Who Made Off With John Updike's Trash
Who really owns a great writer's legacy?
It should have been an ordinary bike ride.
For 22 miles under the glare of late-May sunshine, 48-year-old Paul Moran pedaled his green bicycle past lobster traps and sailboats along the Massachusetts coast north of Boston. He liked taking the backroads from his Salem home to Singing Beach, a popular destination in an otherwise sleepy seaside town.
When he approached Beverly Farms, where Easter egg-colored colonials are flanked by hydrangea shrubs, Moran wound down the street where the novelist John Updike lived. This was in 2006, three years before Updike's death. Updike had moved to Beverly Farms in 1982, and though his presence there may have been understated, it was no secret. Moran often rode by Updike's house on his scenic bike route. This time, as it turned out, the writer was ambling outside as Moran approached. In his hands were two bulky plastic bags with blue drawstrings. And as Moran cruised by, he began to wonder what Updike was throwing away.
Eventually, he circled back down Updike's street. He saw an open recycling bin and thought he might find a copy of The New Yorker stickered with the writer's name and address—something that would make for a quirky conversation piece. And so Moran decided to hop off his bicycle and walk over. He noticed that one of the garbage bags next to the bin had already been torn open—perhaps, he thought, by someone seeking aluminum cans or glass bottles, which can be returned for 5 cents apiece in Massachusetts. Spilling out of the bag, he saw smooth rectangles of red leather. Upon closer inspection, he realized Updike had thrown away a collection of honorary degrees from schools like Dartmouth College, Bates College, Emerson College, and Salem State College, all in pristine condition.
Feeling guilty, but invigorated by his discovery, Moran pedaled home, traded his bike for his car, and returned to Updike's house. He hefted the trash bag filled with the honorary degrees from the street. During the years that followed, he would return to Updike's curb more times than he could count.
Moran has kept thousands of pieces of Updike's garbage—a trove that he says includes photographs, discarded drafts of stories, canceled checks, White House invitations, Christmas cards, love letters, floppy disks, a Mickey Mouse flip book, and a pair of brown tasseled loafers. It is a collection he calls "the other John Updike archive," an alternative to the official collection of Updike's papers maintained by Harvard's Houghton Library. The phrase doubles as the name of the disjointed blog he writes, and it raises fundamental questions about celebrity, privacy, and who ultimately determines the value and scope of an artist's legacy.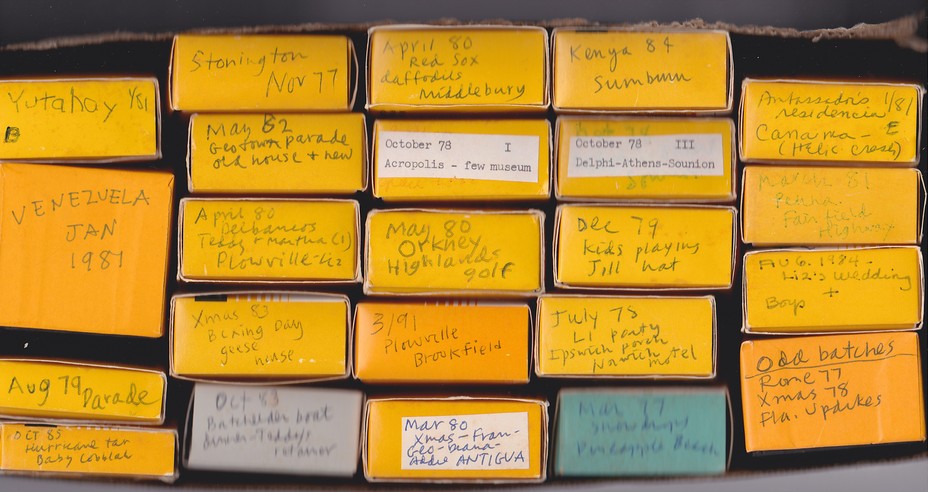 For a man who had a reputation for being shy and sometimes reclusive, Updike revealed many intimate details of his life. He famously (and infamously) fictionalized the characters and places he encountered in the real world. At the same time, he actively crafted his public image as a literary figure, sharing just enough of himself to tether his writing to his life in a way that made the two seem inextricable.
From Updike's stories and poems, together with the interviews he gave, a clear image of the man emerges. We can picture the sandstone farmhouse in Shillington, Pennsylvania, where he dreamed of becoming a cartoonist for Walt Disney. We can smell the stench of "wet old magazines" in the cellar of the Harvard Lampoon, where he spent his undergraduate days. We can hear the crack of the bat from Ted Williams's last home run at Fenway Park, a moment immortalized in a story about a game Updike almost didn't attend. And we can sense the tension stirring behind the relative quiet of life in Ipswich and Beverly Farms, the Massachusetts suburbs where Updike lived after fleeing the dazzle of New York City's literary scene.
I met Updike just once, in June 2006 at the NPR affiliate in Boston where I worked at the time. He was charming and wry, gawkish yet graceful. I was struck by the way he smiled more with his eyes than with his mouth, and the way his knobby hands resembled the gnarled roots of an old tree. Updike's natural charm and warmth were obvious to me in a five-minute encounter, but social interactions were always secondary to him. It was the writing that mattered most. "I would write ads for deodorants or labels for catsup bottles if I had to," he told The Paris Review in 1967. "The miracle of turning inklings into thoughts and thoughts into words and words into metal and print and ink never palls for me."
And though he understood the importance of cultivating his writerly image, Updike disliked the lack of control over his words in an interview setting. "All the stuff comes out attached to my name, and it's not really me at all," he said in that same 1967 interview. "My relationship to you and my linear way of coping out loud are distortive. In any interview, you do say more or less than you mean."
Over the course of his 50-year writing career, Updike meticulously collected the details of daily life. According to his biographer Adam Begley, Updike declared that his goal in writing was to realize "the shape, complexity, diffidence, and tremor of actuality." And he did that by constantly observing and gathering traces of the world around him. Some of those artifacts are now saved in the archive of his papers at Harvard's Houghton Library. "Updike is often described as being a very realistic author and one of the things that I find fascinating about this particular archive is how you can see how he went about doing his research, how he documented things," said Leslie Morris, the curator of the Houghton collection. His papers there include a background interview with the manager of a Toyota dealership—part of Updike's research for when his famous character from the "Rabbit" series, Rabbit Angstrom, managed one.
"Or he'll mention a character who's eating a particular type of potato chip, and there will be the empty chip wrapper in the research files," Morris told me. "There are photographs of towns that are used as the model for certain places, hospital brochures for hospitals in Reading and little guides to the patient about what to expect for when Rabbit was in the hospital... He wanted to get the detail right." With the passage of time, those artifacts will take on an even greater fascination; as Morris says, the collection will make it possible "for people 50 to 100 years from now to look back on these kind of artifacts almost out of context, a slice of American culture in a broad sense."
Updike took a similarly thorough approach to assembling his own corpus. In the 1960s, he began dropping off neat boxes of his materials—manuscripts, correspondence, research files, golf score cards, handwritten drafts of novels, his stick-figured doodles—at Harvard, his alma mater. The library agreed to keep the collection safe for him for decades, and ended up purchasing it for $3 million after Updike's death, according to Begley's biography.
"The collection really documents his entire writing career," Morris said. "And pretty much his entire life, I would say, starting with a childhood drawing that his mother kept ... up until his death." The boxes Updike brought to Harvard three or four times per year were always "beautifully organized," she said, evidence that Updike was concerned with the scope and narrative of his writerly legacy. Updike always wanted to be a literary figure. When he was in his 20s, he mused in letter to his mother about the possibility of publishing their regular correspondence. But there's a natural tension between public acclaim and controlling one's reputation.
"Updike was, of course, assiduous in collecting himself," biographer Begley told me. "He gathered and curated scraps of himself and kept them very carefully and neatly ordered. He was obviously interested in presenting as full an account of his work and habits as possible."
And though Updike eventually admired biography as a genre, Begley said he was initially uneasy about the idea of another writer picking apart his entire history. "Digging up remains and relics of an author's life are only valuable insomuch as they shed light on the author's work," Begley told me. Which is why Begley says Moran's collection makes him "unhappy" and "uncomfortable." "I think it's completely worthless," Begley said of Moran's collection. "I suspect Updike would, too. And that's before we even get to the question of whether it's an outrageous violation of privacy—which, I would say, yes, it is."

The question of any great artist's legacy is rarely settled with absolute finality. Even the most clearly stated wishes are often torn apart after an artist dies. Outside forces—publishers, estate representatives, the public—all have a tendency to clash with the artist's intent, and with one another.
The list of posthumous literary feuds is as long as the roster of dead writers. Questions still linger over Ernest Hemingway's goals for some of his unfinished work—now long since published—after his suicide in 1961. In a 1998 essay, Joan Didion described how Hemingway's notes and drafts had been turned into a "marketable product" and argued that publishing them was "a denial of the idea that the role of the writer in his or her work is to make it." Anne Frank's unabridged diary caused a stir for including a passage in which Frank writes about her sexual self-exploration—material her father had removed when the manuscript was prepared for publication in the 1940s. J.D. Salinger may be the most famous example of a writer whose wishes have been posthumously challenged by those who want more from him than he ever agreed to give. And these sorts of battles raise a number of questions: Who really determines an artist's legacy? What, if anything, does an artist owe the public?
"Should authors be able to control their reputation or what we know about their lives? I'm not sure," Begley said. "Because they can't, it's probably a moot point. But if they could, would it be a good idea? Probably not. Still, you have to balance that against decency."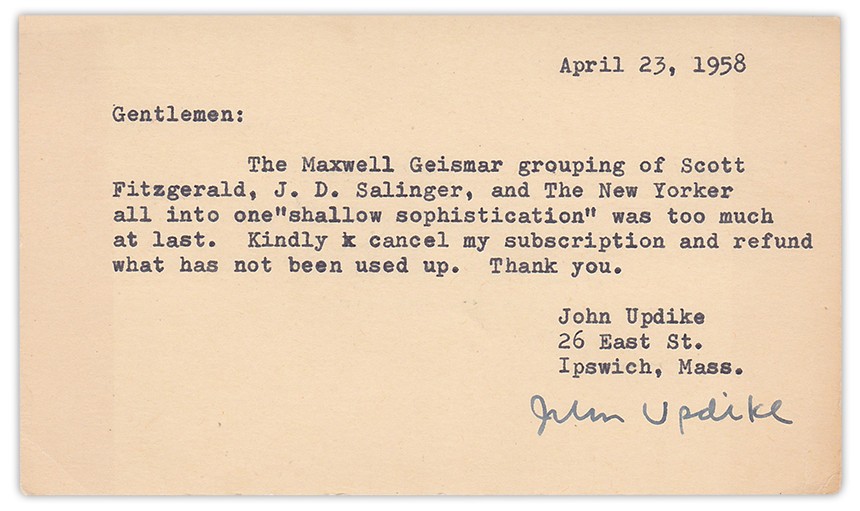 When Moran began collecting Updike's trash, the writer was aware of it, says Morris, the curator of the archive Updike left behind. "And apparently he and his wife took measures to try and ensure that their trash could not be gone through," Morris told me. "They were rather horrified by the idea. Talk about invasion of privacy."
Morris and the other Updike scholars I talked to were aware of Moran and his archive before I began asking questions about it. Many of them had correctly guessed that Moran has so many of Updike's old belongings because he took them without asking, but Moran told me he hadn't publicly confirmed as much until he spoke with me. Though Morris said she understands why Moran was so curious about Updike's life, she pointed out that an archival collection derives meaning in part from what a person chooses to cull from it. Negative space tells its own story.
"You can't possibly keep everything. You'd be overwhelmed by your past and unable to function in the present," Morris said. "People always make choices about what's going to be important and what should be thrown away and what should be kept. I think that not just authors but anyone would like to think that their decision—that it's not worth keeping—was the right one and should be respected. Of course," she acknowledged, "sometimes things are thrown away that later generations find fascinating."
James Plath, who is president of The John Updike Society, says Updike would have been "appalled" and "horrified" by Moran sifting through his trash. But Plath commends Moran for what he did. "If I was in the area, I would have done the same thing maybe. I think he did the world's best dumpster diving." Others, like the Updike estate's literary agent Andrew Wylie, see it differently. "Anything he has is stolen," Wylie said of Moran. "He was a dumpster digger. And he would steal the Updike's trashbags every Wednesday ... The family takes the situation very seriously. They have certainly tried to get him to stop but he's not stopped."
Moran says that this statement is the first he's heard of the family's concern, and that he's never been legally challenged by the Updike estate or by anyone else. A search of court records in Massachusetts turned up nothing tied to Moran's name. "I don't think the family is all that preoccupied with what I'm doing," Moran told me. "If they ever said there was something very personal, I would give it to them."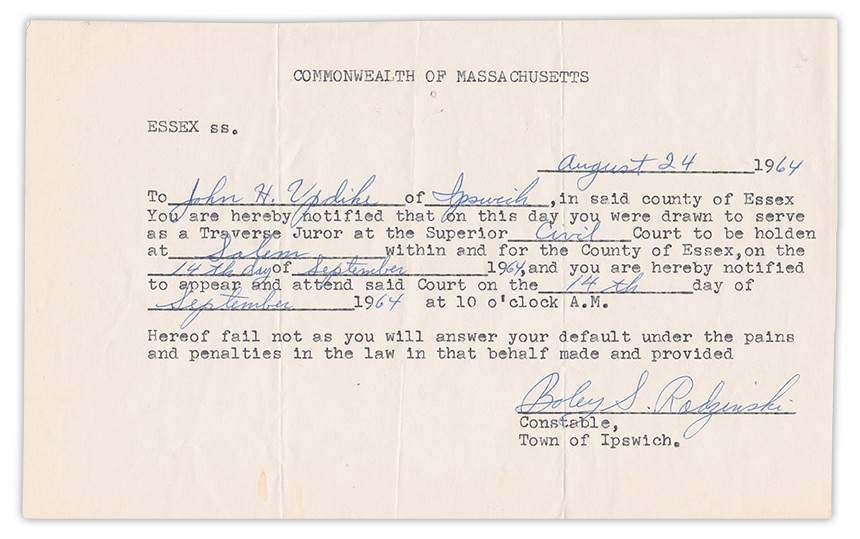 And it's not actually illegal to take someone's trash. Not, at least, according to police officers a couple of miles down the road from the Beverly Farms home where Updike used to live. "Once it's out, it's free to take," said Mike Boccuzzi, a spokesman for the Beverly Police Department. "If it's curbside, it's trash. As far as we are concerned, once it's out on the curb and ready to be picked up, it's fair game."
Moran told me he checked into the legality of what he was doing in the years he collected Updike's garbage. He also asked friends for guidance about the ethics of his actions. It felt wrong to him, and dragged him back into a mind frame he'd been trying to snap. Moran says he had been having a difficult time in the months leading up to that afternoon in May 2006. As a recovering alcoholic, his long bike rides were part of plan to stay healthy and sober. But the trash bags outside of Updike's house became a new kind of addiction, a temptation he felt he couldn't resist. He worried he was spiraling back into a dark place.
The first bagful he took—the one with the honorary degrees in it—Moran ended up selling for a couple thousand dollars to a used bookstore. He says the bookstore owner was "suspicious" of where he'd gotten the degrees and called Updike to ask about them. "Mrs. Updike said it was fine and she was glad they were going to support a local bookstore. I kind of took that as permission," Moran told me. I wasn't able to reach Martha Updike for this story. (The honorary degrees were the subject of a June 2006 Boston Globe article, but the bookstore owner told the reporter he'd purchased the honorary degrees one year earlier from another rare books dealer. Moran stands by his story. The bookstore in question is now closed and the former owner could not be reached for comment.)
After that, Moran decided he would keep taking Updike's trash, but he wouldn't sell it. That seemed to be the line not to cross.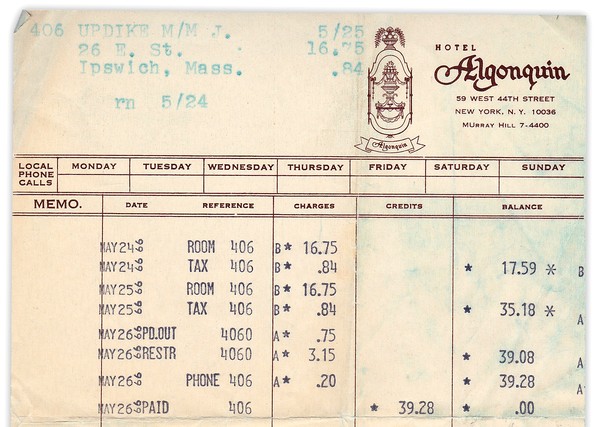 "I realize I'm treading on a difficult thing, and it calls into question everything about celebrity and privacy," Moran told me. "I was sort of tormented by my activity, that it was dysfunction, that it said something bad about my character. It was sort of like a compulsion, an obsession. But I thought it was a justifiable one. I would have done the same thing if Picasso was living down the road."
Moran struggled off and on with feeling, in his words, "sleazy" about what he was doing, but he began to see his regular collections as a historically valuable undertaking—and also an artistic one. He was thrilled by the authenticity of what he found, the idea that he was collecting meaningful detritus. Moran's fascination with otherwise mundane objects goes back to his childhood. "My father kept a splinter that he thought was a piece of the true cross," Moran told me. "So at an early age I got taught to think of a splinter as something that was mindblowingly important."
Moran also seems attracted to the idea that salvaging Updike's refuse was vaguely Updikian. The way he saw it, Moran was collecting the items that a famous collector had long kept, preserving the observations of a great observer, creating "a time capsule of a time capsule."
"Updike took a real thrill in common objects," Moran says. And what's more common than a man's garbage? On one occasion, Moran says a neighbor of Updike's came outside and asked what he was doing. "I told her the truth," he said. "She seemed to warm to the idea, and wanted to know what I had found."
Moran didn't keep everything. He got rid of a cheap pornographic novel published in the 1960s and a copy of the Kama Sutra. He says he regrets throwing away a photograph of Updike holding up a colorful hat, and wishes he kept the dashiki that "seemed sort of flammable" when he decided to throw it away. But he did keep drafts of stories that had been edited, he presumes, by Updike's second wife—the notes in the margins scolded the writer for veering too close to the truth in a story about a group of friends on vacation. "He basically wrote the vacation and mocked the people. She's writing, 'Don't mock, this is mean, this is cruel,' and you can see that the story is pretty far from fiction."
But Moran says he doesn't plan to publish any of the unpublished material he kept—nor will he share any personal photographs of family members other than Updike without their permission. On his blog, he posts images of some findings, such as holiday cards from former presidents, photographs of Updike at different stages in life, fragments of letters, a tiny address book scratched with a child's handwriting, and a letter from movie star Doris Day. (Updike reviewed Day's autobiography in 1976.)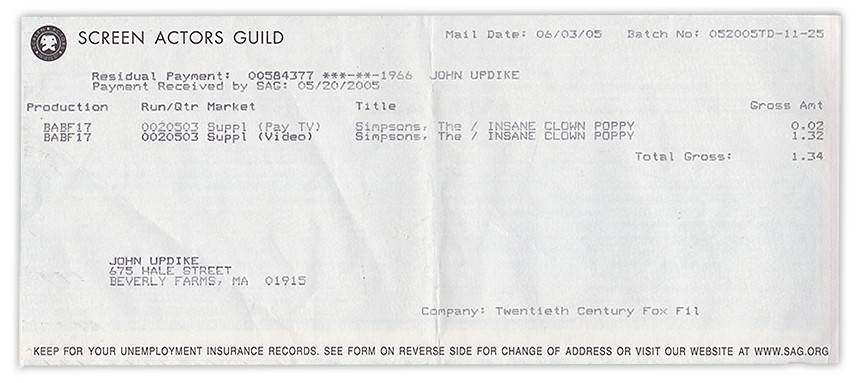 Today, Moran keeps his collection in a storage unit in Austin, Texas, where he moved years ago and now runs a shave ice stand. He's looked for permanent homes for the archive—ideally, he'd like to have some say in its presentation—but says everyone he's approached has turned him down. In the meantime, he's come to terms with the way he acquired Updike's belongings. He'd do it again if he could go back.
"It was disgusting, the actual pursuit of it," Moran told me. "The immediacy made it seem so wrong, but longterm, if you flash back on virtually any major author or historical artist, you would think, 'I wish I had Mark Twain's stuff or Andy Warhol's stuff.' The only morality, as somebody said to me, is if you could focus more on the culture than the vulture aspect ... I just hope that it enhances his legacy."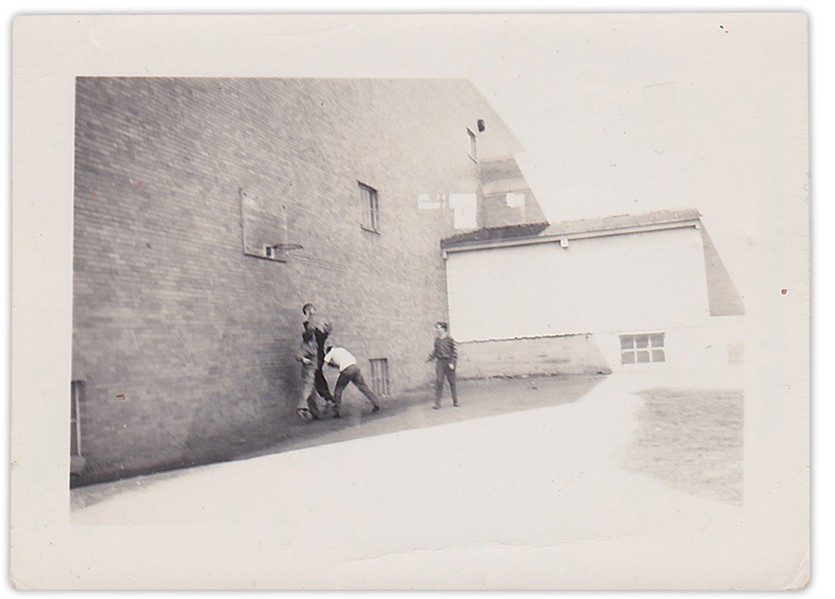 In his fiction, Updike was deeply interested in the tension between following one's desires and the consequences—a contradiction he characterized to the Paris Review as "Yes, but." "Yes, in Rabbit, Run, to our inner urgent whispers, but—the social fabric collapses murderously," he said. "Yes, in The Centaur, to self-sacrifice and duty, but—what of a man's private agony and dwindling?"
Perhaps, then, yes to the impulse of preserving artifacts tied to a great writer's day-to-day life, but—what about decency, privacy, and that writer's own agency? As Updike said in the same interview, "I think books should have secrets, like people do."
Yet Updike himself was curious about the things people discard. The "accumulation and dispersal of life's things is one of Updike's great subjects," The New York Review of Books wrote.
"My life is, in a sense, trash," Updike told the Paris Review. "My life is only that of which the residue is my writing."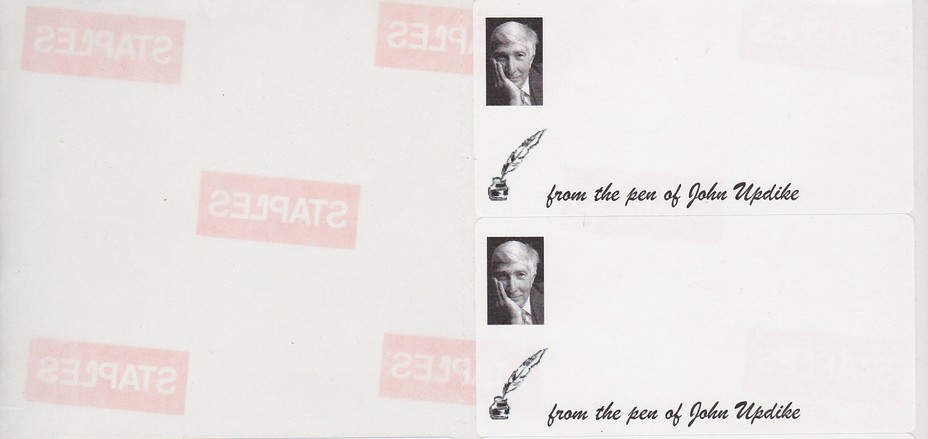 He even wrote his own ode to garbage, a "wonderland of discard," in his early poem, "My Children at the Dump." In it, Updike tells the story of visiting a landfill with his kids, encountering "landslides of perfectly carved carpentry-scraps, sparkplugs like nuggets, cans iridescent as peacock plumes," as he offloads the shared remnants from a marriage that has just ended.
"The waste," Updike wrote, "seems wonderful." He resists the desire to sift through it: "I cannot. These things were considered, and dismissed for a reason."
The poem concludes with a cautionary word to his daughter, who cradles a forgotten doll, a treasure amidst the junk. "Love it now. Love it now, but we can't take it home."