'The Daily Show' Questions Why Michael Sam Won't 'Gay It Up'
In a bit lampooning ESPN's "Michael Sam in the shower" segment, correspondent Samantha Bee worries Sam's not getting enough "grab-ass" in.
This article is from the archive of our partner
.
In the wake of ESPN's exceedingly poor choice to report on what one of Michael Sam's teammates said about his showering habits, Jon Stewart and The Daily Show team took the chance to ask some good questions about locker room culture. Questions like 'aren't we past this?' and 'why isn't there more grab-ass?'
That second question may produce a hunh? But Senior Sports Correspondent Samantha Bee made the case that in fact, Michael Sam shouldn't be toning down his showering with the rest of the team. He should be taking it all the way to 11.
"He's been making his teammates very uncomfortable," "There's been no grab-ass, no dick-snaps, no ball-cupping. None of the locker room behavior of normal, heterosexual NFL players."
To make her case, Bee cited Boys Will be Boys: The Glory Days and Party Nights of the Dallas Cowboys Dynasty by Jeff Pearlman, a book that detailed some of the locker room nonsense that went on in the Cowboys' locker room. For example, here's what defensive end Chris Haley would do: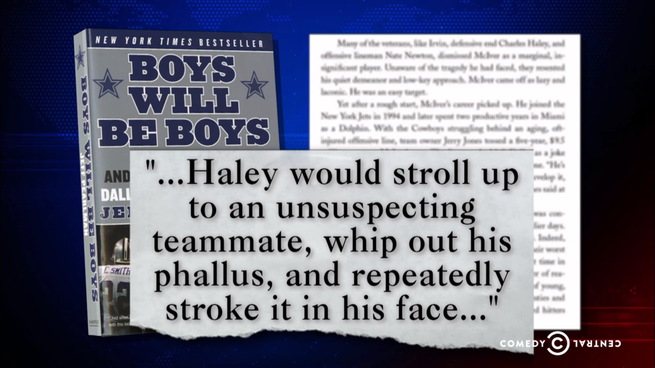 "A phallus is a cock," Bee clarified to Stewart. "Just so you know."
According to Bee – and as evidenced by Pearlman's book – Sam won't truly fit in until he "drop[s] the shy act and gay[s] it up."
"So you think he should be showering with the team?" Stewart asked.
"Oh my god, yes!" Bee replied. "And then, when they're drying off, sneaking up behind them and putting his wet dick in their ear. You know, hetero style!"
This article is from the archive of our partner The Wire.