Ranking the Cast of 'Sin City 2' by Box Office, Boxing Record, and Every Other Important Metric
Who's been on Letterman the most? Whose debut film was the best? Who had the coolest alternative career?
This article is from the archive of our partner
.
After the box-office disappointment of The Expendables 3 last week, another action film heavy with aging Hollywood stars is hitting our screens Friday in Sin City: A Dame to Kill For. Yes, it's another film whose trailer leans on the giant cast list it throws on-screen at the end.
All of these people are in this movie! Even if some of them are only making glorified cameos, surely that's enough to get you to see it!? Well, even if not, the opportunity seemed ripe for another arbitrary gathering of rankings, pitting the old (Bruce Willis) against the very old (Stacy Keach), and the leather-skinned (Mickey Rourke) against the alabaster (Eva Green). Who shall triumph?
Total Domestic Box Office:
Bruce Willis: $3.17 billion (highest grossing: The Sixth Sense, $293 million)
Jeremy Piven: $1.57 billion (Cars, $244 million)
Joseph Gordon-Levitt: $1.49 billion (The Dark Knight Rises, $448 million)
Ray Liotta: $1.11 billion (Wild Hogs, $168 million)
Josh Brolin: $990 million (Men in Black 3, $179 million)
Dennis Haysbert: $989 million (Wreck-It Ralph, $189 million)
Powers Boothe: $921 million (The Avengers, $623 million)
Jessica Alba: $917 million (Fantastic Four, $154 million)
Rosario Dawson: $874 million (Men in Black 2, $190 million)
Mickey Rourke: $828 million (Iron Man 2, $312 million)
Jaime King: $652 million (Pearl Harbor, $199 million)
Eva Green: $473 million (Casino Royale, $167 million)
Stacy Keach: $368 million (The Bourne Legacy, $113 million)
Willis runs away with this one, since Sin City director Robert Rodriguez tends to favor cult actors over superstars, but Jeremy Piven sure has built up a resume of supporting appearances! I should note that Stacy Keach has probably made more money than that but box-office data just doesn't go back far enough.
Golden Globe Nominations: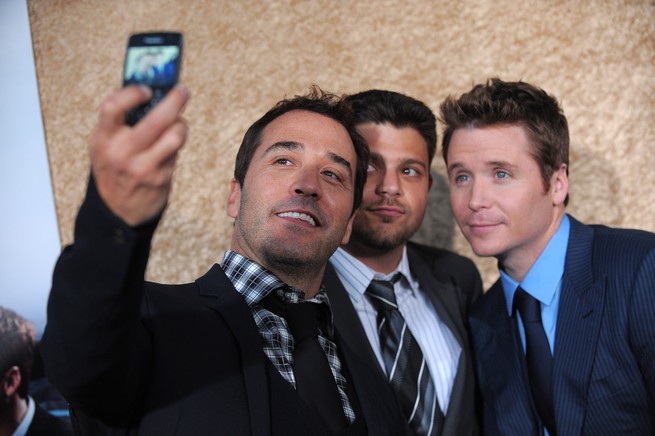 Jeremy Piven: 6 (with 1 win)
Bruce Willis: 4 (with 1 win)
Stacy Keach: 2 (with 1 win)
Joseph Gordon-Levitt: 2
Mickey Rourke: 1 (with 1 win)
Jessica Alba: 1
Dennis Haysbert: 1
Ray Liotta: 1
Everyone Else: 0
Thank the lord Entourage isn't still around to clog up the Supporting Actor category every year. Jessica Alba's nomination was for Dark Angel, for everyone who's asking.
Places of Birth by Coolness Factor:
Eva Green:

Paris, France

Rosario Dawson and Jeremy Piven: New York, New York
Bruce Willis: Idar-Oberstein, Rhineland Palatinate, West Germany
Stacy Keach: Savannah, Georgia
Ray Liotta: Newark, New Jersey
Mickey Rourke: Schenectady, New York
Jaime King: Omaha, Nebraska
Powers Boothe: Snyder, Texas
Josh Brolin: Santa Monica, California
Dennis Haysbert: San Mateo, California
Jessica Alba: Pomona, California
Joseph Gordon-Levitt: Los Angeles, California
All the actors from California: get more original next time. Of course, Eva Green is from Paris, but some things are cool no matter how obvious.
Subjective Quality of Their Film Debuts:
Bruce Willis: The Verdict (1982)
Powers Boothe: The Goodbye Girl (1977)
Stacy Keach: The Heart is a Lonely Hunter (1968)
Josh Brolin: The Goonies (1985)
Mickey Rourke: 1941 (1979)
Rosario Dawson: Kids (1995)
Dennis Haysbert: Major League (1989)
Joseph Gordon-Levitt: Beethoven (1992)
Eva Green: The Dreamers (2004)
Jessica Alba: Camp Nowhere (1994)
Jeremy Piven: Lucas (1986)
Ray Liotta: The Lonely Lady (1983)
Jaime King: Happy Campers (2001)
Except for the bottom three, that's a pretty eclectic and interesting bunch of debuts, guys. I know The Goonies should probably be higher, I just don't like it that much. But who knew Bruce started out with The Verdict? Everyone go watch The Verdict!
Number of Robert Rodriguez Films Appeared In:
Jessica Alba: 5
Bruce Willis: 4 (although he is not in the Rodriguez-directed segment of Four Rooms)
Josh Brolin, Rosario Dawson, Powers Boothe, Jeremy Piven, Jamie King: 2
Everyone Else: First time!
I forgot Josh Brolin was in Planet Terror. He's funny in that one.
Number of Appearances on The Tonight Show:
Jessica Alba: 13
Rosario Dawson: 9
Josh Brolin: 7
Jeremy Piven: 6
Mickey Rourke: 5
Joseph Gordon-Levitt, Ray Liotta, Jaime King: 3
Bruce Willis, Powers Boothe: 1
Eva Green, Dennis Haysbert, Stacy Keach: 0
Yes, you read that right: Jessica Alba has been on The Tonight Show 12 more times than Bruce Willis.
Number of Appearances on The Late Show with David Letterman:
Bruce Willis: 27
Jeremy Piven: 5
Jessica Alba: 4
Mickey Rourke, Joseph Gordon-Levitt, Ray Liotta: 3
Josh Brolin: 2
Rosario Dawson, Dennis Haysbert: 1
Eva Green, Powers Boothe, Jaime King, Stacy Keach: 0
Bruce, long-time Letterman buddy, obviously favors CBS. But here's my question: why doesn't anyone want Eva Green on their talk show?
Number of "Utter Masterpieces" Appeared in According to the Still Notoriously Hyperbolic and Fickle David Sims:
Jeremy Piven: 6 (Say Anything, The Grifters, The Player, Heat, Grosse Pointe Blank, Black Hawk Down)
Rosario Dawson: 5 (He Got Game, Josie and the Pussycats, 25th Hour, Alexander, A Guide to Recognizing Your Saints)
Bruce Willis: 4 (Die Hard, Pulp Fiction, Twelve Monkeys, The Fifth Element)
Stacy Keach: 3 (Brewster McCloud, Up in Smoke, Batman: Mask of the Phantasm)
Josh Brolin: 3 (Flirting With Disaster, No Country for Old Men, Milk)
Mickey Rourke: 2 (Body Heat, Diner)
Joseph Gordon-Levitt: 2 (10 Things I Hate About You, Mysterious Skin)
Powers Boothe: 2 (Nixon, MacGruber)
Dennis Haysbert: 2 (Heat, Far From Heaven)
Ray Liotta: 2 (Field of Dreams, Goodfellas)
Jessica Alba: 1 (Honey)
Jaime King & Eva Green: 0
I'm as mad as the rest of you that Jeremy Piven is in so many good movies. I wanted Rosario to take this one. She's been in a lot of personal favorites that not enough people like.
Most Interesting Alternative Careers Pursued:
Mickey Rourke: Boxer
Rosario Dawson: Comic book writer
Joseph Gordon-Levitt: Owner of online collaborative production company
Josh Brolin: Stock trader
Bruce Willis: Singer
I might have put Bruce higher, but I've heard The Return of Bruno.
Amateur Boxing Record:
Mickey Rourke: 27 wins, 3 losses
Everyone Else: 0 wins, 0 losses
Including quite a few knockouts.
Professional Boxing Record:
Mickey Rourke: 6 wins, 0 losses, 2 draws
Everyone Else: 0 wins, 0 losses, 0 draws
You never got him down!
This article is from the archive of our partner The Wire.