Is Vin Diesel Playing Black Bolt in an 'Inhumans' Movie, or Is He Trolling Marvel Movie Fans?
This article is from the archive of our partner
.
If there was any pocket of the world that didn't love Vin Diesel before his memorable voice work as Groot in Guardians of the Galaxy, it has been happily eradicated. Diesel's energetic red-carpet work for the movie, which was probably just a few days of voice work, has made him all the more endearing. But now he's just downright trolling his fans. A Facebook image of Groot put up over the weekend seems to suggest that he might be part of another rumored Marvel franchise: The Inhumans.
"I get the strange feeling that Marvel thinks I'm Inhuman… Haha." That's all Vin says, but that capital I in Inhuman was enough to get the internet chattering about a potential Inhumans film. The race was introduced in the '60s Fantastic Four comics by Stan Lee and Jack Kirby and remains an important cornerstone of the Marvel comic book universe to this day. They're a genetically-advanced alien race of superpowered humanoids created aeons ago by the Kree (the blue dudes who claim Guardians' main villain Ronan the Accuser as their own) who hang out on a secret part of the moon.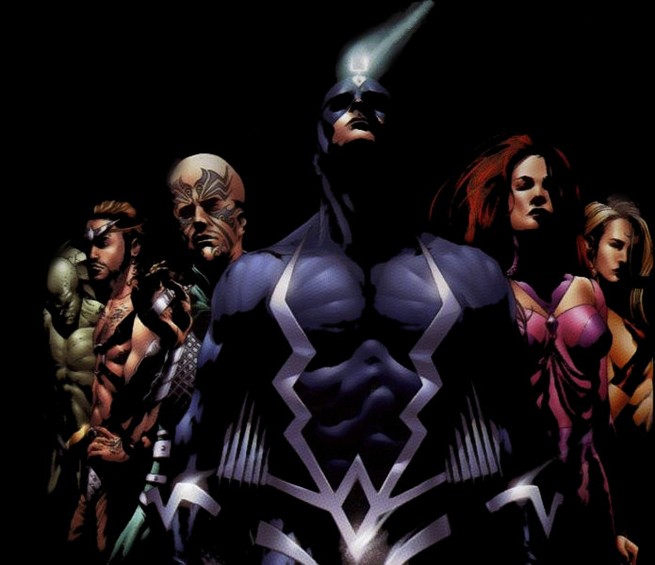 Since Diesel's voice work as Groot doesn't even involve him being on-set, there'd be plenty of time for him to star in another Marvel franchise, particularly if he took the role he's most suited for—Black Bolt, King of the Inhumans, which involves no speaking at all. Black Bolt's powers reside in his voice—if he ever speaks, he produces enough energy to level a city, so he mostly stands silent and points at people, wearing a very cool costume while he does it. One of Diesel's best assets is his rumbling voice, but that would make Black Bolt role all the more challenging and exciting for him, right?
Maybe. Maybe Vin's just teasing everyone who thought he might be in the Inhumans when he first mentioned being in a Marvel project a couple years back (that, of course, turned out to be Groot). Maybe he thinks the Inhumans is a good idea, but produced Kevin Feige hasn't signed off on it yet. Stan Lee once mentioned that an Inhumans movie would be on the docket for Marvel eventually, and Diesel himself mentioned that he talked to Marvel about a "fresh IP," or intellectual property, that might come out in 2016 or 2017, before taking the role of Groot. Is that back on the table?
The Inhumans are an even more bonkers concept than Guardians of the Galaxy, but after the success of that space adventure, Marvel might be happy to take a risk, and Diesel's star is at its highest right now. Plus, we know he loves space epics, considering his undying passion for the Riddick franchise. At the very least, though, one has to tip a cap to Diesel for knowing how to troll his fans.
This article is from the archive of our partner The Wire.