Handicapping the 'Top Chef: Duels' Matchups [UPDATED]
Eighteen Top Chef alumni are returning to compete in the Bravo franchise's latest spinoff. Who will come out on top? (Again?)
This article is from the archive of our partner
.
Top Chef is bringing back its best and brightest for a new competition – but this isn't All-Stars 2. Instead, the franchise has rounded up 15 regular series competitors plus three from their Top Chef: Masters spin-off to compete against each other in Top Chef: Duels.
For nine weeks, two Top Chef alums will try to beat each other in one-on-one cooking matches. It's an interesting twist on the existing formula, and it's always exciting to see old faces back. But not all Duels are created equal. We decided to size the battles up to see which have the greatest promise.
The order in which the match-ups are listed here matches Bravo's announced episode schedule. So season 4's Richard Blais and season 2's Marcel Vigneron will go head-to-head in the premiere, and so on and so forth until the finale, when the best of the best will face off. We're evaluating these matches based on five criteria: narrative appeal of the pair facing off, strengths and weaknesses of each, who we think the production prefers, and who we want to see take it.
UPDATED: We'll also be updating this space with the results of each duel, week-by-week. Let's see how well our favorites do!
Richard Blais v. Marcel Vigneron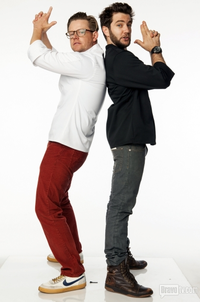 Why They're Paired: They both competed in the All-Stars season, and they're also both notable for being among the most experimental contestants in the series' history.
Strengths: Richard's molecular gastronomy took everyone by surprise in season 4, and it was considered a pretty huge shock when he didn't win. Marcel loves playing with foam, which seems to delight people sometimes.
Weaknesses: Marcel is one of the bitchiest villains the series has ever had, and his appearance on All-Stars didn't do much to fight that perception.
Who the Show Loves: Richard basically marched to an assumed victory in All-Stars. He's one of the most production-beloved contestants ever.
Who We Want to Win: To be honest, Richard didn't make his All-Stars coronation particularly enjoyable. All of his worst attributes were made manifest: a bizarre blend of cockiness and obnoxious self-doubt, not to mention a sense that he believed All-Stars was created solely for him to get his second chance (which: it may have been). Gone was the lovable and generous contestant from his season. But God, if the other choice is Marcel, we'll throw all our support at Richard.
UPDATE: Duel Winner: Richard Blais, via a combination of inventiveness and world-beating condescension towards Marcel (who, yes, probably deserves to be condescended to). Blais whined when Marcel's burger bested his. Marcel berated his staff and called himself a sweetheart. Guest judge Wolfgang Puck couched passive-aggressive barbs in his cute Austrian accent.  
Shirley Chung v. Brooke Williamson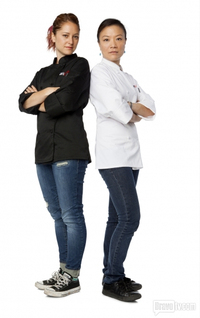 Why They're Paired: They're both women? Seriously, there's really nothing that connects them otherwise. They are both very, very good, though.
Strengths: Both made it to the final weeks of their seasons largely on their professionalism and mixture of skills. In that way, this is an evenly matched duel.
Weaknesses: Brooke got tagged with a weird "she's kind of a train wreck!" narrative near the end of her season (in an episode she won, mind you), so we'll see if the story producers try that again. Shirley just missed the final two by a hair, which can either make a contestant a fighter or an overthinker.
Who the Show Loves: Honestly, this one feels like the complete toss-up. Let's guess Brooke by a hair.
Who We Want to Win: Brooke, again by a hair. Shirley's great, but Brooke proved slightly more entertaining in her season.
UPDATE: Duel Winner: Shirley Chung, who was given a heavy comeback edit in the episode. As predicted, the less-than-ideal matchup showed in their weak banter. Couching this match – where the food was superb, yes, but that's not really the point of Duels – between Blais/Vigneron and the next one seems like a strategic programming move. This one was kind of boring, yes, but just wait until next week!
Antonia Lofaso v. Mike Isabella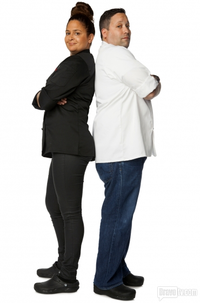 Why They're Paired: They were the bitterest of rivals during All-Stars – until it was revealed in an ancestry-based challenge that they're distantly related! Their bickering then took on a much more familial tone.
Strengths: Antonia made it to the early stages of the finale in both her seasons, consistently impressing among strong competition. Mike became something of a judges' pet in All-Stars, making it all the way to second place.
Weaknesses: Mike didn't do very well in his original season, so it remains to be seen if his All-Stars run was a fluke or not. Antonia has a tendency to choke in the last phase of the competition. They both let their rivalry affect their work in All-Stars.
Who the Show Loves: Mike, no question.
Who We Want to Win: Antonia, again, no question. Time for the eternal bridesmaid to have a win of her own.
UPDATE: Duel Winner: Antonia Lofaso. It was a feel-good win – Antonia stuck with her roots and produced a delicious Italian meal, and her tears at the final Judges' Table were the most heartwarming moment of this spin-off season so far. That she was able to take the win over her longtime rival on the strength of her dessert makes it all the sweeter.
CJ Jacobson v. Stefan Richter
Why They're Paired: They both returned in season 10 after not winning their respective seasons (3 and 5), so they've faced off before.
Strengths: Stefan is a skilled chef, often despite his abrasive personality. CJ is one of the most beloved contestants in series history.
Weaknesses: CJ isn't as sharp in his older age, getting knocked out of season 10 fairly early. Stefan also didn't do as well as he did in season 5, where he made it to the finale.
Who the Show Loves: They're both huge production favorites, but it does feel like they like Stefan a bit more. They gave him a pretty easy opponent here, after all.
Who We Want to Win: Stefan. He's softened since his edgy roots, and CJ just doesn't seem as inspired to produce great food.
UPDATE: Duel Winner: CJ Jacobsen, in a bit of a surprise. It was a melancholy episode, as Stefan told viewers early he'd be heading back home after the duel's end to tend to his sick mother. Stefan has grown immensely more likable during his time within the Top Chef universe – and he was at his most likable here – but his cooking skills just haven't stayed up to par. CJ's win was earned, but we wish he'd been going up against a top-flight version of his season 10 pal.
David Burke v. Takashi Yagihashi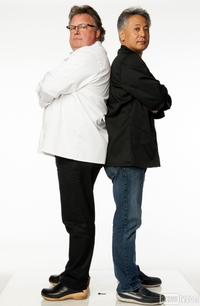 Why They're Paired: They're both Masters contestants, but they never competed against each other (David from seasons 2 and 5; Takashi from season 4).
Strengths: As Masters competitors, they've naturally enjoyed major professional success: David is highly decorated and owns a number of restaurants, while Takashi is a critical favorite.
Weaknesses: Despite their professional success, neither really stood out on Masters. David finished fourth in season 5, while Takashi finished fifth in season 4. (Season 2 was scored differently, and in a fairly confusing system that didn't allow for placing. It's good they threw it out.)
Who the Show Loves: The producers show a lot less favoritism on Masters, but David being brought back for a second Masters season indicates he might have an advantage.
Who We Want to Win: Flip a coin, really. Let's say Takashi. David's had two chances already.
Tiffani Faison v. Dale Talde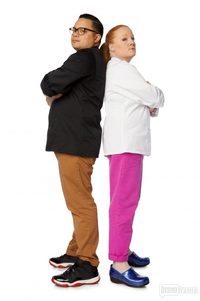 Why They're Paired: They both competed in All-Stars – with opponents who shared their names (Tiffany Derry and Dale Levitski). They also were both strong chefs with prickly personalities in their original seasons.
Strengths: Both contestants came back with friendlier, more easygoing demeanors in All-Stars after being the sourpusses of their seasons. Dale in particular managed to surprise, winning three challenges despite tough competition.
Weaknesses: Tiffani seemed really focused on not seeming so harsh in All-Stars – and she did seem much more likable! But the culinary skills weren't quite as strong as before.
Who the Show Loves: Dale. The show seems to generally prefer male contestants anyway, but he was given a really favorable edit in All-Stars. Tiffani was too, but she was also eliminated early.
Who We Want to Win: Dale. Tiffani is great, but Dale's really grown. It'd be great to finally see him get a win as a reward.
Nyesha Arrington v. Jen Carroll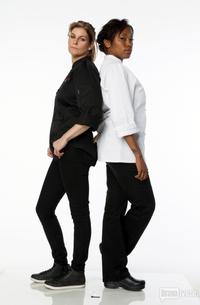 Why They're Paired: They're both women? Again? It's strange that only two of these nine matchups are mixed-gender.
Strengths: Jen was the only female member of the power quartet that won almost every challenge in season 6. She's intense, but very skilled.
Weaknesses: Nyesha was fairly unremarkable in season 9, which was itself a very unremarkable season. She couldn't stand out in a big crowd of mediocrity – facing off against Jen just feels unfair.
Who the Show Loves: Surprisingly, due to Jen's shocking boot only two episodes into All-Stars – plus Nyesha's weird inclusion here – we have to assume the producers love Nyesha.
Who We Want to Win: Jen. No contest.
Stephanie Izard v. Kristen Kish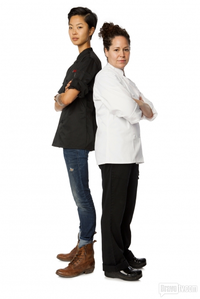 Why They're Paired: They're both women? Okay, this one makes a little more sense: Stephanie and Kristen are the only female winners in the series' 11-season run. (Take a minute to process that and mourn.)
Strengths: Stephanie won out in a season stacked with innovators based on a strong work ethic and very simple, impressive cooking. Kristen, well, there's a whole thing with Kristen, but we'll note here that she is very skilled and tenacious.
Weaknesses: Kristen ... again, we'll get back to Kristen in a second. Stephanie lost to Richard in an All-Stars Quickfire challenge, reinforcing the belief that she was supposed to lose to Richard in season 4. Not a great last impression to have had on the series.
Who the Show Loves: So Kristen got eliminated way too early in season 10, then proceeded to run the board in the companion web series Last Chance Kitchen. Because she won there, she came back into the main competition in the top three, then wound up winning. Now, there are two important aspects here. First: Unlike the main competition, Last Chance Kitchen is only judged by head judge Tom Colicchio. Second: For the first and only time in Top Chef history, the finale was changed to an Iron Chef-esque one-on-one cooking competition that favored quick judgments over long deliberations, in strong contrast with the show's usual format. Now, who knows which finalist the new format favored, but the result was that the contestant with the best narrative – Kristen, the very skilled comeback kid who won the award-winning companion web series and fought back against an early elimination – wound up taking the whole thing.
It's not a stretch to say the production loves Kristen.
Who We Want to Win: Stephanie. She deserves a chance to prove she earned her win.
Kevin Gillespie v. Art Smith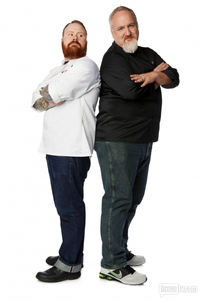 Why They're Paired: They both have beards. Kidding, but who knows? There's no real connection between the two – and this is the only main series chef vs. Masters chef match-up. It's very random.
Strengths: Kevin was a third-place finalist in season 6 and was a fan favorite. Art was Oprah's personal chef.
Weaknesses: Well, one of them wasn't Oprah's personal chef.
Who the Show Loves: Apparently not Kevin! Though in a weird way, the narrative of a "homegrown" contestant beating a Masters contestant is appealing. So maybe this is a secret setup for Kevin to win.
Who We Want to Win: Kevin. He's ambitious and fun and wonderful. Nice name, too.
This article is from the archive of our partner The Wire.