A Definitive Ranking of Every MTV Video Music Awards Ceremony
Music videos may not be MTV's bread and butter anymore, but the VMAs remain a constant. Which ceremonies stand out in the past 30 years?
This article is from the archive of our partner
.
For three decades, MTV has been executing a successful shock-and-awe campaign aimed to dominate headlines while entertaining the masses. From pregnancy announcements to fistfights to twerking on teddy bears, this program has never failed to delight, frighten, or both.
We're talking, of course, about the MTV Video Music Awards.
It's been more than a minute since MTV decided to care more about reality TV than music videos, but the VMAs remain, like a relic of our past we like to look at every once in a while. But which ceremonies stand the test of time? Which outrageous twists and turns do we remember best? And is there anything that can stand up to Madonna and Courtney Love's confrontation? In honor of 30 years of VMAs, we've answered your questions in the form of a ranking.
Every MTV Video Music Awards, Ranked:
30. 1985: There wasn't anything wrong with the 1985 VMAs, exactly. Eddie Murphy hosted; he was pretty good at doing that sort of thing back then, even if his monster sweater fashions never caught on as awards-show couture. Video of the Year "The Boys of Summer" by Don Henley may not have been the most artistically impressive of the year (that Madonna's "Material Girl" was shut out of the top category was a problem), but that's a solid song. The lack of any true memorable performance — even counting Murphy delivering "Party All the Time" — helps this one easily fade into obsolescence, though. — JR
29. 2007: It's a little serendipitous that Britney Spears' failed comeback performance happened in Las Vegas, where she now dances her way through 50 shows a year as part of her residency. (In other words, she's Stronger.) But other than her cringeworthy opening double act of "Trouble" and "Gimme More," not much happened in 2007, at least not anything you wouldn't expect at the VMAs: Justin Timberlake took home several moon-men, and Kid Rock fought Tommy Lee over Pamela Anderson. The lack of surprises combined with mediocre performances meant a yawn of a night. — SL
28. 1992: In 1992, Courtney Love prodded Guns N' Roses' Axl Rose by taunting him about becoming the godfather of Frances Bean, and he retaliated by lashing out at Kurt Cobain, bringing the members of Nirvana into play. Nirvana then performed a few bars of "Rape Me" (to MTV's horror) and "Lithium," before continuing to whine about the feud. Angry bands coming to a boil—not exactly the most enjoyable viewing. — SL
27. 1987: Peter Gabriel winning Video of the Year for "Sledgehammer" is correct in a very '80s way, though the fact that no women (and particularly not Madonna's "Papa Don't Preach") were nominated for Video of the Year taints it. Performances by Whitney Houston, David Bowie, Prince, Madonna, Bon Jovi, Run-DMC and Aerosmith, and The Cars went a good way towards salvaging. — JR
26. 2006: Doesn't it seem like an odd dream that Lil' Kim went to prison for a year? The mid-Aughts were filled with far more legal scandals than today's pop cultural landscape.
It's hard to imagine Nicki Minaj arriving at the VMAs to present in an orange jumpsuit unless she was teasing a role in the new season of Orange Is the New Black. Yet that's exactly what Lil' Kim did in 2006, stripping off the orange to symbolize her freedom. It was the highlight of an otherwise snoozy show. – KO
25. 2004: That night in Miami had some pretty fun performances. Just look at the set list: Jessica Simpson. Yellowcard. Hoobastank. Ashlee Simpson. New Found Glory. It's a literal trip down memory lane! Too bad it's not quite memorable enough to warrant a higher spot in our rankings. — SL
24. 2012: Weird factors in the 2012 VMAs: one, the show aired on a Thursday. [EDITOR'S/OLD PERSON'S NOTE: Until 2004, the Video Music Awards were always on a Thursday. — JR] Two, the show was the lowest-rated ceremony in five years. Three, the Video of the Year award went to Rihanna for "We Found Love," despite that video's awkward implications about Riri and Chris Brown. And four: Taylor Swift performed "We Are Never Ever Getting Back Together" to close the show. None of this was particularly intriguing, you'll note. Just one of those strange years. – KO
23. 1991: This year is most notable for being the one where the Vanguard Award took on Michael Jackson's name – citing work like "Thriller" as a clear standard of quality MTV should be honoring. But we'd also like you to remember it as the ceremony where Bret Michaels got in a fistfight backstage. Thank you for carrying this important bit of knowledge with you from here on out. – KO
22. 1988: This was a strangely down year for nominated music videos. INXS's "Need You Tonight" isn't terribly memorable, but it's not like, say, Bruce Springsteen's "Tunnel of Love" is much more memorable. Performances by Michael Jackson, Guns N' Roses, and Cher made the whole thing pretty worth it, though. — JR
21. 1986: Though it would be anathema to consider now, black artists weren't popular on MTV at its inception. The fact that Whitney Houston's videos were heavily featured was a feat on her part – and performing two songs was a just reward for her career thus far. "How Will I Know" and "Greatest Love of All" made for an electrifying combination from an artist in her thrilling prime. – KO
20. 2005: The 2005 VMAs didn't have the easiest time getting off the ground, as Hurricane Katrina spiraled toward Miami. It also took on a somber mood, thanks to Green Day dominating the awards with "Boulevard of Broken Dreams." At least Kelly Clarkson came along and kicked things into high gear with a barefoot performance of "Since U Been Gone." — SL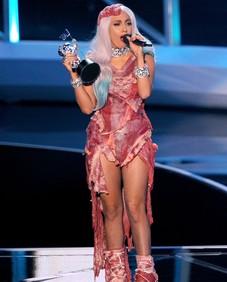 19. 2010: Lady Gaga was the star in 2010, winning Video of the Year for "Bad Romance" and accepting the award in a dress made of raw meat. She also announced the release of her new album Born This Way so maybe this was the beginning of the end for her? Regardless, she stole the show, but Taylor Swift/Kanye West Round Two took place in their individual performances. Swift's "Innocent" was somehow simultaneously overwrought and unfocused. "Runaway" was West's proud roar that he was back. He won this round. – KO
18. 1984: The first VMAs hit MTV three decades ago in a big way: Madonna performing "Like a Virgin." It was instantly iconic. The wedding gown! The writhing around! It was watching music history in motion. The rest of the ceremony around her was fairly tame, but to cause such a ruckus on the first edition makes us wonder how lucky we are to still have the show 30 years later. – KO
17. 2000: There wasn't one particular point of interest during the 2000 VMAs, but the production made up for a lack of a highlight with a solid show. Eminem's Video of the Year win for "The Real Slim Shady" was deserved, a recently-under-fire Whitney Houston and recently-out-of-jail Bobby Brown were at their most erratic, a controversial double play by Britney (including her Rolling Stones' "Satisfaction" cover), and Christina Aguilera and Fred Durst performing together in days before their odd romantic unpleasantness. 2000 was a weird year! – KO
16. 1993: Christian Slater hosted this one, is the important thing to know. Because Untamed Heart was simply too big a phenomenon to ignore. (Fine, fine, and True Romance too, I suppose.) This whole ceremony was a huge coronation of grunge rock, with Pearl Jam (Video of the Year winner for "Jeremy"), Stone Temple Pilots, Nirvana, and Alice in Chains all winning awards, and Pearl Jam and Neil Young serving as the bridge between the dads of 1993 and the future dads of 2014. Janet Jackson performed "If," if you're wondering who brought the house down. — JR
15. 1990: The Arsenio-hosted shows (this was the third of four) were so much fun. He really had a sense for the occasion. Sinead O'Connor bested Aerosmith's "Janie's Got a Gun" and Madonna's "Vogue" for Video of the Year, which, quibble all you want, but that's an excellent year for music videos. Meanwhile, Madonna's live performance of "Vogue" was one for the ages. — JR
14. 1996: The truth of the matter is that the Video Music Awards are in the eye of the beholder, and a lot of your appreciation of them is tied into your own nostalgia for that era of music. Which is why the 1996 awards, with its Smashing Pumpkins and Alanises and Fugeeses, might resonate for some writers more than others. For example. — JR
13. 2008: Forget the 2007 VMAs, this is when we met True Comeback Britney. (We'll talk about Godney in a bit.) She picked up three Moonmen that night (Video of the Year, Best Female Video, and Best Pop Video) all for "Piece of Me." Sure, Russell Brand politicized things with some jabs at John McCain and George W. Bush while hosting, and sure, Tokio Hotel (who?) won Best New Artist, but this was Britney's night, and everyone wanted a piece. — SL
12. 1994: If Christian Slater was an odd choice for an awards show host the year before, Roseanne Barr was somewhere between inspired and insane. This one had a bunch of those memorable VMAs moments MTV always touts. Michael Jackson and Lisa Marie Presley's awkward "Nobody thought this would last" kiss; Madonna and David Letterman burying the hatchet after her f-word binge on his show; and the Beastie Boys' Adam Yauch rushing the stage in costume to protest Spike Jonze's loss for Best Director. (In fairness, "Sabotage" not winning any awards IS an outrage.) — JR
11. 2001: Sexy Adult Godney Britney took a python with her onstage and gyrated to "I'm a Slave 4 U." It's a performance seared into pop culture's collective minds and PETA's collective fury. Afterward, nothing was the same. — SL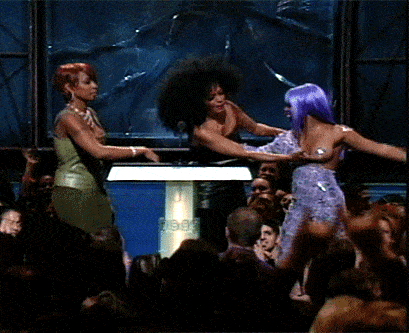 10. 1999: Yet, it's important to remember Britney's first VMAs performance (alongside *NSYNC!). Early Britney was everything, and the 1999 show was the same, honoring everyone from Ricky Martin to Nine Inch Nails to TLC. It was also the year of Purple Pasty-gate, so perhaps the night belonged to Lil' Kim and the shock of seeing Diana Ross reach over and cup her exposed breast on camera. — SL
9. 2013: You could choose to remember the 2013 show for Justin Timberlake's inspired 15-minute set in honor of his Video Vanguard award. You could remember *NSYNC reuniting for mere moments – but what glorious mere moments they were. And you could choose to remember Lady Gaga's under-appreciated performance of "Applause," which featured her recreating some of her most iconic looks throughout her short career. But you don't remember that. You remember Miley Cyrus twerking up on Robin Thicke as they sang "Blurred Lines" together. And we can't fault you for that. – KO
8. 2002: The VMAs were moved to August starting this year, so as to steer clear of the one-year-anniversary 9/11 memorials (Bruce Springsteen opened the show from the Natural History Museum with "The Rising," and there was a strain of remembrance running through the whole show). Guns N Roses "reunited" at this show, but the most notable performance was Justin Timberlake making his solo VMAs debut. Also, Eminem beefed with both Moby and Triumph the Insult Comic Dog, before spending the next ten years trying to live down the latter. — JR
7. 2009: Ah, the "I'mma let you finish" heard 'round the world. What else is there to say about the Kanye mic grab that surprised even Beyoncé, the queen of surprises? Things have certainly changed since then, but that moment, along with a touching tribute to Michael Jackson, helped catapult the 2009 show into our top 10. — SL
6. 1998: Somehow, the the theme of this show ended up being diva pairings. Brandy and Monica performed "The Boy Is Mine." Mariah Carey and Whitney Houston presented together and did a little "oh no, we wore the same dress" bit and generally pretended they didn't hate each other. And Madonna finally won Video of the Year, for "Ray of Light," presented to her by the legendary Geri "Ginger Spice" Halliwell. — JR
5. 1997: No worries if you can't remember what happened during the 1997 show—it was more a collection of iconic VMA moments than a cohesive ceremony. First came the nonsensical pairing of Martha Stewart and Busta Rhymes as presenters; then came the heartbreaking tribute to Biggie by Diddy, Faith Evans, and company; and finally came Fiona Apple's "This world is bullshit" acceptance speech. That was a lot for one night—and exactly what we wanted from the VMAs. — SL
4. 2011: There was so much happening this year! Lady Gaga dressed up in drag as Jo Calderone. Britney Spears won the Video Vanguard award and was paid homage by a coterie of young artists. Katy Perry won Video of the Year for "Firework." The biggest news, of course, was Beyoncé's pregnancy reveal – done in spectacularly over-the-top fashion after a stellar rendition of "Love on Top" – but even that blessed announcement of Blue Ivy's incoming entry to our world added to the insanity.
Yet amidst all the chaos, one shining beacon stood out: Adele's performance of "Someone Like You." To call it "starmaking" would be dishonest, as Adele was a genuinely beloved talent by this point. But the woman got up on stage and sang a piano ballad for five minutes, and instead of the show crashing around her, she immediately became the untouchable best thing about it. Flash and drama are fun, but sometimes you just need someone to teach the other boys and girls how to bring it. – KO
3. 2003: Any year that features Missy Elliott taking home a rightful Video of the Year award for "Work It," plus Beyoncé's solo debut performance of "Crazy in Love," is a year worth third place. But 2003 is remembered most for the Britney and Madonna kiss – and of course it is! It's one of the most iconic moments in VMA history. Now, hindsight is 20/20, and two of our greatest pop stars using a sapphic moment to titillate the audience feels cheap. But in the moment, watching generations bridged by a thrilling performance of "Like a Virgin" and "Hollywood" – and, yes, sealing it with a kiss – it felt outrageous and momentous. – KO
2. 1989: Nothing beats the acoustic performance Bon Jovi gave that night with "Livin' on a Prayer" and "Wanted Dead or Alive." It's legendary, and it inspired MTV Unplugged. The sixth VMAs also featured Paula Abdul winning four Moonmen (matching Madonna's haul for the night) and performing a medley of her hits, complete with tap dancing, aerial acts, and massive hair. What else would you expect? It was 1989. No wonder Taylor Swift wants in. — SL
1. 1995: The show itself had a lot to recommend it: the deserving win of TLC's "Waterfalls" in Video of the Year (or as presenters Whitney Houston and Bobby Brown put it: "WaterFALLS WaterFALLS WaterFALLS WaterFALLS!"), performances by Michael Jackson and a debuting Alanis Morissette. But the reason this year hits our top spot came after the show, when Courtney Love bum-rushed Madonna's interview with Kurt Loder, gifting us with the greatest moment of celebrity interaction in world history. — JR
This article is from the archive of our partner The Wire.