Lizzy Caplan's Episode Submission Pushes Her Forward in the Emmy Race
Some bizarre episode submissions makes the Best Actress in a Drama Emmy race more competitive than it first seemed.
This article is from the archive of our partner
.
Getting nominated for an Emmy is a crapshoot, but winning is even more random and strange, since you only get to submit one episode to showcase all your skills. Emmy voters will be sitting down and watching screeners to help decide their votes. We replicated the process, watching each category's submitted episodes, in no particular order, to see what tickled our fancy.
Outstanding Lead Actress in a Drama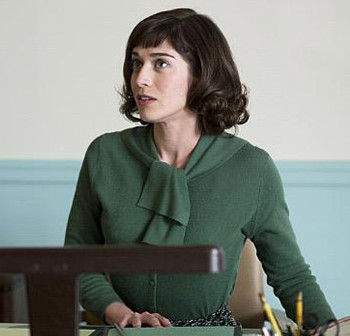 Lizzy Caplan, Masters of Sex
Episode Title: "Pilot"
Episode Description: Dr. William Masters (Michael Sheen) tries to push his new study on sex forward, but it becomes clear he needs a female partner. Enter Virginia Johnson (Caplan).
Submitting a pilot is always risky – lots of clunky exposition can derail an awards campaign quickly. But Caplan gets an impressively large arc in this extra-long episode – she's stunning from her first moments on screen, and she gets even better from there. There's a great naturalism to Caplan's acting: Johnson feels completely of the '50s, but avoids feeling like a Mad Men reject. Caplan makes Johnson a warm, exciting, fresh character, and she chose well with this episode submission. If Emmy voters want to reward something new, this would be a worthy win.
---
Claire Danes, Homeland
Episode Title: "The Star"
Episode Description: Nicholas Brody (Damian Lewis) succeeds in assassinating a threat, and Carrie Mathison (Danes) tries to get him out of the Middle East safely.
This episode's a heartbreaker, but it's a really strategic choice on Danes' part. She gets two really great arcs (both spoilers): dealing with Brody's death and trying to come to terms with having a child. She avoids the histrionics of the performance that have previously been parodied, keeping her facial acting sharp and appropriate. Her facility in transitioning between an emotionally explosive scene to a quiet, political one – getting a promotion from a new boss she doesn't love – is impressive. Homeland may be slightly beyond its glory days, but Danes' performance is still incredibly fine.
---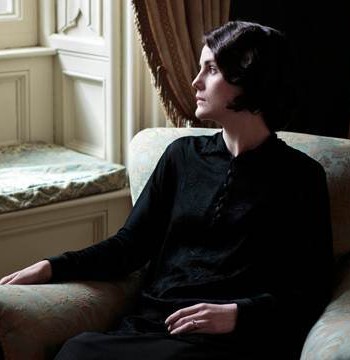 Michelle Dockery, Downton Abbey
Episode Title: "Episode 4.1"
Episode Description: Still grieving over her husband's death, Lady Mary (Dockery) grows impassive about her role at Downton.
On nomination morning, this was the nomination that elicited the most groans (with perhaps Ricky Gervais for Derek excepted). Yet in a show that is consistently bland, Dockery's submission stands out, thanks to plenty of good scenes to work with. She gets scenes with fellow Emmy nominees Maggie Smith and Jim Carter, and her thrilling return to taking an interest in the business of Downton ends the first hour well. Her supersized entry (two episodes in one) should help her, although there's a strange side-effect: the triumphant final moment of the first hour is stifled by the story in the second. It waters down what could be an easy "inspiring" choice for the win and complicates it. She gets some good news in the form of her dead husband's will in the second half, but it's given to her. She's passive, rather than the highly active first hour denouement. Time will tell if that affects her – or if two full hours of work helps.
---
Julianna Margulies, The Good Wife
Episode Title: "The Last Call"
Episode Description: While absorbing the news of her friend and former lover Will's murder, Alicia Florrick (Margulies) seeks to find out why he called her just before he died.
This is a sentimental episode, and for most would be an effective submission. That said, it's a little strange for Margulies, who spends most of the episode reserved and inexpressive. Her work is undoubtedly impressive, but it's unshowy – not a quality you ordinarily want to present to Emmy voters. The knock against Margulies' acting skill is her tendency toward subtle over expressive, and this episode doesn't do much to fight that idea. If she had chosen "Hitting the Fan," The Good Wife's masterpiece, she'd probably be the heavy favorite to win. That installment allows for a bit of the poker face, but without sacrificing the wide range of her performance. As it stands, Margulies will have to hope The Good Wife's strong season as a whole will carry her to the win. (Though in a fair world where the politics of episode submissions don't matter, Margulies could and should win in a walk. Because that hug between she and Christine Baranski is spectacular.)
---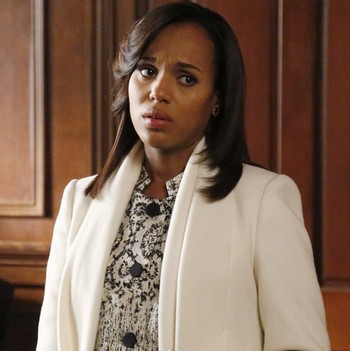 Kerry Washington, Scandal
Episode Title: "The Fluffer"
Episode Description: God, what doesn't happen in this episode? The big thing to know is that Fitz (Tony Goldwyn) is mad at Olivia (Washington) and they shout at each other a lot.
The episode's title refers to the first of three different Shondalogues Washington gets to deliver in this episode. This episode is basically all about Olivia Pope not taking it anymore, and you're gonna hear all about why she can't take it anymore. As always, Washington is sharp and dynamic as Olivia. She seems perhaps more tired than she has been in the past, but voters can choose to either blame that on her real-life pregnancy or ascribe her lethargy to Olivia's own. Regardless of which path they choose, it doesn't matter much: Washington's chances are going to be tanked by how insane the rest of her episode is. Submitting an installment that took place so far into a complicated (and already pretty incoherent) story arc is a bad move, and all the overwrought monologues in the world can't save her.
---
Robin Wright, House of Cards
Episode Title: "Chapter 26"
Episode Description: Vice President Frank Underwood (Kevin Spacey) is close to getting the president impeached, but needs to win back the commander-in-chief's trust before he can finish him off.
In this episode, Wright as Claire Underwood gets to do the very popular "hangs up phone, stares off into distance, then has lots of emotions" thing that has become popular among drama series actresses in the past decade. (Glenn Close in Damages was perhaps the best at this, but she was usually angry versus Wright's tears.) It's Emmy clip catnip, because of all the ~feelings~ it allows a performer to exhibit very quickly. That should help counteract her relatively limited screentime in this episode – though wouldn't "Chapter 17," when Claire admits to having an abortion during a televised interview, been a better choice? This seems like a default submission (Spacey also chose it, and it's a better showcase for him), and in a very competitive field, such a submission can be deadly to one's chances.
---
This is a strange category, because the best episode submissions only roughly match up with the best overall contenders. On nomination morning, you'd have expected Margulies to be leading the pack, but considering her episode submission, she'll likely wind up around third. Caplan's freshness could be a major asset – and her episode is strong – but she also could be seen as too new. Danes and Dockery's submissions are strong, but they may just be past their Emmy prime.
Wright would seem to have the worst chance, while Washington has an uphill battle against her convoluted episode. If Washington does win, however, it's likely a slightly delayed response to her strong work in a series that continues to grow its audience year after year. She's very good, but in the episode submission game, she's outclassed.
NOTE: An earlier version of this post reflected only the first half of Michelle Dockery's episode submission.
This article is from the archive of our partner The Wire.