LeBron Goes to Cleveland and the NBA Reshapes Around Him
Where does Carmelo Anthony go? And Chris Bosh? Can the Heat even stay above .500 next year? Will Kevin Love suddenly get interested in moving to Ohio? LeBron's move creates a void in the league, and talent rushes in to fill it.
This article is from the archive of our partner
.
LeBron James' decision to leave the sunny shores of South Beach to return home to Ohio is a sentimental one, sure to earn him glowing press and the adulation of Cavaliers fans. But it's also a seismic one for the NBA landscape, which had been waiting on tenterhooks to see where James would end up. With the league's Number One free agent returning to Cleveland, Pat Riley's title-winning empire in Miami will likely collapse around him, and the destinations of other marquee players like Carmelo Anthony, Dwyane Wade, Kevin Love, and Chris Bosh are suddenly up in the air.
When Riley and his title-winning star Wade assembled the 2010 superteam that went to four NBA Finals in a row (winning twice), James, Wade, and his co-star Chris Bosh took less money to make it happen. This summer, they all opted out of their contracts, but pundits figured they were simply going to re-structure their deals, allowing James to take the maximum amount, with Bosh perhaps getting a little less and the shakier Wade taking a pay-cut. The allure of playing with James would be more than enough to keep Bosh in Miami, but with James leaving, it looks like Bosh will be taking his talents to Houston.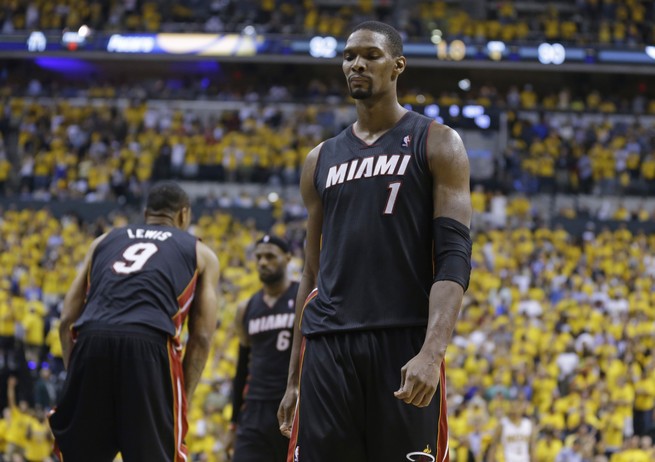 Bosh, a "stretch" power forward who can shoot, play on the wing, and defend, would fit perfectly on the Rockets, who have two superstars of their own (James Harden and Dwight Howard.) And the team wants him badly, reportedly offering him $88 million over four years and working to offload players to make room for him. Backup center Omer Asik will go to New Orleans and point guard (and publicity machine) Jeremy Lin will go to Philadelphia; or maybe the Lakers, according to the latest rumors (UPDATE: He went to the Lakers). On paper, Bosh would turn the already-great Houston (the #4 seed in the Western Conference last year) into a serious title contender.
In 2010, Wade was a crucial part of the Heat super-franchise, but his athleticism has taken the sharpest decline over the last four years and it's hard to see him leaving Miami, the team that drafted him. The question is who Riley can even sign to play around him, and whether Wade, who only played 54 games last season and fell apart in the Finals against the San Antonio Spurs, will be able to carry an expanded workload. Wade reportedly accompanied James on a flight from Las Vegas to Miami, unsure of what his teammate's final decision was regarding Cleveland. I'm sure that wasn't an awkward time at all.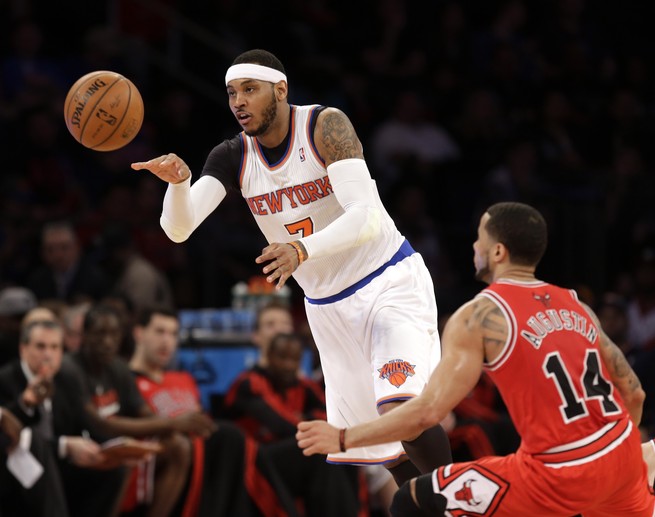 Before news leaked that LeBron was seriously considering leaving Miami, Carmelo Anthony was seen as the free-agent jewel of 2014, and he took meetings with Dallas, Houston, Chicago, and the Lakers last week along with his current team, the Knicks, who can offer him the most money. The minute Internet buzz built around LeBron, interest in Anthony's decision faded away, but now that the biggest domino has fallen, Carmelo's announcement should follow. (He was supposed to have an answer by Sunday, but was apparently waiting to see what James would do). Latest rumors say the decision is between the money and security of the Knicks and the talent of the Bulls, who could now dominate the re-centered Eastern Conference, but can't offer him as hefty a contract.
Finally, the most interesting piece of the puzzle is Kevin Love, Minnesota's star power forward who has a year left on his contract. The franchise has consistently struggled to build around him and once again, failed to make the playoffs last year in the competitive Western Conference. Love has communicated that he will not re-sign with the team in 2015. Minnesota has entertained trade offers from Golden State and Boston among others, but Cleveland might have an even better prize to dangle: this year's #1 draft pick, Andrew Wiggins, among a host of young players. If Cleveland can pull off that trade, Love has indicated (unsurprisingly) that he'd happily stick around in Ohio, and that would hugely help LeBron in his quest to win his home state a title fast.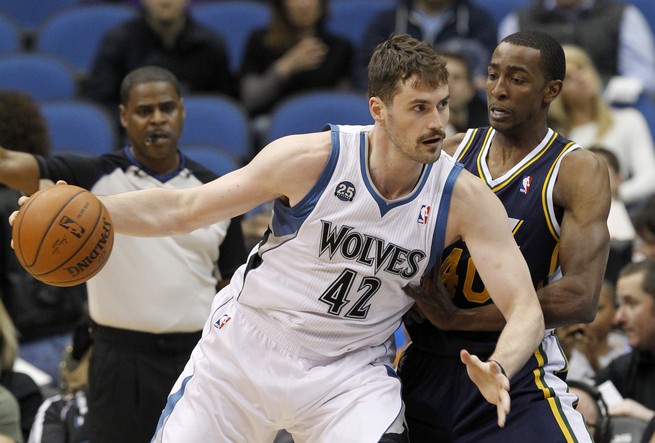 LeBron's essay explaining his decision, posted on Sports Illustrated, by Lee Jenkins, suggests an evolution in his understanding of sports fandom—while his 2010 broadcast of The Decision left a bad taste in everyone's mouth, this transition is being handled far more cleanly. James says he understands the harsh blowback he faced from Ohio, even the absurd screed Dan Gilbert posted on the team's website. "It was easy to say, 'OK, I don't want to deal with these people ever again,'" he wrote. "But then you think about the other side. What if I were a kid who looked up to an athlete, and that athlete made me want to do better in my own life, and then he left? How would I react?"
LeBron says, of course, that his aim is to bring a title to Cleveland, a city that has never won an NBA ring. "We're not ready right now," he said. "No way. Of course, I want to win next year, but I'm realistic. It will be a long process, much longer than it was in 2010."
But given the comparative weakness of the Eastern Conference, it's not unbelievable to think LeBron could be returning to the NBA Finals very soon, especially if Anthony does not go to Chicago and the Heat collapse as expected. As NBA free-agency continues, we'll see what teams rush in to fill the void left by LeBron in South Beach. For right now, let's leave Cleveland to their celebrating. 
This article is from the archive of our partner The Wire.