Joan Allen Looks to Turn Her Bad-Luck Decade Around with... Oh, No, 'The Killing'?
On paper, joining a prestige Netflix series is a good move for an actress like Allen. But odds are, taking part in The Killing's last season could be yet another misstep.
This article is from the archive of our partner
.
There's no fun in watching a great actress struggle to get roles. We hear over and over again that there are no good roles for a woman of a certain age not named Meryl, Helen or Judi, but that doesn't really cushion the blow. Take Joan Allen, for instance, who proved so thrilling and engaging in the '90s with Oscar-nominated roles in Nixon, The Crucible, and The Contender.
Any three-time Academy Award nominee should have sped right to the A-list. Instead, Allen has spent most of the Aughts struggling to get roles.
This Friday, Allen's latest role – a part in the final season of The Killing – will debut on Netflix. On paper, joining a prestige Netflix series is a good move for an actress like Allen. But entering a critically dismissed show's last (shortened) season is probably a serious misstep. Sadly, this seems to be a bit of a trend for Allen – even at her peaks, she's fallen victim to extreme bouts of bad luck.
The Upside of Anger Fails to Create Oscar Heat
By all accounts, The Upside of Anger could and should have been a major comeback for Allen. Her performance is great, the film is solid – it had all the makings of being a Something's Gotta Give moment. But that year's Best Actress field was remarkably crowded. Felicity Huffman (Transamerica), Judi Dench (Mrs. Henderson Presents), Charlize Theron (North Country) and eventual Oscar winner Reese Witherspoon (Walk the Line) were consistently nominated for precursor awards, and the fifth slot kept swapping between a couple of actresses before settling on Keira Knightley (Pride & Prejudice). Allen, unfortunately, never really factored into the race, and The Upside of Anger faded into might've-been status.
Georgia O'Keeffe Faces Down Temple Grandin, and Loses
Usually, playing a beloved and famous historical figure in a TV movie is the ticket to a quick Emmy win. Unfortunately, Allen's performance as the title character in Lifetime's Georgia O'Keeffe had to face down Claire Danes' awards mammoth, Temple Grandin. Even worse: Grandin wasn't released in time for the Golden Globes' eligibility window that year, so Allen had a chance. She still lost to Drew Barrymore for Grey Gardens. (The movie itself was too Lifetime-y to break out commercially, so no luck there, either.)
Luck Gets Shut Down
Talk about unfortunate: Allen's time with the HBO horse-racing series Luck was cut short through absolutely no fault of her own. She was cast as Claire LaChea, a charitable foundation owner and romantic interest for series lead and gambler Ace (Dustin Hoffman). But the series' production was shut down early in its second season because of concerns about the treatment of horses on set. Failing to garner awards is one thing – losing a gig on a prestige drama for reasons out of your control? That's unfair.
The Killing Fizzles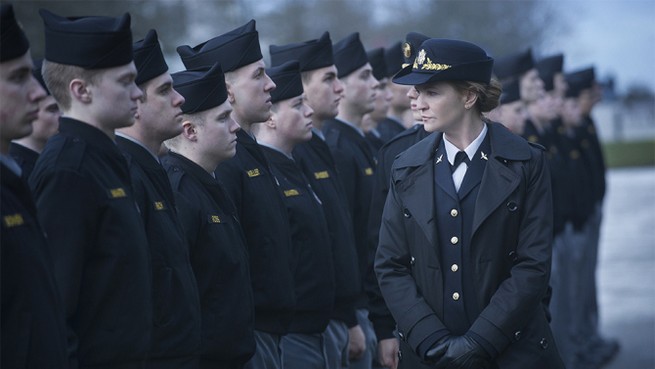 And now we reach present day: Joan Allen is joining The Killing. The role sounds meaty – she's the headmaster of an all-male military academy where a murder takes place – but as always with Allen, it's not quite as it seems. The season is only six episodes long, they'll all be dumped on Netflix at the same time, it's the show's final season, and it's The Killing, a show which has been critically reviled almost every step of its journey. While it's true her work could garner her an Emmy nomination next year – or even get people excited about her again – it would have to be extraordinary to beat the odds. Allen deserves better than having to play against her luck once again. It's too heartbreaking to watch her lose.
This article is from the archive of our partner The Wire.