Why NBA Teams Are Both Obsessed With and Terrified of Drafting 7-Foot Prospects
Joel Embiid is touted as a once-in-a-generation prospect, so why are teams so terrified by an old back injury and a fractured foot?
This article is from the archive of our partner
.
With the NBA finals over, the basketball world has become consumed with speculation about Kansas freshman Joel Embiid, a 7-foot Cameroonian who only started playing hoops three years ago. He's been long mooted as the number one pick in June 26th's draft, a pick held by the Cleveland Cavaliers, but the news broke today that he may have fractured his foot. Now everyone's running away screaming. Why?
Before the start of this season, sprightly small forward Andrew Wiggins (also on Kansas) had been touted as the obvious number-one pick, a kind of can't-miss, LeBron-style "once in a generation" player. Wiggins is still highly touted, but a slightly underwhelming freshman season has him now projected as more of a top three pick than a guaranteed number one. The biggest reason for that, though, is the sudden emergence of Embiid, who came out of nowhere but had the kind of raw ability that gets scouts drooling.
Put simply: the most valuable kind of basketball player in the NBA is a 7-footer who can score and defend. Competent but unspectacular players who have enough height are wildly overpaid by teams simply because there aren't enough of them going around. And everyone talked about Embiid like he was even better than that—he was quick on his feet, he could block shots, he could score and rebound. To hear some scouts tell it, he was the next Hakeem Olajuwon.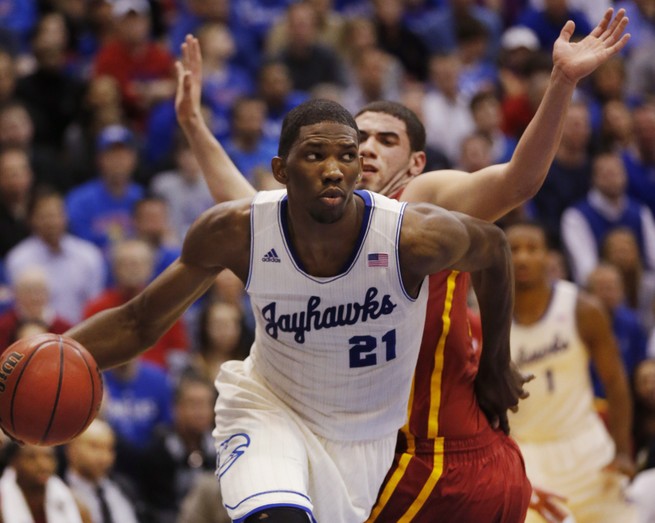 Now his foot is broken and Grantland's Bill Simmons is talking about Embiid maybe dropping as low as the Celtics, who have the #6 pick (although with Simmons, anything involving the Celtics has an air of wishful thinking on his part). On the surface this seems like an overreaction. Broken feet heal! So Embiid misses a couple months, what's the big concern? You're drafting a player for years! But couple that with the back injury that kept him out of the NCAA tournament, and suddenly it's easy to write an article that makes Embiid sound like a broken-down old man whose body will fail him as an athlete within a couple years. It's especially easy to imagine this happening with "big men" (those close to seven feet) because their bodies are so disproportionate and unusual.
If/when Cavs take Jabari, Bucks are screwed (they wanted Jabari) + Sixers are screwed (they wanted Wiggins). Could Embiid drop to Bos or LA?

— Bill Simmons (@BillSimmons) June 19, 2014
The reality is, NBA teams (and pundits) are about as terrified of big-man prospects as they are drawn to them. It's a little unfair to compare Embiid specifically to some of these situations, but things have gone horribly wrong with similarly-hyped big men over the years.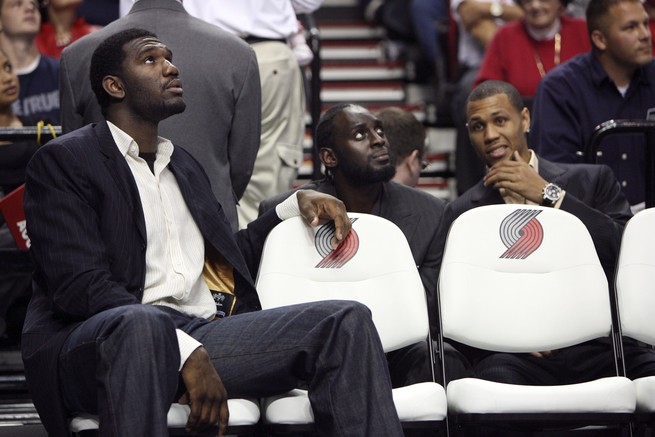 The most commonly-cited case is Greg Oden, taken #1 in 2007 by Portland over Kevin Durant and projected as a shot-blocking beast who would anchor the team's defense for a generation. But he struggled with knee issues before even putting on a uniform and ended up playing about one season's worth of games over five miserable years. Two similar number-one picks proved completely ineffective: Michael Olowokandi, taken by the Clippers in 1998, and Kwame Brown, selected by the Washington Wizards in 2001. Many, many more centers have been taken far too high by teams and quickly thrown on the scrapheap; others have muddled through the NBA and earned money simply for having the ability to stand near the basket and be very tall.
The most-likely scenario is honestly the most depressing one. Embiid's injury will likely spook the truly bad teams at the top of the draft (Cleveland, Milwaukee, Philadelphia, Orlando, Utah) and he could fall to either Boston or the Lakers, who have the #6 and #7 picks, but also have oodles of money and prestige to lure other big players. Essentially, they could be getting a superstar player after one crappy season and bounce right back to the big time while the small fish continue to languish. However hard the NBA tries to balance its draft system to keep things fair, little injustices like that seem to happen all the time.
This article is from the archive of our partner The Wire.