'Veep' Incompetency Index: 'We Have to Be Careful, Though, Not to Look Too Happy'
Selina Meyer went from "victory perma-fucked" to the most powerful person on Earth over the course of Sunday's two-part finale.
This article is from the archive of our partner
.
"Any fuck up from now on is not just a fuck up, it's my legacy" – Selina Meyer, president 
Selina Meyer went from "victory perma-fucked" to the most powerful person on Earth over the course of Sunday's two-part finale. 
After watching Joe Thornhill win Iowa and her campaign very nearly come to an end, Vice President Meyer had her work cut out for her in New Hampshire (as Gary reminded us, there is always hope) – until the president resigned to spend more time with his suicidal wife and Selina took over the Oval Office. Repeat: Selina Meyer is now president of the United States.
"Crate" and "New Hampshire" brought back some familiar faces – Catherine, whom Selina was strangely loving to, and campaign staffers extraordinaire Richard and Kelly – but it was the Meyer team in top form that finished the season strong. How else do you explain a $1,200 crate, Jonah's return to the White House, and a swearing in do-over? Even if we have to change the name of the show, our Meyer staffers will always be wonderfully incompetent.
But Selina's stay in the Oval Office might be short-lived, if her third-place-by-1-percent result in N.H. is any indication. So enjoy it while you can, gang, and hope this isn't a SnapChat presidency.
1. Gary Walsh (Last week: 2)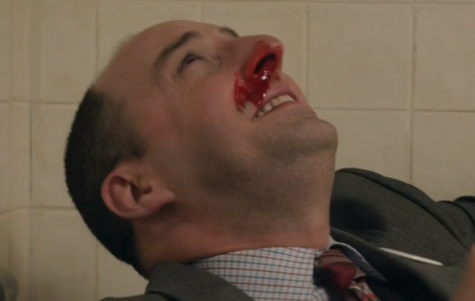 Poor Gary. (How many times have we said that this season?) The veep's irreplaceable bagman starting bleeding profusely when he found out Selina was about to become president, and then learned he wasn't as needed as he thought when he was designated the lone person to stay behind in New Hampshire. And once he did get to D.C. for the swearing-in, he chose those squeaky dog-toy shoes that made it sound like Selina was walking on a carpet of mice. You know better than that, Gary, but we don't have to tell you that.
2. Dan Egan (Last week: 8)
After spending last week frighteningly mellow, Dan was back to his old soulless self, and he finished this season of Veep the same way he finished last: very nearly out of a job. The Chung torture rumor finally got traced back to Dan, and in order to clear his name he had to give Jonah, of all people, a job in the White House. The fuck stops at you, Dan, Beyoncé voicemail or not.
3. Sue Wilson (Last week: 4)
It has been an uncharacteristically incompetent couple of weeks for Sue. Selina's stoic secretary was the first to spell-out G.U.M.M.I. ("Give us more money, idiots") for the phone recorder, which nearly sunk the Meyer campaign right away.
4. Jonah Ryan (Last week: 6)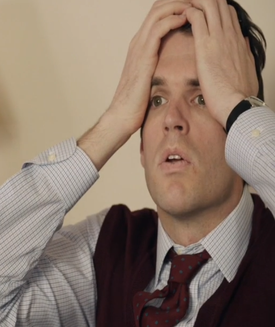 An unemployed, living-at-home Jonah is much like normal Jonah, only instead of harassing the Meyer team he harasses his mother. But after debating between Africa or Wall St., Jonad managed to get himself yet another job in the White House. All he had to do was publicly denounce the Internet. It took a full season and a few memes, but Jonah is back to being a plague on the West Wing. Can't forgive him for that portrait hanging up in his mother's house, though.
5. Selina Meyer (Last week: 5)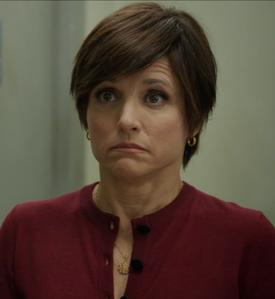 For someone who just became president of the United States, Selina is pretty high up on the Index this week. She enjoyed a few hours of pre-inaugural bliss, but then reality set in: Selina pissed off Iran after firing the wrong secretary (it's LeAnne, not Leslie), missed a word in her oath and thus wasn't technically president when she thought she was, and lost the New Hampshire primary. And no, Madam President, Jack Ruby is not still alive.
6. Kent Davison (Last week: 7)
With Dan, Kent nearly tallied a third fire on his list this season, but he had to settle for simply being the bearer of good news this week.
7. Mike McLintock (Last week: 3)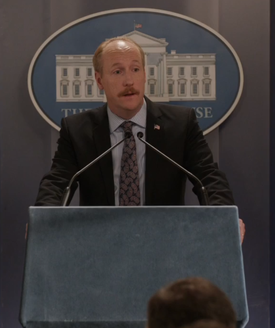 Mike, whose job it is to "make noises out of my face hole," had an up-and-down week: his dreams of raising ducks in the country with Wendy were dashed, but then he killed it behind the podium during his first run as press secretary. His second run, though, not so much.
8. Amy Brookheimer (Last week: 10)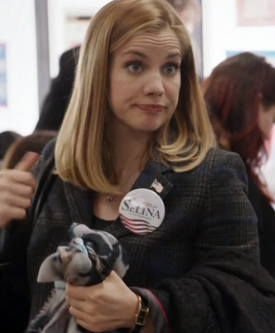 Through all the hullabaloo, Amy stayed focused, trying her best to win New Hampshire. It was too bad, really, when Meyer came in third.
9. Ben Cafferty (Last week: 9)
"This much be what it feels like to be happy," Ben, aka Humor Man (thanks, Kent), said. But that was before Selina asked him to be her acting chief of staff. Sure, his blood type might be D.C., but that doesn't mean he likes it.
This article is from the archive of our partner The Wire.