'Veep' Incompetency Index: Short Hair for the Long Haul
A haircut, a beard, and a primary debate highlighted this week's Veep. But the bigger stage just meant a larger audience for the Meyer staff's screw-ups.
This article is from the archive of our partner
.
"The worst use of scissors since my failed vasectomy" – Mike McLintock
A haircut, a beard, and a primary debate highlighted this week's Veep. But the bigger stage just meant a larger audience for the Meyer staff's screw-ups.
Primary season is well underway, and "Debate" had Selina facing off against her opponents: baseball blockhead Joe Thornhill, former Secretary of Defense George Maddox, war "hero" Danny Chung, and the baby-faced/scared-shitless Owen Pierce. If these are the best presidential prospects the country has to offer, we're in big trouble.
Also making appearances this week were Selina's daughter Catherine, there to laugh at bad jokes, and political frenemy Roger Furlong, in all his crass glory, to help the veep team play politics.
The veep staff may be incompetent, but if there's one thing they're not, it's naïve. And it was Amy's first week at the helm of the campaign – so how did everybody do?
1. Jackson (Last week: N/A)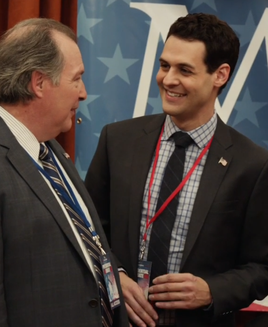 We feel a little bad ranking the "less-talented, uglier version" of Dan at the top of this week's Index, but his iPad – er, "zinger sewing machine" – and Baywatch references just didn't cut it. Not only was he the target of some Jonah-esque insults ("Pee Wee Sperman" and "human comfort blanket" were among the best), but even Amy abandoned him in the end. If you have to ask if everyone hates you, Jackson, you already know the answer.
2. Gary Walsh (Last week: 4)
Gary was at least partly culpable for Selina's new haircut, and we hate to break it to him but the "elfin look" is not "very in" right now. And then Gary accidentally leaked details of Ray's role to Wendy, and had to get Mike to sort everything out with his wife, lest the veep look like a liar. Sometimes, Gary, it's just best to keep your mouth shut.
3. Mike McLintock (Last week: 8)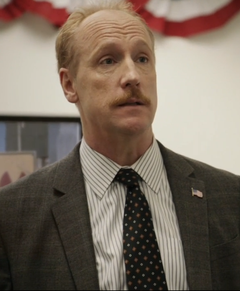 According to Mike, marriage is simply a series of conflicts of interest. Which would explain why Selina's director of communications had to deal with one specific reporter this week: his wife Wendy. From Ray, the FLOTUS suicide attempt, and Joe Thornhill's affair, Wendy had her pick of scoops. Mike just had to make sure whichever one she chose wouldn't cost him his job.
4. Sue Wilson (Last week: 7)
A valiant effort, Sue, but we all knew you weren't getting away with ignoring Selina's new hair.
5. Selina Meyer (Last week: 3)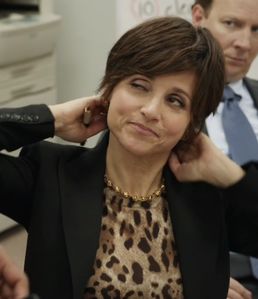 It should've been a disastrous week for "Selina Navratilova." Between the twitchy eye and her best Rick Perry "oops" impression during the debate, the veep was headed for catastrophe, but somehow ended up in second, thanks to some last-second repelling. So Selina lives to fight another day. And oh, that hair.
6. Jonah Ryan (Last week: 9)
His boss was a wreck, but Jonah flew under the radar this week. In fact, it took until the closing credits to get our Jonah insult of the week: "Jack and giant freak stalk." Unclear if Jonah is Jack or the freak stalk.
7. Kent Davison (Last week: 6)
Kent has only ever used one voice since infancy, apparently.
8. Dan Egan (Last week: 2)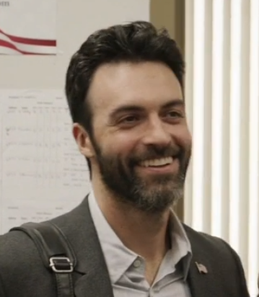 THE BEARD. A post-breakdown Dan had a self-diagnosed "acute case of everything's fine" this week and was uncharacteristically mellow, to an almost horrifying extent. Even though he eventually shaved the beard (he doesn't have "the facial gravitas for a beard," according to Kent), we'd like to see it make a comeback. Mostly so he'd stop comparing his face to touching a child's.
9. Ben Cafferty (Last week: 5)
"I never knew you had so much neck," Ben said to the post-haircut  veep. "Necks are neat." Yep.
10. Amy Brookheimer (Last week: 10)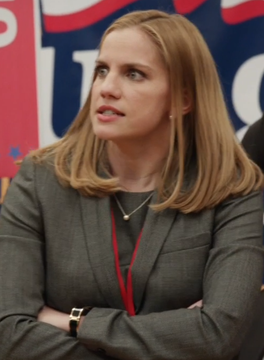 Amy was at the bottom of our Index last week, and she didn't do anything this week to move up. Her first episode as the veep's official campaign manager saw Amy denouncing both honesty (she can't stand it) and sex (leaking Thornhill's affair felt better). Never change, Amy.
This article is from the archive of our partner The Wire.