The Wire Tells Emmy Voters Who to Pick: Supporting Actor/Actress in a Comedy
The Primetime Emmy voters have actually already had their say. Ballots were due last Friday, and the nominations will be announced on Thursday, July 10th. In the meantime, though, we at The Wire feel it's only fair that we should have our say.
This article is from the archive of our partner
.
The Primetime Emmy voters have actually already had their say. Ballots were due last Friday, and the nominations will be announced on Thursday, July 10th. In the meantime, though, we at The Wire feel it's only fair that we should have our say. Hindsight is not only 20/20, it's also fun, and if on Thursday July 10th we can't point at the Emmy voters' choices and say WRONG!, why are we even in this business? So these are the picks that Emmy voters should make. In the interests of a level playing field, we're limiting ourselves to the official Emmy ballot, though we've made sure to do our fair share of complaining about who was left off of that.
What follows is our first installment, focusing on the supporting categories on the comedy side.
---
Outstanding Supporting Actress in a Comedy
Honorable Mentions: This category is positively stacked this year. Even if the Emmy voters follow our recommendations exactly (a longshot hope at best), there will still be upwards of a dozen worthy actresses left off the list. That includes likely nominees like Anna Chlumsky (Veep), slightly less likely nominees like Anna Deavere Smith (Nurse Jackie) and Aidy Bryant (Saturday Night Live), or very unlikely nominees like Niecy Nash and Alex Borstein (Getting On). Laura Prepon or Danielle Brooks would be worthy representatives for Orange Is the New Black; and Stephanie Beatriz and Melissa Fumero would rep Brooklyn Nine-Nine quite nicely. This'll be the last chance for Emmy voters to show love to Rashida Jones on Parks & Recreation or Michaela Watkins on Trophy Wife. And even if we don't agree with their categorization in Supporting Actress, Amy Schumer (Inside Amy Schumer) and Carrie Brownstein (Portlandia) would be groundbreaking choices.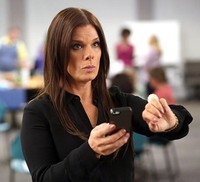 Marcia Gay Harden, Trophy Wife
Marcia Gay Harden hardly needs another award, as she's already an Oscar- and Tony-winner. But that EGOT isn't going to win itself, so here's hoping she gets properly recognized for playing imperious, impeccable, and entirely awesome Diane on the dearly departed ABC series. Nobody stole more episodes on television this season.
Kate McKinnon, Saturday Night Live
Well, we already named her the MVP of the Saturday Night Live season, so an Emmy nod is bound to pale by comparison. Still, if the recent streak of SNL Emmy nominees (a cast member has been nominated each of the last six years) is to continue, McKinnon should be the one to reap that recognition. If only so we can get a bit of Angela Merkel as her Emmy clip.
Kate Mulgrew, Orange Is the New Black
Choosing from among the Orange supporting ladies is a near-impossible task, and it's not made any easier by the show's placement in the comedy categories. Should we pick the funnier actors/characters over the more dramatic ones? There's nothing particularly side-splitting about Mulgrew's performance as Red, but she has her moments, and moreover, Mulgrew put together a proud, fearsome, secretly (or not-so-secretly) vulnerable woman who was easily a standout from the Orange ensemble.
Chelsea Peretti, Brooklyn Nine-Nine
In many ways, Gina is the most superfluous member of the police unit in the Nine-Nine. Just not comedically. Time and again, Gina — and Peretti — proved to be the secret weapon among the cast, shooting one-liners with a deceptively languid delivery that masked the sharp the punchline to come. Plus, if gif-ability isn't a key component when it comes to Emmy voting ... well, it should be.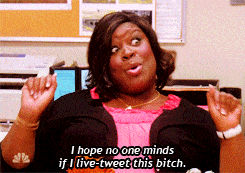 Retta, Parks & Recreation
The Emmy voters have been shamefully neglectful when it's come to recognizing the non-Poehler corners of the Parks cast. We're not really expecting Retta to be the one to break through that glass ceiling, but damn it, she should be. In a generally down season for Parks, Retta's Donna Meagle was a welcome respite and an essential storyline companion for any character that needed a little sprucing up. There were few things better this season than when Donna's fondness for Twitter (mirroring Retta's own) got the Parks department in deep shit.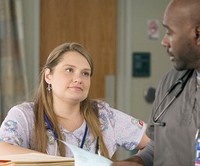 Merritt Wever, Nurse Jackie
The Emmy voters got one right last year when they gave the supporting actress trophy to Wever, who's been holding up the comedy on Nurse Jackie for that show's entire run. No matter what's happening on that show, good (as it often is) or bad (as it sometimes can be), Wever's Zoey is as reliable as any character on any comedy when it comes to delivering a well-earned laugh.
---
Outstanding Supporting Actor in a Comedy
Honorable Mentions: There are those that scored nominations last year and are in good position to do so again, like Girls' Adam Driver and Tony Hale for Veep, and actors long-deserving but empty-handed, like Parks and Recreation's trio of Nick Offerman (as Ron Swanson tackled the new frontier of fatherhood), Chris Pratt (a slimmed-down role, in more ways than one), and Aziz Ansari (restauranteur). Taran Killam was reliably great on Saturday Night Live, and Jim Rash was up to his old dean-ing ways on Community. Throw in Reid Scott's mental breakdown on Veep and Max Greenfield's trying-not-to-be-so-douchey Schmidt on New Girl, and this year had a lot of worthy performances. But not everyone can be nominated, so: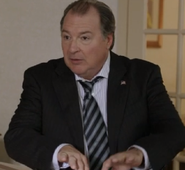 Kevin Dunn, Veep
Kevin Dunn's Ben Cafferty says so much with so little. It's one of the more understated performances on Veep, but it has the exhausted cynicism that a career's worth of Veep's politics will do to a guy. Plus, watching Dunn and Julia Louis-Dreyfus trade curse words is a master class in perfectly delivered vulgarity.
Troy Gentile, The Goldbergs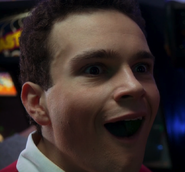 ABC's family sitcom was a surprising show and Troy Gentile's Barry was a particular bright spot. It's a fairly boilerplate role – weird older brother – but Gentile commits to it with a sincere oddball quality that is eminently endearing. He's not breaking any ground with Barry, but Gentile's performance is a truly enjoyable one to watch.
Lamorne Morris, New Girl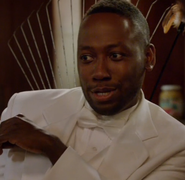 The show finally seemed to embrace Winston, which let Morris truly weird out. We're still unsure New Girl has a firm grasp of what it wants to do with his Winston, but Morris did all he could to make the character necessary (considering the number of lines spent talking to a cat), particularly with the return of Damon Wayans Jr.'s Coach (whom Morris originally replaced), and the Honey Roast was a standout moment of the season.
Kumail Nanjiani, Silicon Valley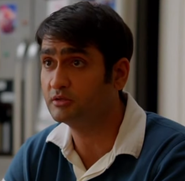 The standout among Silicon Valley's gang of dudes, Nanjiani's turn as Dinesh was in the sweet spot between the overly nice-guyness of Richard and the assholery of Erlich. The most compelling moments of the show come when Dinesh and Martin Starr's Gilfoyle are just shooting shit – thanks to Nanjiani's flat delivery and the chemistry between him and Martin Starr.
Danny Pudi, Community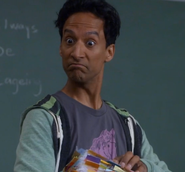 With the departure of Donald Glover's Troy and Brie Larson's return, the fifth (and final, at least on NBC) season of Community finally gave Pudi's emotionally-stunted, fourth-wall-breaking Abed the chance to have actual, you know, feelings. Pudi had more emotional range this season than the previous four combined, making up for a diminished cast –when he wasn't busy being Dan Harmon's in-show proxy, at least.
Timothy C. Simons, Veep
We'd nominate the entire Veep cast if we could, but there are few things better than the ecstasy of watching Jonad get pummeled with insults and sputter out his failed comebacks. The beauty of Simons' performance is how he takes the most hateable character on TV and makes him so freaking fun to watch. Simons has a gangly charm, but in Jonah it's purely executed villainy.
This article is from the archive of our partner The Wire.