The Clint Eastwood Taxonomy: What Are His Best Films as a Director?
This weekend, Clint Eastwood's Jersey Boys, will be released in theaters. He's one of American cinema's most prolific directors—with 33 films in 43 years. Here's how to tackle his filmography.
This article is from the archive of our partner
.
This weekend, Clint Eastwood's 33rd film Jersey Boys, will be released in theaters. He's one of American cinema's most prolific directors—those 33 films span just 43 years—he's won a slew of awards, and he's a constant fixture at film festivals like Cannes and Venice. Nonetheless, the buzz for Jersey Boys is pretty tepid, he hasn't released a hit since 2008's Gran Torino, and it feels like Eastwood's stock has begun to fall after his status as a sure-fire Oscar contender as recently as the mid-'00s.
Eastwood's directing career is a bizarre mish-mash of genre films, B-list popcorn material aimed at middle-aged audiences, serious and straightforward dramas, and sometimes genuinely adventurous material. He's renowned for working quickly and not shooting many takes, which sometimes lends an unpolished feel to the performances in his films. Gran Torino used a lot of amateur actors and it showed; Peter Morgan, who wrote 2010's Hereafter, said Eastwood picked up a script he wrote on spec and basically ran with it, without demanding many changes.
What follows is a rough breakdown of how to tackle his filmography—how to sort the genre fun from the genre schlock, and which of his less commercial projects should be tackled first.
Must-See
Eastwood's masterpiece will always be Unforgiven (1992), which functions as both a brilliant western and an examination of the genre as a whole and its patent unrealities. It won Eastwood Oscars for Best Picture and Director, and he got a career performance out of Gene Hackman as the villain. As a summation of his spare, economical skill as a director and his career as an actor, it will likely be the film for which he's forever remembered.
Eastwood's other Oscar-winner, Million Dollar Baby (2004), is not quite as fondly remembered—its Paul Haggis script is a little too Hollywood-hacky (wise old Morgan Freeman; Hilary Swank's evil white-trash family), its ending so dark that it doesn't really lend itself to re-watching. But Eastwood's performance is among his best and the film lands a real emotional gut-punch that is hard to deny.
The film that really announced Eastwood as a major directing talent came 17 years into his directing career—jazz biopic Bird (1988), about saxophonist Charlie Parker, has a mesmerizing lead performance from Forest Whitaker and an intentionally jarring storytelling style that hops around from one story to the next, trying to reflect his music.
Eastwood's last great accomplishment was Letters from Iwo Jima (2006), a film that almost no other director could have gotten green-lit by a Hollywood studio. Made in tandem with his other Battle of Iwo Jima film, Flags of Our Fathers, this focuses on the Japanese side of the battle and does a fantastic job presenting their side of the battle without resorting to stereotype or cheap clichés, and features a magnetic performance by Ken Watanabe. It was a worthy Best Picture nominee.
Dark Westerns
Probably Eastwood's best '70s output, and the first sign of his real craft as a director, were the two westerns he directed, High Plains Drifter (1973) and The Outlaw Josey Wales (1976). Drifter is effective and dark and sees Eastwood playing a remote Man With No Name type enforcer; Josey Wales is a more complicated story that ties the Western genre in with the country's scars post-Civil War and relationship with Native Americans. Eastwood called it his anti-war film. Pale Rider (1985) came much later and hearkens back to Drifter's atmosphere—Eastwood is again an unnamed stranger who blows through a town of outlaws like some vengeful specter.
Worthy Pulp
Eastwood's directorial debut, Play Misty for Me (1971), is worth seeing just if you want to watch Jessica Walter (i.e. Lucille Bluth from Arrested Development) play a crazy stalker. It's totally formulaic stuff, but the central performances are strong enough to haul it over the line. Bronco Billy (1980) is a bizarrely cheerful comedy that winks at Eastwood's Western heritage, starring him as the pistol-toting star of a travelling circus.
Blood Work (2002) is easily the best of Eastwood's late-career crime thrillers, because it actually has an introspective quality to it, with Eastwood playing a retired FBI agent who tries to solve the murder of a woman whose heart is now in his body and whose body is literally breaking down as he runs around. The same goes for "angry racist Korean War veteran learns to love and protect the Hmong immigrants of Detroit" drama Gran Torino (2008), which is at times laughably on the nose ("get off my lawn") and features a mostly amateur cast (and it shows), but is ridiculously watchable all the same.
Flawed But Fascinating
Heartbreak Ridge (1986) essays the '83 invasion of Grenada and sees Eastwood playing a hard-drinking sergeant who snaps a bunch of new recruits into shape. Its problem is that it ends up being a little too clean considering the somewhat controversial (and recent) military action it's portraying. White Hunter, Black Heart (1990) is one of Eastwood's most unusual projects—Eastwood plays a thinly-veiled John Huston, who is obsessed with hunting elephants in Africa as he location-scouts for The African Queen. It's Moby Dick meets Day for Night—it's very on-the-nose but nonetheless fascinating.
Mystic River (2003) was a big hit at the time, returned Eastwood to respectability as a director, and won Oscars for Sean Penn and Tim Robbins, but it's incredibly overwrought, to the point that sometimes it doesn't seem like he knows when to reel his actors in. Changeling (2008) is a strong showcase for its star Angelina Jolie and a fascinating examination of a mother's powerlessness in 1920s America, but its point is blindingly obvious, and the film signals that Eastwood's staging and shot selection is becoming increasingly rushed and bland. Hereafter (2010) is a total mess of a quasi-supernatural drama about communicating with the dead and the 2004 Indian Ocean tsunami that has kernels of interesting ideas but needed a lot more polishing.
Good Clean Fun
Honkytonk Man (1982) is a sweet Paper Moon-esque Depression caper, but with Grand Ole Opry singing and without the con-artist tricks. Clint's young son Kyle Eastwood, now primarily a musician, plays Eastwood's nephew here. A Perfect World (1993) was Eastwood's worthy follow-up to Unforgiven, a cheesy chase thriller about an escaped convict (Kevin Costner) making his way across '60s Texas with a cute eight-year-old. Eastwood is probably the most memorable part as the lawman chasing them. The Bridges of Madison County (1995) is what it is, but it does the whole syrupy romantic drama formula very nicely. Space Cowboys (2000) is the cheesiest of them all—a buncha grumpy old dudes go back into space!—but it's hard to hate.
Forgettable/Worth Avoiding
Look, when you make 33 movies in 43 years, some of them aren't gonna be masterpieces. Breezy (1973) is a forgettable romantic drama starring an aging William Holden and a sub-manic-pixie dream girl played by Kay Lenz. The Eiger Sanction (1975) is a mountaineering action movie that leans on lame homophobic stereotyping for one of its villains. The Gauntlet (1977) is clichéd fun that has Eastwood as a cop escorting a hooker with a heart of gold to testify against the mob. Soviet stealth-jet thriller Firefox (1982) reveals that Eastwood maybe shouldn't have been making action movies starring himself anymore. Sudden Impact (1983) is the fourth Dirty Harry movie and is mostly known for him saying "Go ahead, make my day." The Rookie (1990) harkens back to those glorious years where Charlie Sheen was an A-list star. Neither Presidential crime thriller Absolute Power (1997) nor death-row mystery True Crime (1999) are unwatchable, but this is when Eastwood was just churning out movies that feel like forgettable paperback thrillers.
Stodgy Oscar-Bait
Eastwood has hit with Oscar on numerous occasions, but he's missed just as often. Midnight in the Garden of Good and Evil (1997) was supposed to be a sure-fire hit—successful book, strong cast—but is just criminally dull to watch. Flags of Our Fathers (2006) was another that felt like it should be a sure-fire hit, tackling Iwo Jima from the perspective of the famous flag-raising soldiers, but its stilted plot structure and far better companion film dinged it. Invictus (2009), starring Morgan Freeman as Nelson Mandela, felt like another sure-fire winner but making the Rugby World Cup its centerpiece robbed the film of dramatic tension. J. Edgar (2011) was the biggest missed opportunity, wasting Leonardo DiCaprio on a bloated, plodding biopic that once again seemed to suffer from Eastwood's quick shooting methods—it's impossible to watch the movie and not think some of those lines couldn't have used another take.
The Future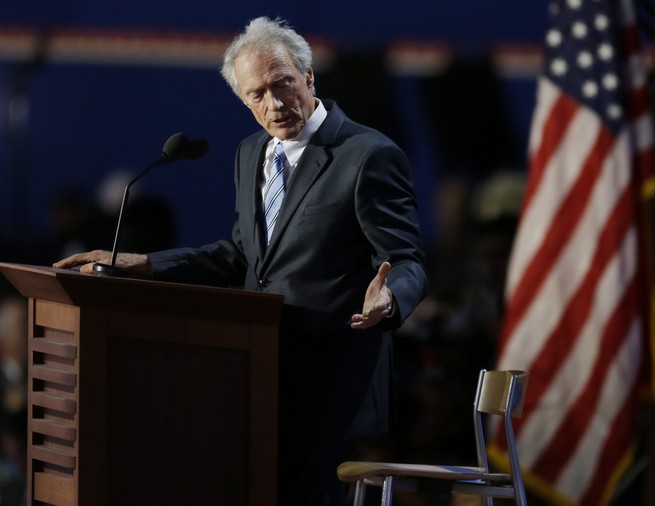 Eastwood shows little sign of slowing down despite being 84 years old and just two years ago yelling at a chair on stage at the Republican National Convention. These things would cost a lesser man his reputation, but Eastwood's is so entrenched, and his career goes so deep and broad, that he can never be truly ignored. After Jersey Boys, he'll have military biopic American Sniper out in 2015, starring Bradley Cooper and Sienna Miller (hmm). Just watch—if he keeps blasting 'em out that fast, he'll get to another masterpiece at some point.
This article is from the archive of our partner The Wire.