The 'Magic in the Moonlight' Trailer Looks Familiar if You've Seen a Woody Allen Movie Lately
Today we got our first serious look at this year's Woody Allen movie, Magic in the Moonlight, with the release of its trailer. Set on the French Riviera in the 1920s, it plays almost like a highlight reel of Allen's Euro period
This article is from the archive of our partner
.
Today we got our first serious look at this year's Woody Allen movie, Magic in the Moonlight, with the release of its trailer. Set on the French Riviera in the 1920s, the movie places Colin Firth on a romantic collision course with flighty mystic Emma Stone. From the looks of the trailer, the film seems more than a bit familiar. It plays almost like a highlight reel of Allen's Euro period, roughly everything since he rejuvenated his career with Match Point Some tropes will look familiar if you happen to be at all familiar with Allen's work, especially the movies he has made in Europe, starting around 2005. Since then, seven of his nine films have been set on the continent.
So what's so familiar about this early look at Magic in the Moonlight? We got to screen-grabbing...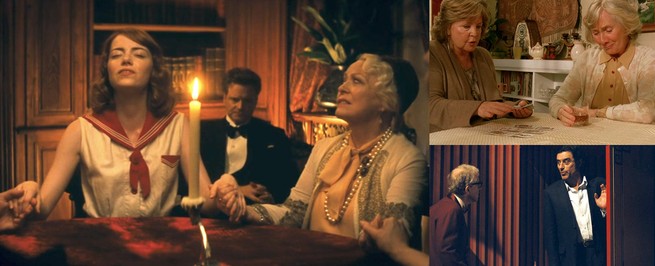 Magicians/Magic: The movie has some of the vibes Scoop, his 2006 Match Point follow-up also featuring Scarlett Johansson. In that movie, Allen played a hapless magician and Ian McShane played the ghost of a more successful magician (he's the one with the scoop!). In Magic, Colin Firth plays a magician (who performs in sterotypical Chinese yellowface, sigh) trying to expose Emma Stone's supposed sham of a medium. A fortune teller was also a featured character in Allen's little-seen You Will Meet a Tall Dark Stranger, played there by Pauline Collins. We, of course, don't know yet whether the magic is real like it was in Midnight in Paris. 

May-December romance: The hallmark of so many Allen films—to perhaps an upsetting degree. After the heyday of Allen himself playing characters romantically entangled with your Mariel Hemmingways and Juliette Lewises and Mira Sorvinos, Allen's films had more or less settled into a less eyebrow-raising period wherein the male leads were a mere 16-ish years older than their lady loves (Hugh Jackman/Scarlett Johansson, Javier Bardem/Scarlett/Johansson; Owen Wilson/Lea Seydoux). Here Firth and Stone look poised to fall in love. They are 28 years apart in age. At least it's not as bad as the 40-year-age difference between Evan Rachel Wood and Larry David in Whatever Works or Anthony Hopkins and Lucy Punch in You Will Meet a Tall Dark Stranger.

The 1920s: Midnight in Paris, arguably Allen's best European film also takes place in France in the 1920s. At least the time-traveling parts (i.e. the good parts) do. This kind of period detail is best expressed, as always, with hats.

A beautiful getaway:  In Vicky Christina Barcelona it was Oviedo; here it's the French Riviera. So long as there's a fabulous view of the water framing two gorgeous lovers, we're all set.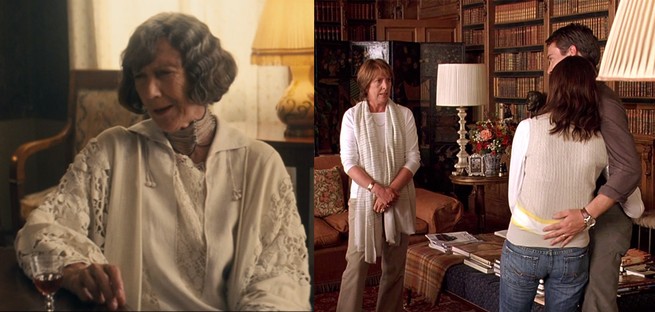 A judgmental mother: Penelope Wilton played this role to perfection in Match Point, all side-eye and pointed references to ScarJo's struggling actress character. In magic, it's Eileen Atkins who is maybe a bit nicer, but equally willing to look right through our female lead.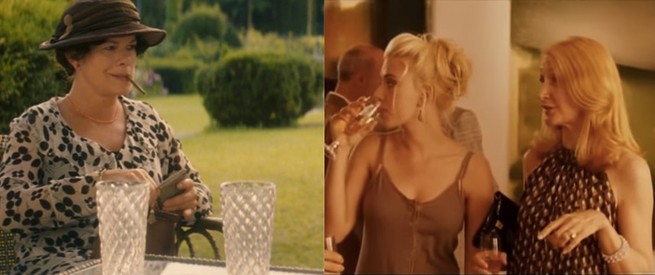 A meddling older woman: In Vicky Christina Barcelona, Patricia Clarkson apparently had nothing better to do than to immerse herself in Rebecca Hall's romantic life. In Magic, Marcia Gay Harden dons her Bella Abzug hat and appears to be acting as Emma Stone's romance consigliere.

Tennis: Though a considerably darker movie, Allen's Match Point also features a good deal of tennis playing, which gave us all sorts of chances to spot Jonathan Rhys-Meyers in his tennis whites, playing on classic British grasscourts. In Magic, it's Hamish Linklater on red French clay. Either way, it really classes up a two-shot.
This article is from the archive of our partner The Wire.