A Look Back at the NFL Draft's Less Glamorous Early Days
With the glitzy and elaborate spectacle of the NFL Draft arriving on TV sets on Thursday night, it's worth remembering the simple and decidedly unsophisticated early days of football's rookie selection pageant.
This article is from the archive of our partner
.
With the glitzy and elaborate spectacle of the NFL Draft arriving on TV sets on Thursday night, it's worth remembering the simple and decidedly unsophisticated early days football's rookie selection pageant.
These days, the draft brings cameras galore, a red carpet, fashionable suits, personalized jerseys, and wall-to-wall event coverage, all in front of a rabid and excited crowd at Radio City Music Hall in New York. But in the early years, after the draft's invention in 1936, it was just a gathering of coaches and owners sitting around and picking which college players they had heard about (but probably hadn't seen) and thought could help them out. Few teams did much research on to-be drafted players until the old L.A. Rams hired the first-ever nationwide scout in 1946.
The draft in these early days were "conducted in smoke-filled rooms away from the helter-skelter of the mob," as a 1975 article from The Bakersfield Californian explained. Here's the Associated Press's oldest image from any football draft. The 1948 photo features an assortment of coaches from the All-American Football League, a short-lived league competitor to the NFL.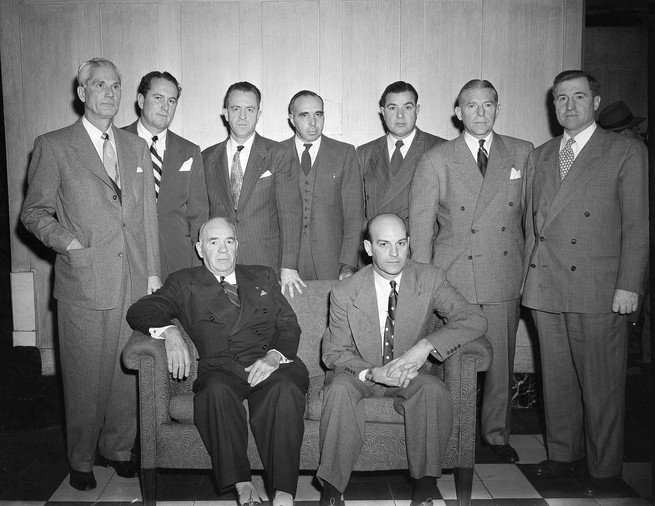 By 1958, though, scouts were compiling lists of players that coaches and general managers could peruse during selection time. Here are Packers staff and coaches looking over their draft list on Jan. 28, 1958.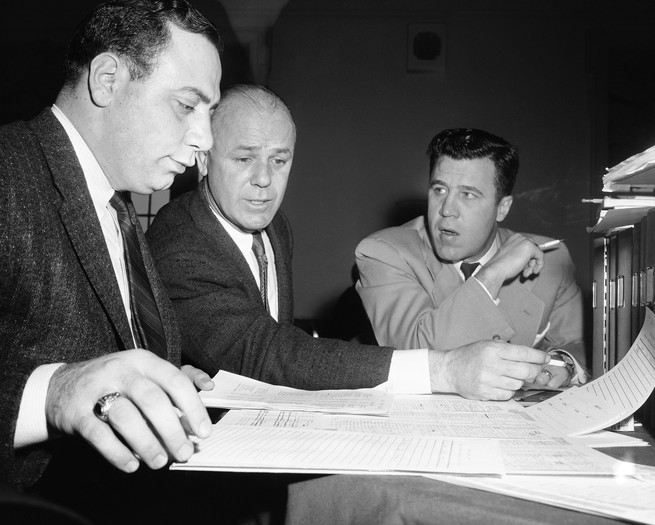 The draft in these years was defined by middle-aged white men smoking in back-rooms. Below, Packers coach Ray McLean (standing) smokes next to chief scout Jack Vainisi.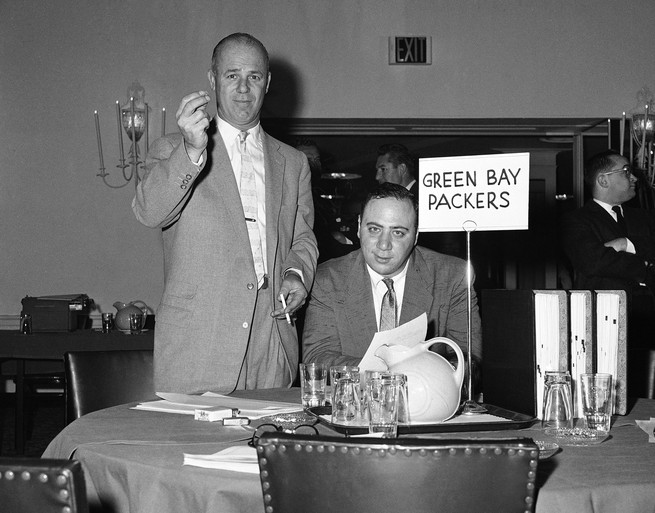 As it was until recently, the draft consisted of two separate days of selections. (The draft was recently expanded to three days, so it could start in primetime.) But those two days came months apart rather than on the same weekend. In the 1958 NFL draft, for example, the first four rounds took place on December 2, 1957, and then rounds 5-30 took place January 28, 1958. Coaches had more time to do research on those hidden gems.
Drafted players didn't attend the draft and wait in a back room, as they do now. In fact, often the first time they met their new coaches was after being picked, when they were negotiating for a contract. When the AFL's Denver Broncos drafted running back Charlie Mitchell in 1962, he was given a contract to sign rather than a personalized jersey.
One practice that started early on and survives today is the use of the remote "War Room." Here in 1964, most of the Broncos' coaches and staff remained back in Denver, and communicated with their draft representative via a "hotline" phone, who would make the picks in person.
The draft was still in New York in those days. It was not, however, in front of a large audience at Radio City Music Hall. In this photo from 1964, the setting was a much more cramped hotel conference room. Also: note the adorable early bobblehead doll on the Washington desk.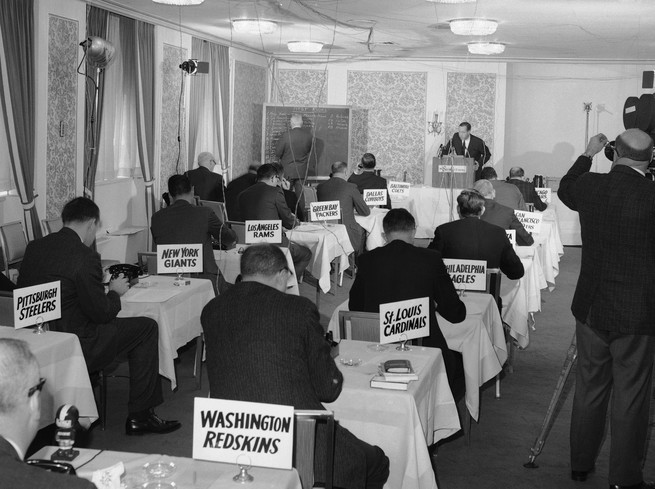 How did teams keep track of which team picked which players? With a chalkboard and NFL-AFL Commissioner Pete Rozelle's beautiful handwriting, of course, as in this 1967 photo. Even today's amateur fantasy drafts are more high-tech than that.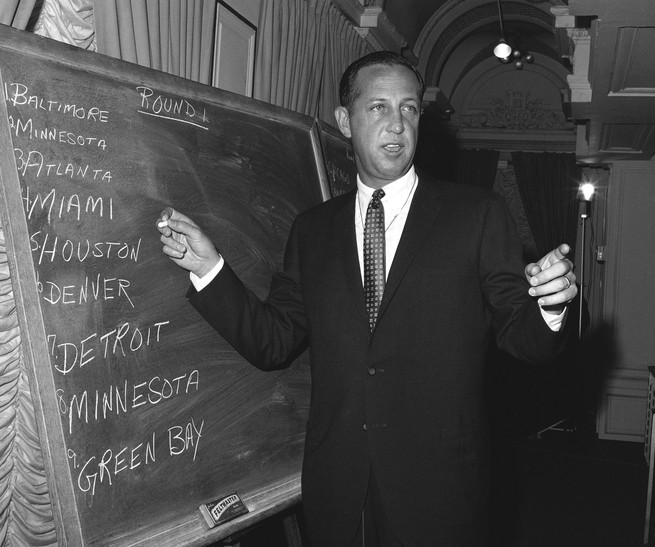 Trades of draft picks in 1968 were noted by Rozelle writing parentheses next to the original pick.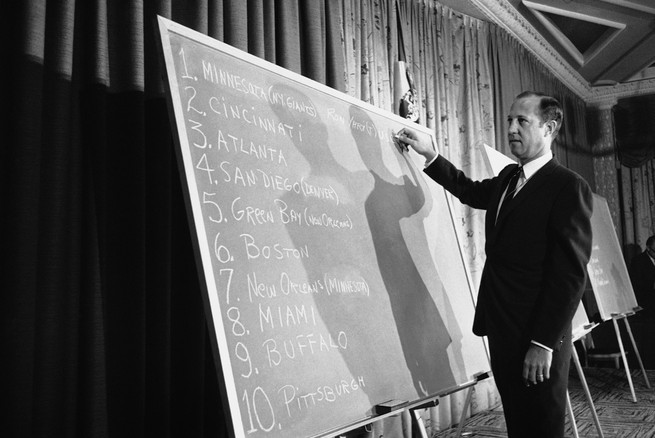 But in 1970, the chalkboard got upgraded from a chalkboard to a projector screen. Yay for technology!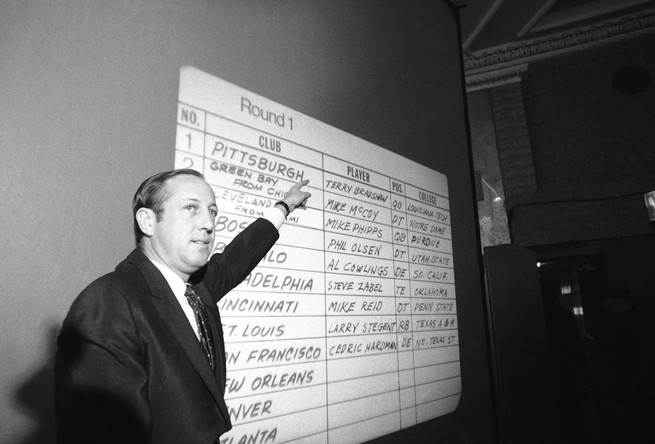 Journalists realized early on that the players are the real stars, and that the best images of Draft Day were those that captured the reactions of the top players learning their fate. When Jim Plunkett was chosen No. 1 overall in 1971, a photographer was on the scene.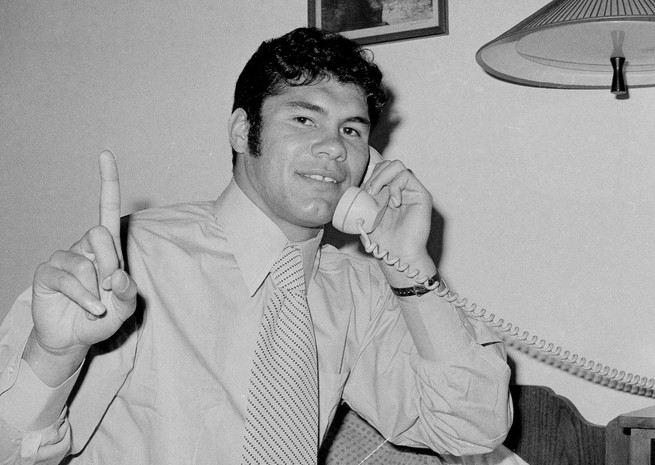 But it was 1973 that was really the big turning point in making the draft what it is today. That was the first year the public was allowed to watch in person, which as the AP noted, was "usually limited to only a few outsiders." That meant plenty of young men arrived to talk football and root for their teams and players. Hard to imagine Roger Goodell plopping down on the step with a group of fans today.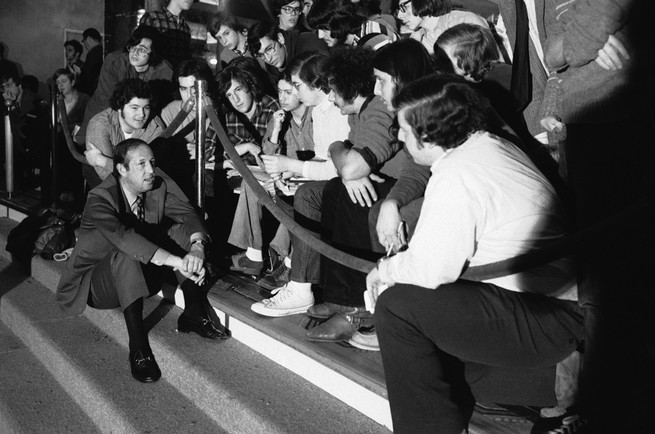 By 1976, the war rooms looked a lot like they do now: a wall of player names, a long table, and nervous-looking men watching the clock.
When the Cowboys chose Ed "Too Tall" Jones with the first pick in the 1974 draft, Jones was looking plenty stylish for the camera.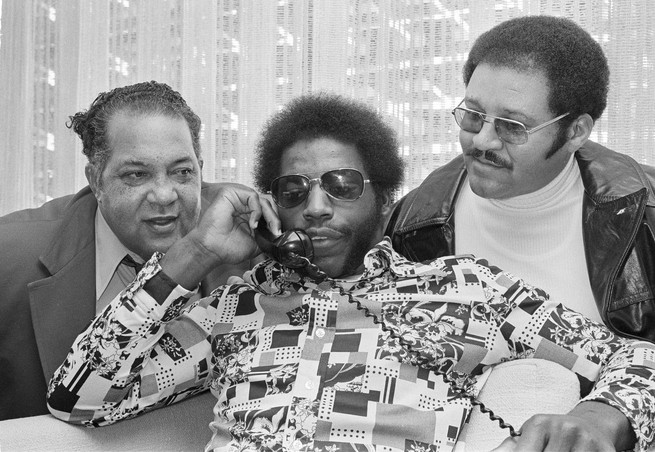 Another tradition begins to flourish, as top players actually started appearing at the draft to shake hands with Commissioner Rozelle when their name was called. Here's No. 1 overall pick Steve Bartkowski in 1975.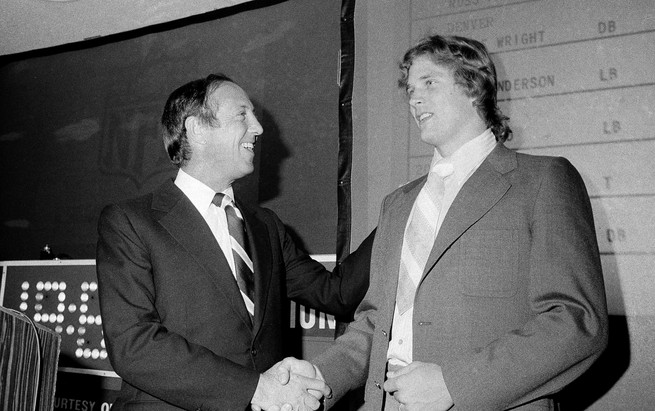 The Tampa Bay Buccaneers selection of Leroy Selmon in 1976 was one of the earliest times a team made their chosen player a personalized jersey for the big day, a practice used constantly now.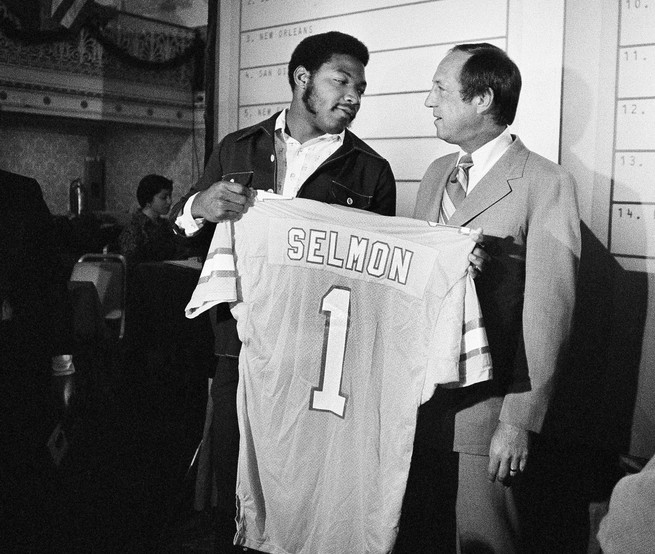 In 1980, a newly born sports network desperate for something to broadcast decided to air the NFL Draft live, ushering the event (and arguably the whole sport) into a new era. From that point, the selection of players became its own spectacle, with cameras, commentators, analysis, and made-for-TV drama.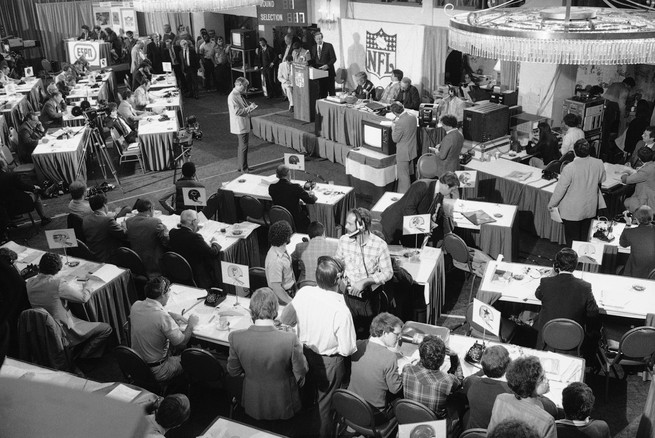 As TV interest in the draft picked up, the atmosphere became more hectic in '85. It wouldn't take long for it to expand into bigger and bigger venues.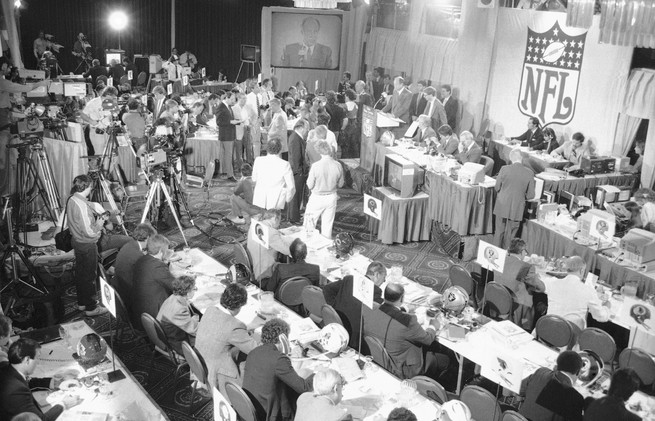 You can also pick out the helmet phones on each team's desk, a staple of the 1980s drafts. The NFL Draft begins tonight at 8:00 p.m. Eastern on ESPN and the NFL Network.
This article is from the archive of our partner The Wire.