Your Official 2014 Tony Awards Predictions: The Musicals
Our big Tonys preview concludes with a look at the remarkably wide-open races in the musicals category.
This article is from the archive of our partner
.
We're still a good two weeks away from the Tony Awards nominations, but it has been proven scientifically impossible to be too early on awards speculation. There are still a few Broadway productions that have yet to officially open, but all of them are at least in previews. Therefore, every show is out there, just waiting to be considered.
To help filter out the noise and arrive at the most accurate predictions on the internet, I've procured the services of Mark Blankenship, editor of TDF Stages magazine.
Yesterday, we covered the plays — today, it's time to consider the year's musicals.
Best Musical
Joe: Okay. Do you have a free six hours? Because I have attacked this list of contenders every which way, expanded the possible nominations to five, tried to be cynical, tried to be idealistic, and each time I end up coming out less certain than when I started. Maybe it'd be helpful just to lay out the contenders:
Aladdin. Pros: Disney. $$. Cons: Nobody seems to feel all that strongly about it either way.
Rocky: Pros: Spectacle! That stage moves around and stuff! Cons: Everything leading up to the part where the stage moves.
Bullets Over Broadway. Pros: Lotta love, lotta hate. Cons: Lotta hate, lotta love.
If/Then. Pros: Original musical based on NOTHING. Cons: It's not blowing people away.
Beautiful. Pros: Great subject matter (Carole King!), for a jukebox musical. Cons: Seen as more of a performance push for Jessie Mueller.
A Gentleman's Guide to Love and Murder. Pros: Feels the most like a word-of-mouth hit. Cons: Old news?
The Bridges of Madison County. Pros: Gorgeous score, lead performances. Cons: Only a so-so story.
After Midnight. Pros: Stylish jazz conceit. Cons: More non-original music?
I honestly don't even know where to begin, except to say that I really loved The Bridges of Madison County and I hope it makes it. And I feel like the Disney dollars to be made on Aladdin make it a sure nominee, even if it won't win. Also, I know a lot of people don't like it, but doesn't it feel in many ways that the biggest conversation piece among all eight of these shows has been Rocky?
Mark: Joe, I have been straight-up stressing about this category. Worrying about it is seriously cutting into my TV time! You perfectly lay out the pros and cons for every show, and as you noted somewhere else in this epic conversation, we don't even have a juggernaut that's guaranteed a nomination. If I'm correctly applying my college math, these 8 shows could arrange into 12 zillion permutations of 5 nominees, and I wouldn't be surprised by any of them.
Well... check that. I would be surprised if Bridges didn't get a nomination, so I guess that counts as a sure thing? I agree, too, that Rocky's making the cut, if only because people keep talking about it.
Meanwhile, I think the lack of clear consensus will get us to five nominees. Carole King's recent appearance in the audience gave Beautiful an important stamp of approval, so I'm picking that one. And for reasons I can't fully explain, I'm also selecting Gent's Guide. Maybe because it's pleasant without being as divisive as If/Then? But at the same time I really want the fully original show to make the cut. Ask me tomorrow, and I might choose it instead.
Predicted Nominees: Aladdin, Beautiful, The Bridges of Madison County, A Gentleman's Guide to Love and Murder, Rocky
Best Revival of a Musical
Mark: I've heard some speculation that both Violet and Hedwig and the Angry Inch will be pushed in the Original Musical category, but I doubt it. Why should they fight for a position in an impossible field when Revival is open like 7-11? Other than those two, the only possible contenders this season are Les Miserables and Cabaret, which I'm pretty sure is ineligible because it basically recreates the 1998 production. That leaves us with exactly three possibilities. In retrospect, this would've been the perfect year for us to mount our long-delayed revival of Stop the Planet of the Apes, I Want to Get Off!
Joe: I almost don't want to waste any more time on this category than we actually have to. I'm troubled by this news that Violet and Hedwig might be placed as new musicals, both because neither case holds water and because what even happens to this category without them? It would almost have to abstain for a year. I respect award shows too much to allow that to happen.
Predicted Nominees: Hedwig and the Angry Inch, Les Miserables, Violet
Best Lead Actress in a Musical
Joe: Due respect to Kate Baldwin (Big Fish) and Krysta Rodriguez (First Date), this one comes down to six women scrambling to fill five slots. Kelli O'Hara should be considered the frontrunner for her lovely performance in The Bridges of Madison County, though she'll likely get a run for her money from emergent Jessie Mueller (Beautiful) and returning Idina Menzel (If/Then). Do you agree that these are our front-runners? It's interesting because if you think of Tony voters as trying to make a statement about Broadway, these are three very different directions: honor O'Hara and you're recognizing her last decade of strong work while never quite getting to be THE ONE; she's kind of the Amy Adams of musical theater right now. Mueller is more the up-and-comer who's gotten a role that really spotlights her, so if voters are really looking to make a star on Tony night, they could. An award for Idina Menzel is both a "welcome back!" as well as a "please stick around!" since Idina's eyes are always wandering toward things like pop albums and movie musicals.
Am I wrong in these characterizations? What's your sense of the direction Tony voters will lean? And what of the other two nominations?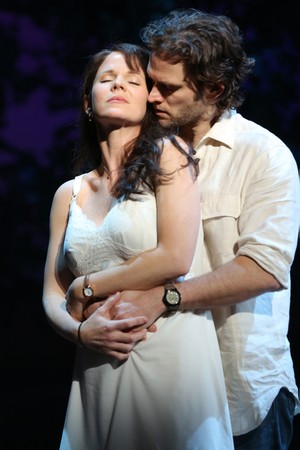 Mark: I think you're right on all three fronts, and I suspect Kelli O'Hara's going to get the "long overdue" award. (Plus, she's fantastic in the show.) If Idina Menzel hadn't already won for Wicked, we'd be in a different boat, but that is not so. (Sidebar: What's your over/under on the number of Adele Dazeem jokes made during the broadcast?)
The final two slots feel equally foregone. Sutton Foster's performance in Violet (as a woman in search of faith healing) inverts her usual "sassy dynamo" persona, and she'll be rightfully honored for the range on display. And Marin Mazzie, despite a few tepid reviews, should get tapped for her blowsy grandeur as Helen Sinclair in Bullets Over Broadway. That leaves Margo Seibert on the sidelines for Rocky, but what can you do? The part isn't that meaty, and she's absent from the fight scene everyone's talking about.And then there's Michelle Williams in Cabaret. If anyone can bump Mazzie off the list, it's her, but I'm not sure she's proven her musical theater bona fides enough to squeak in. Maybe in a weaker year (a la Allison Janney in 9 to 5), but not in a season where even Sutton Foster doesn't feel like an absolute guarantee.
Predicted Nominees: Sutton Foster (Violet), Marin Mazzie (Bullets Over Broadway), Idina Menzel (If/Then), Jessie Mueller (Beautiful), Kelli O'Hara (The Bridges of Madison County)
Best Lead Actor in a Musical
Mark: When the New York Times writes an entire feature declaring you "Broadway's new romantic lead," then you can count on a Tony nomination. So let's save a slot for Steven Pasquale in The Bridges of Madison County, who sings the crap out of some very difficult music and smolders while doing it. And while many people have mixed feelings about Rocky, pretty much everyone agrees that Andy Karl's leading performance is an admirable feat of both athleticism and acting. He's in. From what I've been hearing, Neil Patrick Harris is great in Hedwig, and since he was such a dazzling Tony host all those years, I'm guessing the committee will invite him back as a nominee.(Do you think anyone can possibly beat NPH for the award?)
That leaves several strong contenders to fill out the last two slots. Who would you choose?
Joe: This really is one of the most competitive categories on the ballot. In any other year, lead performers like Adam Jacobs (Aladdin) and Zach Braff (Bullets Over Broadway) would be real contenders, and starring in a flop wouldn't be much of a detriment for a two-tine winner like Norbert Leo Butz (Big Fish). Nor will this be the year for charming young men like Zachary Levi (First Date) to crack the lineup. I think you're on-point about Pasquale, Karl, and NPH — and I do think Harris has the inside track for the win.
I think the biggest obstacle to a Hedwig triumph in this category is Jefferson Mays, a slam-dunk nominee for his lead role as multiple characters in A Gentleman's Guide to Love and Murder. He's been praised to the heavens, and there's a degree of difficulty to the role that might vault him over a crossover star like NPH.
And I think the fifth slot ends up going to Mays' co-star Bryce Pinkham, who's been so good in the last few years in shows like Ghost and Bloody Bloody Andrew Jackson. It'd be nice to see him get his first Tony nomination this year. I think he successfully battles back Les Mis' Ramin Karimloo for that last nod, though now watch Norbert make an end run from last fall to get a nod and prove me wrong.
Predicted Nominees: Jefferson Mays (A Gentleman's Guide to Love and Murder), Neil Patrick Harris (Hedwig and the Angry Inch), Steven Pasquale (The Bridges of Madison County), Andy Karl (Rocky), Bryce Pinkham (A Gentleman's Guide to Love and Murder)
Best Featured Actress in a Musical
Joe: Here's a category where intra-production competition will have a major effect. Helene Yorke and Betsy Wolfe for Bullets Over Broadway (Yorke is playing the role that got Jennifer Tilly an Oscar nomination in the film); Jane Carr, Lisa O'Hare, and Lauren Worsham in A Gentleman's Guide to Love and Murder; Fantasia Barrino and Adriane Lenox in After Midnight. I suppose you could say Linda Emond and Gayle Rankin are in competition with each other for Cabaret, but Emond has quite the advantage there. Hers is the most likeable character in the cast, and she may have an advantage with the Tony voters for how seemingly close she came to winning two years ago for her role in Death of a Salesman. 
Mark, who would you say has the inside track for a nomination in those actress-rich Bullets,Gentleman's Gude, and After Midnight casts? In other words, who's gonna try to pry the Tony out of Fraulein Schneider's efficient German hands?
Mark: Some of the most random nominations in recently memory have been in this category. I loved everything about Passing Strange and Once, but why De'Adre Aziza and Elizabeth A. Davis got plucked from their ensembles over their equally accomplished co-stars will always be a mystery. For all I know, Anika Larsen is going to get whisked to the big dance for playing Cynthia Weil in Beautiful, and if you think stranger things haven't happened, then Google the name "Karine Plantadit."
Going only by my hunches, I feel like Adriane Lenox is a strong bet for After Midnight. She's been wowing everyone with her two big numbers, she already has a Tony for Doubt, and unlike Fantasia, she's been with the show for its entire run. I'm also feeling good about Helene York, who gets that loopy number with the dancing hot dogs in Bullets, and since all the Gent's Guide ladies are good, I'm going to randomly anoint Lisa O'Hare, who plays the perky love interest. (Lucky for her, De'Adre Aziza isn't in the show.)
For the fifth slot, I hope you'll indulge a wild idea. Cass Morgan is a Broadway stalwart who's been turning it solid work for over 30 years, and she even co-wrote the musical Pump Boys and Dinettes,which was a hit back in 1982. She's got a juicy role in The Bridges of Madison County as the initially nosy (but ultimately quite understanding) next door neighbor, and since this category never follows a discernible pattern, why shouldn't she bust through for her first-ever nomination? (Note: I may be foolhardy to overlook LaChanze in If/Then, but I don't think her role is meaty enough to get her on the ballot.)
Predicted Nominees: Linda Emond (Cabaret), Adriane Lenox (After Midnight), Cass Morgan (The Bridges of Madison County), Lisa O'Hare (A Gentleman's Guide to Love and Murder), Helene York (Bullets Over Broadway)
Best Featured Actor in a Musical
Mark: No doubt about it — James Monroe Iglehart's getting nominated for playing the Genie in Aladdin. The "Friend Like Me" production number is about 6 hours long, and he's so good, you want it to keep going. I'm also throwing my weight behind the oft-honored Danny Burstein (looking to make it three straight years with a nomination) for playing Herr Schultz in Cabaret. Plus, rising star Joshua Henry seems like a good bet for bringing such heart to a troubled soldier in Violet. 
Now we return to the stacked casts. I feel like Terence Archie could stand out from the Rocky pack for playing Apollo Creed, but Dakin Mathews and Danny Mastrogiorgio (as Mickey and Paulie, respectively) are playing roles that netted Oscar noms. Same goes for Nick Cordero as Cheech in Bullets Over Broadway. That role nabbed an Oscar nod for Chazz Palminteri, so maybe it'll translate to Broadway. But do you think Brooks Ashmanskas might steal Cordero's thunder for being so damn funny as the actor who compulsively overeats? And what about Anthony Rapp, returning to Broadway in If/Then? Tell me what makes sense to you, because I'm torn.
Joe: I'd take Surprise Anthony Rapp for If/Then over Surprise Hunter Foster for Bridges of Madison County, not that I don't like Foster, but because his role is just a whole lotta nothing in the end. Also, you've already sold me on Brooks Ashmanskas; if the Tonys have taught us anything, it's that they have no problem nominating performers who do one interesting thing well. Overeats? Why not!
Meanwhile, I'm also throwing Dule Hill's name into the mix, for his performance in After Midnight, just because I have a feeling that one's going to do well in the acting categories overall. Also, if there were a Tony Award for looking incredibly handsome in a musical while not really being asked to sing all that much, I would hope we'd all be predicting Cabaret's Bill Heck in a landslide.
Predicted Nominees: Brooks Ashmanskas (Bullets Over Broadway), Danny Burstein (Cabaret), Joshua Henry (Violet), Dule Hill (After Midnight), James Monroe Iglehart (Aladdin)
This article is from the archive of our partner The Wire.