'Veep' Incompetency Index: Selina Visits 'Kindergarten for Cyber-Brats'
It was Selina Meyer versus the internet in this week's episode of Veep, and nobody really won.
This article is from the archive of our partner
.
"A porn parody is a sure sign that you've officially made it" – Craig, Clovis CEO
It was Selina Meyer versus the internet in this week's episode of Veep, and nobody really won. Between the launch of MeetMeyer.com and the veep's visit to Google-wannabe Clovis, stodgy D.C. politics met the Peter Pan mentality of Silicon Valley. (Just not Silicon Valley, though, now that we mention it, this would've been a great crossover opportunity for HBO).
It turns out that the veep's official website has inspired parodies of the lame-pun (Meat Meyer, where the veep is literally a piece of meat) and pornographic kind (Meating Meyer, which is sort of self-explanatory) – this is the internet, after all. And then the Meyer staff discovered that the "post-tax" Clovis wasn't exactly enthused to be meeting the vice president, and vice-versa (Selina wanted to take them back to dial-up, if you know what she's saying). On top of everything, Jonah finally scored himself a viral hit for Ryantology, at the expense of the Meyer team, whose day-to-fuck up ratio is one-to-one (according to Jonah, at least). Welcome to the digital age, Selina.
Through all of it, Amy and Dan were still battling it out to be the veep's campaign manager, and Mike was still worried about money (although, what could he really do with $500,000?) And, of course, Jonah continued to be a plague on the earth.
1. Jonah Ryan (Last week: 2)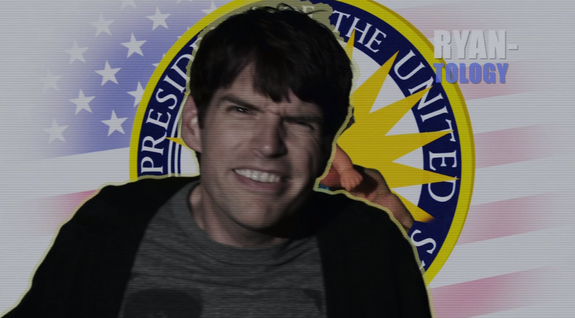 What is Ryantology, exactly? It's the kind of new media venture that gets linked in Politico's Playbook, apparently, but the videos we've seen from it bear a striking resemblance to those old JibJab videos from the 2004 election. We know Ryantology is popular enough: In "Clovis" we learn that Jonah's site is getting enough hits – and not the kind it deserves, according to Dan – that Jonah got a $4 million offer for it. But how did Jonah get here in just a few weeks? The answer, it turns out, is an utter disregard for truth and fact. He puts things out there, and then hopes something to back it up with come along – not exactly a sustainable business model. Poor Jonah, he had perhaps the first ever "moneygasm" – along with a good "fuck you" to "Stepdad One and Stepdad Three" – but after posting unsubstantiated claims about Danny Chung, saw it all fall away. Once again bested by a long con of Dan's, Jonah earns the top stop this week.
2. Selina Meyer (Last week: 10)
It's quite the jump in the Index for the veep this week, because "Clovis" brought her out of her element. First there was that messy interaction with a supporter-turned-instigator (it's unclear if Selina knows what fracking even is), after which she almost stole a baby. And then the veep's visit to the Clovis headquarters was D.O.A.: from her inability to pronounce "Craig" the correct way (is there a correct way, though?) to calling Ron Jeremy a "great actor", to an inability to figure out the "space toilet", Selina had a rough go of it at the tech giant (who applauded more for Rupert Grint than they did for the veep). Hopefully getting back to D.C. will bring back her game.
3. Gary Walsh (Last week: 6)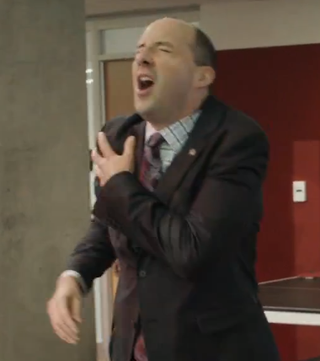 Uh-oh: Gary's arm is in disrepair, and we all know his arm is 90 percent of what the veep uses him for. He grimaced through the pain for most of this week's episode, but it wasn't a pretty sight. Plus, he inadvertently motivated Craig to make the original offer to Jonah, and used the phrase "Alcatraz-amatazz" to describe a dress. Not cool, Gary.
4. Kent Davison (Last week: 7)
Of course Kent loves Clovis and its hoodie-clad CEO. The self-titled "Tech Whisperer" on Meyer's team was in nerd heaven this week. How did the veep put it? Oh yes: Kent was "C-3PO with a big brass shiny erection." Thanks for that image, Selina.
5. Mike McLintock (Last week: 1)
Mike made the right call by lying low this week after the last week's nightmare. He wrote the speech at the very beginning of the episode that we didn't get to see, which the veep seemed pleased with, but then didn't do much of anything for the rest of her time in southern California.
6. Ben Cafferty (Last week: 4)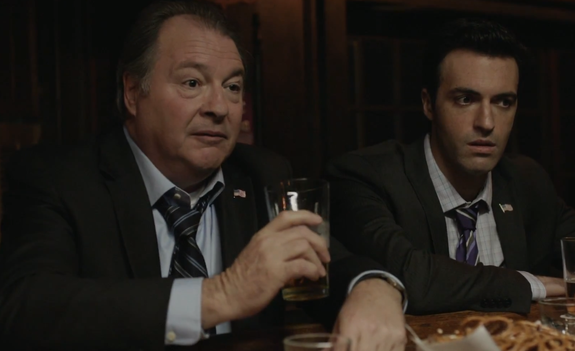 It's good to know that Ben can still terrify Jonah with just the sound of his voice. Also terrifying: the notion that Ben is Dan's future. We can't argue, but man, that is bleak. Still, kudos to Ben for setting the Chung-torture story in motion, even if it was entirely made up.
7. Sue Wilson (Last week: 9)
Sue, an endless source of apt wisdom, reminded the veep not to use "Google" as a verb during her visit to Yahoo!: "They Yahoo things there." Good thinking, Sue.
8. Dan Egan (Last week: 3)
Dan played a careful game of political sabotage this week, taking down both Jonah and Danny Chung, and somehow coming out unscathed himself. Now he just needs to learn how to drink with Ben – though who among us hasn't needed a "cheeseburger made of aspirin" at some point in our lives?
9. Amy Brookheimer (Last week: 5)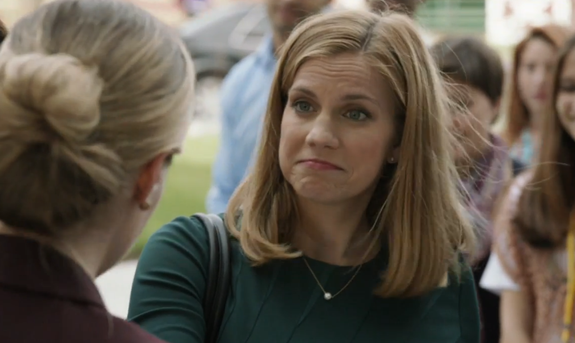 After being useless with children last week, Amy opened this week trashing babies. Maybe she's simply no good with anyone under voting age. But Amy put in solid work this week, and even got herself a job offer to work at Clovis (still waiting for that campaign manager offer from Selina, mind you). The reason she turned it down, ultimately: "I'm a grown up."
This article is from the archive of our partner The Wire.