Your Guide to Who to Root Against in the Final Four
You're already angry about your busted bracket, so why not channel that anger into hating on every team still alive in the Final Four? We at The Wire understand your frustration and have given you three reasons to root against Florida, Kentucky, UConn, and Wisconsin.
This article is from the archive of our partner
.
The college basketball season nears its end this weekend with four teams remaining. Florida plays Connecticut in the first national semifinal, while Wisconsin takes on Kentucky in the second. You're already angry about your busted bracket, so why not channel that anger into hating on every team still alive?
We at The Wire understand your frustration, so here are three reasons to root against each of the Final Four teams this weekend. Let the cynical hatred inside of you flourish, basketball fans. It's too bad one of these teams has to win.
Florida Gators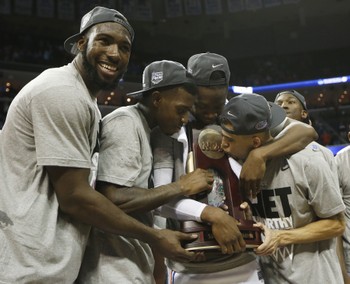 1. They have no superstar. The Gators are the most well-balanced team, with four players averaging at least ten points a game. Sharing is caring and teamwork is great, to be sure, but having that one superstar to love (or hate) makes a team really stand out. Not having a star means you have to learn everyone's name on the team; that's too much work.
2. Don't root for the boring favorite. You know who roots for a No. 1 overall team like Florida? Your friend who knows nothing about basketball and chose all the better seeds to win in the office bracket. (For The Wire's bracket, that would be Sara Morrison. Hi, Sara!) Florida is riding a 30-game win streak and has been the obvious pick to win the entire tournament for the past two months. There's no drama in that.
3. The incessant Gator chomp. If you've never been to a Florida sporting event, consider yourself lucky. The band plays the Daaaa-DUM buildup music from Jaws at every TV break, and the players are happy to oblige chomping at their opponents. It's an unwritten rule that teams with their own hand movement cheer, like Florida State's tomahawk or Texas's hook 'em, are obnoxious and should be banned.
UConn Huskies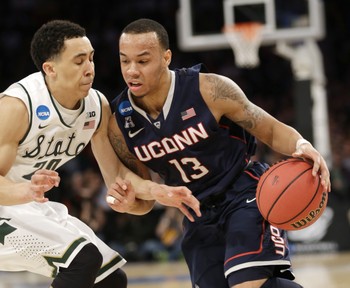 1. A Year Away from a Postseason Ban. UConn's Academic Progress Rate, a measure of classroom performance for athletes, was so pitiful that the team was banned from March Madness last year. True, none of the players currently on the team contributed to that academic failure. Still, you don't want to cheer for a program that failed to graduate or retain many of its "student-athletes."
2. Déjà vu, but in a bad way. UConn's star Shabazz Napier is a knock-off of 2011's Kemba Walker, a too-small guard using scrappiness and clutch-itude to lift a team to the championship. How about a new narrative, UConn? Also, the last time UConn made the finals, it resulted in one of the sloppiest, most awfully-played championship game in recent memory. Do we really want that again?
3. The weak AAC. UConn used to be a power in the basketball talent hub known as the Big East. But several teams in the Big East split last year, with UConn and several others moving to form the American Athletic Conference. UConn could have followed fellow former Big East teams like Pittsburgh and Syracuse into the tougher ACC. Instead, they sat on their laurels, and played just decently in a watered-down conference. This team would likely have had far more losses in a tougher conference. As it was, they still lost eight games.
Kentucky Wildcats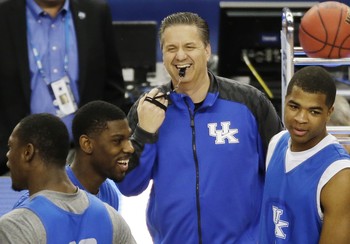 1. They're a fake Cinderella. An 8-seed that makes it to the Final Four is usually a time to cheer, but not when that team is Kentucky. They're one of the most well-funded and historically dominant basketball programs out there. Ignore the 8-seed next to their name; Kentucky is as much the Evil Empire as ever.
2. One-and-done freshmen. Kentucky has made a name for its emphasis on the one-and-done player, the guys who play in college for a year and then hops to the NBA. That trend is at its peak this year, as the Wildcats start five freshmen who will all likely be draft picks next year. Don't waste your time rooting for a team made up of players who will be gone once the game is over.
3. Coach John Calipari. The slick-haired Calipari is a great coach, to be sure, but also a sketchy guy who has no problem crossing NCAA rules. "The Sleaziest Coach in a Sleazy Game," Charles Pierce once called him. Calipari presided over UMass when scandal hit the team in the form of illegal gifts to players, and he coached at Memphis when it was revealed that his best player, Derek Rose, had his SATs taken for him. Calipari, of course, left each job before getting punished. It's only a matter of time before he bolts Kentucky for similar practices.
Wisconsin Badgers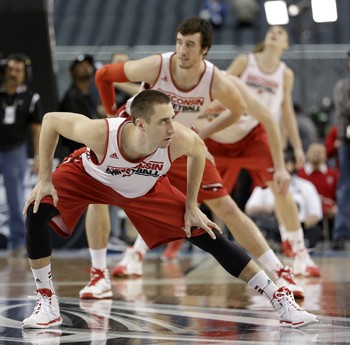 1. The schlubby lack of athleticism. Wisconsin forward Frank Kaminsky was asked how he thinks his opponents would describe his team in one or two words. "White guys," he responded. True to form, the Badgers are the most vanilla, un-athletic squad in the tournament this year, what Grantland's Mark Titus calls a "team that looks like a bunch of walk-ons." Basketball is a sport and should be played by people who look like they won't fall over walking from the car to the grocery store. Say no to Wisconso.
2. A deathly slow tempo. If you like casual dribbling and passing around in circles for most of the 35-second play clock, Wisconsin is your team. Also, you are boring. "They want to play at their pace, which is slow in general. They're not shooting before 18 [seconds left] in the half-court," CBS Sports writes. The Badgers' deliberately slow pace just makes watching such a chore.
3. Coach Bo Ryan's dickishness. When you have to describe a coaching style as "not for those who are easily offended," your coach might be a huge jerk. Quotes from players essentially describe being bullied by their coach Ryan for small mistakes. "It's hard when you're getting totally belittled," senior forward Zach Bohannon told the Wisconsin State Journal. "It's one of those things, it doesn't matter who you are, a constant beating is going to take a toll on you." Ryan does not sound like a man I'd like to cheer for.
To be fair, nobody here does.
This article is from the archive of our partner The Wire.