'The Good Wife' Winners and Losers: Alicia's Everyday Racism Moment
Alicia sometimes has a hard time telling black people apart. (Spoilers ahead!)
This article is from the archive of our partner
.
Alicia sometimes has a hard time telling black people apart. (Spoilers ahead!) These are the circumstances: she's at Colin Sweeney's weird fetish engagement party to his new future wife (played by Tony-winner Laura Benanti), Gawker posted a picture of Zach with a bong and Eli Gold is freaking out, and she had thirty minutes to get Sweeney to sign a financial disclosure. Then, someone is murdered, and she's trying to remember who was where. At some point, she saw a black man go up the stairs. Was it the victim's boyfriend? That makes sense, they look enough alike, so she says yes.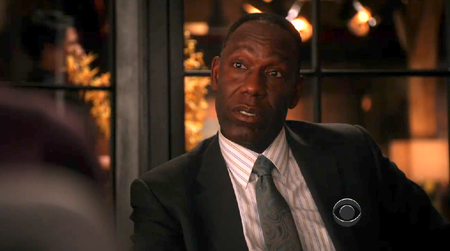 The detective working the case shows Alicia photos of the victims boyfriend and Sweeney's manservant and asks, "you confused these two men?" One has light brown skin and short hair. The other is bald with a wider nose, different head shape and pointy ears, as well as several shades darker. She says she was distracted. "Well it's a good thing I wasn't there," he replies, "otherwise you would have said I was the killer."
We're not supposed to think Alicia is actually racist. Five seasons of the show have taught us that at her worst she's an ex-house wife whose spent a lot of time in the suburbs with upper middle class white people. Also, boyfriends kill their girlfriends all the time, and it's not like there were going to be a lot of black people at Colin Sweeney's party. You could maybe argue that it was brave of The Good Wife to tackle capital-R Race like this, but we'd say it was a weak attempt.
A previous episode of The Good Wife touched on the "other-race effect," aka the scientific explanation for why "they" all look alike. Last time, a white woman witnessed a black man in a Chicago Bulls sweater rob a mini market. The police presented a black man in a Chicago Bulls sweater (remember, this show takes place in Chicago) and she said it was the guy. It wasn't, and she felt really bad about. That's more or less what happened this time around, but Alicia didn't accidentally send someone to prison. In both situations the idea that the police and white people are more likely to think of a black person as a criminal, regardless of where they are or what they were doing, is glossed over. It's the "other-race effect."
What was interesting was the show's willingness to make Alicia unsympathetic. No matter how you spin it, or how distracted she was, a white woman pegging the wrong black man for a murder is upsetting.
---
Winner: The Sweeneys
Losers: Demitrius Rowe
Your girlfriend is killed by her kinky boss, who wants to bond with her wife-killing fiance, but you end up being a suspect because there happened to be another black guy in the building around the time she was killed.
---
Winner: Gawker
Loser: Zachary Florrick
That was a really good scoop. Peter Florrick is coming out against the legalization of marijuana, and here's Zach with a bong. Also, Alicia never believes Zach when he said he didn't do something. That family has some trust issues.
---
Winner: Finn Polmar
Loser: Julian Castro
Finn's face when Peter endorses him for state's attorney is priceless, (though I'm not sure why he's watching the press conference). Peter maybe should have asked Finn if he wanted the endorsement, but that would have made too much sense.
This article is from the archive of our partner The Wire.