Jackie Collins: What I Read
The New York Times bestselling author begins her day the British way with the BBC and the Daily Mail online, finishes by watching Jimmy Kimmel on one of her four TiVos, and thinks that "Between Two Ferns" is a hilarious way to get the news.

This article is from the archive of our partner
.
How do people deal with the torrent of information pouring down on us all? What sources can't they live without? We regularly reach out to prominent figures in media, entertainment, politics, the arts, and the literary world to hear their answers. This is drawn from a phone conversation with Jackie Collins, the New York Times bestselling author, sister of actress Joan Collins, inspiration for a cocktail recipe, and a self-described "pop culture junkie." 
When I wake up I go on my computer and go straight to BBC News because they have updates on what's going on in the world. I also take a look at the Daily Mail online to get caught up on all the gossip. I love the sidebar, and I kind of scoot through that to see if there's anybody I'm interested in enough to want to read the whole story. I check my email and go downstairs and bring in my papers. I read USA Today, the New York Post and The New York Times. I find that to be a good balance. The Post says one thing and Times says another, and somewhere in the middle is the truth. I also watch the morning news shows, and deviate between Good Morning America and Today. I also watch Good Day New York, a lot because I have an Eastern feed on my TiVo, as I live in Los Angeles. I love Greg [Kelly] and Rosanna [Scotto], the anchors. They're so funny.
I'm interested in the freaky stories where strange things happen, so a celebrity wouldn't necessarily make me click on a story. It just has to be interesting and bizarre, because then it will fit into my writing. There are news stories that have influenced my books, most recently in The Power Trip. That book was very much influenced by Somali pirates and what was going on in Somalia. I decided that I wanted to write a book that incorporated famous people that get pirated on a luxury yacht in Cabo San Lucas. That was very much inspired by the fact that there were so many stories about what was going on in Somalia. When I saw "Captain Phillips" I was absolutely amazed because those were my pirates I'd written about! They looked exactly like them!
Throughout the day I mainly get my news from Twitter, and I'm a big Twitter user. It's important because in this day and age, we find out everything first on Twitter. If somebody dies, it's on Twitter before it's anywhere else. If it's somebody you know, you might want to dig out a photograph or you might want to do a R.I.P. message, but you really do see things there first rather than waiting for the news.
The other night we had an earthquake and I was thrown out of bed, so the first thing I did was go to Twitter and tweeted about it, along with a lot of other people. We also shouldn't take it for granted, because in countries across the world they're trying to stop Twitter, because they don't want people to know what's going on.
I created a Twitter account for my character Lucky Santangelo, but it hasn't been updated in a while. I think I should take it down. I'm not one of those people who can have a dog and make a Twitter account for it, and it would be too much of an ego to tweet on Lucky's account. Maybe I should get someone to do it for me.
Everyday I go to The Huffington Post, which is a really good site, and Deadline Hollywood. I have bookmarks on my computer, so I have bookmarks for mail, bookmarks for gossip, and bookmarks for newspapers. When I read the news, I like my iPad, and it's really taken over from a laptop. Because I was born in the U.K., I like to follow the news at home, and I find that the BBC covers the world more than American news, like CNN, does. I really feel that the BBC News tells you everything and you can trust it. It's like getting on a plane and the pilot is English, you feel, 'Oh yeah, I'm in good hands.' It's terrible, but it's true.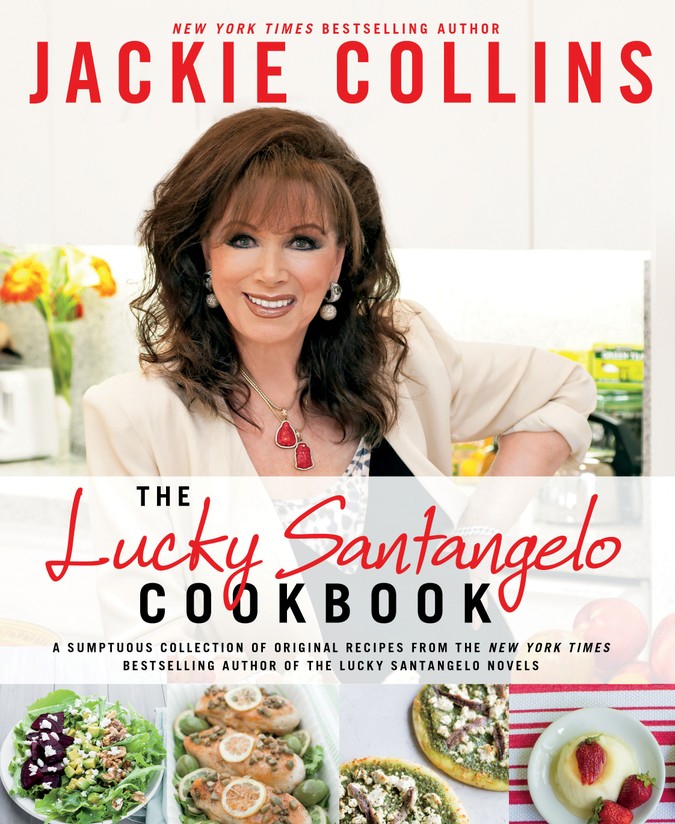 I love magazines and have subscriptions to Esquire, Rolling Stone, and Vanity Fair; I think all the writers there are excellent. Newsweek I like a lot as well,  I like the new weekly Hollywood Reporter, and Entertainment Weekly and New York are both excellent magazines. I like Hello magazine, although I've never heard of anybody in it. I mean, if you don't live in England anymore, they're all TV presenters, and I'm there going, "Who would that be?" But they have some good fun stories.
Because I'm always traveling, and either writing or promoting a book — I write a book every year — I have four TiVos in my bedroom. I use them to catch up with the news, but also I'm addicted to television. I have a fabulous line-up of shows and I am desperately catching up on The Blacklist, The Following, Shameless, and Parenthood. I'm not into podcasts. I do them, but with all the television I have to watch, the books I have to write, and the promotions I have to do, I can't always listen to podcasts. But I won't miss "Between Two Ferns" with Zach Galifianakis. I thought the episode when President Barack Obama went on was hilarious; I love the way he insults everybody. I would definitely go on it, because he could insult the hell out of me. I'm going to suggest it to my publicist!
I'm very fond of Drake and Usher. I do try to play music while I'm writing and I try to read a lot of books. I just read the new Harlan Coben, which is fabulous, but fitting it all in, that's the problem. I'm a TV and film person, not a theatre person. Boredom is something I've never suffered from. I hate it when people say to me, "I'm bored." I want to say to them, "This is your life, how can you possibly be bored? There's so much to do."
The last thing I watch before I go to bed is usually Jimmy Kimmel Live! I think he's hilariously funny, and you do get a lot of the current news from comedians because they're making jokes about it. But you're still getting the news. I also like to watch the Sunday morning political shows, and I get my political news then. I'd like to have six more hours a day. It would be very convenient.
This article is from the archive of our partner The Wire.