How the Kids Do It Now: Prom
Right now across the country, high school seniors (and a few select juniors) are preparing for the seemingly unchanging ritual that is prom. While the basic contours of the celebratory evening have stayed the same over the years, the rise of social media has changed how that evening plays out.
This article is from the archive of our partner
.
Right now across the country, high school seniors (and a few select juniors) are preparing for the seemingly unchanging ritual that is prom. While the basic contours of the celebratory evening have stayed the same over the years — there is a dance, and the kids dress up for it — the rise of social media has changed how that evening plays out. The Wire talked to three seniors at a Catholic high school in Pittsburgh about what they're doing to get ready for the big event, starting with the #promposal and ending with the after party. Their prom is in two weeks.
The Promposal
A kick-ass prom starts with the perfect prom proposal, or promposal. For the most part, it's still the guys doing the asking. But senior Jamie* says that a lot of behind-the scenes texting goes on to make sure the right boys ask the right girls. "I know who I want to ask me, I don't know if they're going to," she says. "You like, put in words with your good guy friends and hope they help you out."
Promposals tend to be elaborate, and as Jamie's friend Brittany notes, they have to be in person. Gone are the days of calling up Sally on her home phone and speaking to her father first. "I feel like now, prom is the biggest dance, bigger than homecoming," Brittany says. "So doing things on people's cars ... [the promposal] just has to be thoughtful in some way. Flowers are always good, too. All the boys give flowers and then do something else that's personal, so you feel like they're trying." The girls' guy friend Vinny just promposed to his girlfriend over the weekend. He explains,
I surprised her at her house. I bought a bunch of mini candles and spelled out P-R-O-M after sunset on her driveway. And I just lit them all and then had flowers. I know she doesn't really expect it, but I just like to do that."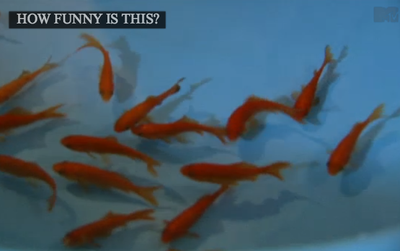 So where are Vinny and his friends getting their ideas? Social media. There are multiple Twitter accounts and Tumblrs dedicated to promposal inspiration. This all started during the halcyon days of the early 2000s, when Gary asked Morgan to prom on teen reality show Laguna Beach. He put a bunch of fish in her bathtub and left this note: "Of all the fish in the sea, prom with me?"
Now, animals function as a major part of promposals, as evidenced by these grand ideas:
"One kid that I used to go to school asked a girl to homecoming with a kitten," Brittany says. So that girl just has a kitten now? I ask. "Yeah."
Most importantly, promposals are videotaped. "People will usually take videos with their phones of other people getting asked to prom and Instagram them," Brittany explains.
What about girls who want to ask guys? Vinny thinks that's cool. "If you really want to go with someone, why not?" he asks. The girls, however, were skeptical. "People definitely talk about it if that happens," Brittany explains. "I feel like girls will shit-talk the girl that asks the guy ... I think there's a fear." 
This teen was brave, but honestly, her promposal seems like a poor use of public resources: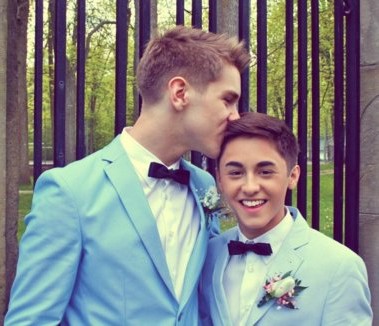 So, what if a girl wants to prompose to another girl? Jamie, Brittany, and Vinny's high school, being Catholic, is not accepting of same-sex prom dates. But the tides are slowly turning at public schools around the country. Schools like Greenville High in Alabama have struck down prom rules welcoming only "traditional couples" after outcry from students and the community. The vast majority of high school students see no problem with same-sex promposals, and Tumblr is not lacking for inspiration.
Oh, and if you attend Jamie, Brittany, and Vinny's high school, you can't prompose to a 14-year-old, regardless of sex. "We're not allowed to ask freshmen this year ... I think it's because guys were asking younger girls," Brittany explains.
The Dress
The dress is still a major part of the prom experience, but girls no longer have to worry they'll show up wearing the same one as a classmate. The girls in Brittany and Jamie's class made a private Facebook group to post photos of their dresses so nobody purchases the same gown.
And while prom dresses haven't gotten any less expensive, online services let girls rent them for the night instead of buying. You can rent the $995 Nicole Miller "Living a Dream" gown for $80 on RentTheRunway.com. Shoes and jewelry can be rented, too.
Guys rent their tuxes, and some plan to match their dates. Vinny explains, "I got a little sample of my girlfriend's dress that she got when she got it hemmed, so I'm just going to take that to the mall with me and try to match a tie." 
The Group
The all-important prom group is the five or six couples you go to the dance with, and this is where the girls take over. "We're the masterminds," Brittany says. Jamie agrees: "The girls always pick the group. The guys don't have much say. Some guys will say like 'oh, I need to be with this one kid,' and we'll be like, 'fine, we can let them into the group.'" Brittany and Jamie already have their group planned out, even though the girls haven't all been asked yet.
The group will gather for pictures before the dance, sit at the same table for prom dinner, and ride in the same limo. At least at this school, limos are par for the course. "I feel like they might do different things at public schools," Brittany says. "You know, a party bus. Some people do party buses." 
Does the limo facilitate underage drinking? "People sort of did that last year,
Brittany says. "But [the English teacher] is so scary. And we have to sign a contract saying that we're not going to drink. So it's usually just at the after party." 
The Dance
This part hasn't changed much. Vinny recalls, "Last year we had it at a pretty upscale place, and we sat there and had dinner." The dancing part goes on for a couple hours, thanks to a hired DJ. "I thought [the music] was pretty good," Vinny says. "I took selfies with friends at the dinner part of prom," Brittany offers.
"I know this year, I think they're trying to do some black light theme," Vinny says. "I'm not sure how that's going to work, but apparently the girls think it's going to be great." They'll vote for a Prom King and Queen on scraps of paper at the dance.
The kids aren't doing much twerking, however. Vinny explains, "I think a lot of people try, but especially at the Catholic school, the teachers watch very closely."
The After Party
Jamie, Brittany, and Vinny's school does not sanction an official after party, so the seniors all gather at the house of someone with more permissive parents. Jamie says she can usually have parties in her basement. "The guys are always in charge of getting the beer, and the girls are in charge of getting the hard stuff," she explains.
As you might have guessed, the kids rely on older friends to get alcohol. "I have a friend up in Slippery Rock [a local college], and I text her probably two weeks before and put an order in," Jamie explains. "And then three days before prom we meet at a halfway point, and I just pick up the alcohol and keep it in my car ... The guys get the beer up at Duquesne [another local college]." Her parents generally know what's going on. 
"My parents don't care too much, but they're not all about us flaunting it at the same time," she says. "So in my basement we have a window that you can reach out of and grab the beer outside the window. So we leave the beer window cracked. That way there's not cases everywhere and stuff, and it's not messy. ... The morning after every party [my mom will] be like 'oh, what stuff did you guys drink last night?' and I'll tell her. And she'll be like 'oh, that's nice,' or 'oh, that's gross.'" 
Vinny says his guy friends talk about hooking up after prom, but it's not a huge deal. "You definitely do hear talk about hookups after prom ... there might be a little more hookups because prom is like the big party." Also, "we have a decent amount of couples in our grade, so no one really talks about that, because you know, we've been dating for so long."
These kids are all Internet-savvy at this point — they know not to post photos with alcohol in them online. But they do plan on posting a lot of other pics to Facebook and Instagram with the hashtag #prahm. No one could explain where this originated, except to say that it's somewhat phonetic. Facebook #prahm albums go up the next day, Brittany says, "if you're eager." 
*names changed throughout to protect teen drinkers
This article is from the archive of our partner The Wire.