How the Kids Do It Now: Dating
Imagine a world in which single people could instantly be shown pictures of people within a few miles who fit within a certain age range. Ha ha: Surprise! That's America 2014.
This article is from the archive of our partner
.
Imagine a world in which single people could instantly be shown pictures of people within a few miles who fit within a certain age range. Ha ha: Surprise! That's America 2014.
Forty-five percent of you right now think I am an idiot because obviously you know that this is how it works these days. Can you believe this jerk doesn't know about Tinder, you are thinking to yourself right now, and God bless you for your knowledge. But, as 55 percent of you will understand, I am a guy in my late 30s who has been married for almost six years. I did not know about dating apps.
Until I saw Bravo's Online Dating Rituals of the American Male, a show on television that I watch because my wife enjoys watching Bravo and I am, as previously mentioned, married. On this show, horrible men hold their iPhones with a casual familiarity, swiftly moving through various photos of young women (and occasionally young men) saying mean or lewd things loud enough for the boom mics to pick up, sending idiotic messages to their prey, and then going out on dates and acting like buffoons. I am certainly familiar with the idea that dating is completely horrible and terrifying, but I was not familiar with the idea that this is how dates — stacks and stacks of dates, overlapping, horrible dates at terrible suburban bars — were set up. But that is How the Kids Do It Now, as a panel of kids (my adult-but-younger coworkers) explained to me in the manner that you might explain how the DVR works to your elderly grandparent.
So here's how dating works these days, fellow old people. It's a Brave New World, in the literal, literary sense that computers pick your matches for you.
iPhone apps
Let's talk about what a cell phone is these days. It has 1) a camera, 2) a GPS receiver, and 3) the ability to send and receive text messages. And so some enterprising person somewhere said to himself, hey, I have an idea and created a thing called Tinder.
Tinder is an app that appears, based on my admittedly quick research, to be the most popular dating app for the iPhone. There are others, with names that are usually equivalently dumb puns (tinder starts a flame, do you get it). There is Grindr (for sexy grinding), Hinge (this involves friends-of-friends), Scruff (facial-hair-focused), Swoon (fainting-focused), and Coffee Meets Bagel (hahaha what).
The way it works is pretty simple. You connect your Facebook account and it pulls in some photos. You pick the best (sexiest) ones, and give yourself a little description. Then you head over to the options page and pick what you're looking for. Do you want to match with men or women or both? How far away do you want to match with people? How old should the people be who you want to match? (The acceptable range: from a creepy 18 to a sadly hopeful 50-plus.)
But the highlight of Tinder (and other apps) is the selection process. Have you heard of swiping? Swiping on potential Tinder matches is now a euphemism for liking or disliking something in general. On the app, if you see someone you'd like to match with (this terminology may be incorrect) you swipe to the right, and a little "LIKED" stamp appears on the person's photo. Swipe to the left, and it says, "NOPE," rather cruelly. And so if someone ever mutters "swipe left" under his breath as you walk by, and all his dumb friends start laughing, he has insulted you and you should punch his idiot face.
How do you know who to like / swipe right on? The app does part of the work, comparing your Facebook likes to other users trying to figure out who you might match better with. (One of my coworkers, Allie, liked Megan Fox on Facebook for some inexplicable reason which means that now "I'm always a match with, like, all these douchey guys that like Megan Fox on Facebook.") But otherwise, it's up to you. One of my coworkers moved through it slowly, looking at multiple pictures and reading profile information for each. Others said they moved more quickly, liking and nopeing (this terminology may also be incorrect) people based on the first picture they saw. There are apparently also guys who just go through and like everyone — swipe right, swipe right, swipe right — to maximize the number of matches that result.
Because that's the thing: A match is called a match because it requires that both you and the other person like / swipe right on each other. Then, voila, you're a match, and you can send the person a message. If you want. Sometimes, there's buyer's remorse. Perhaps the "pictures are not what you expected" once you get past the first pic, my coworker Eric said, which might slow his interest. Eric also said that "girls almost never message first." According to him, "I can just swipe right infinitely and even if an ugly person matches me or an annoying [woman], they never reach out." My female coworkers disagreed with this, saying that they had messaged men first.
What to say in your first message? "Hey, how are you," one uncreative person suggested. "Looks like you like dogs," Allie proposed, or some other comment related to one of the person's profile pictures. Allie does not like gross sexual requests ("wanna bang") or random questions (like "if you were stranded on a desert island," etc.) and will block people who ask such things.
Because you can block people, too. Which becomes necessary because some people are weirdos. "Half of the chat is sussing out whether or not they're a rapist," Allie said. "That is 50 to 75 percent: Will you chop me up in pieces?" Blocking is also necessary because some of the people on Tinder are not people. Everyone had seen bots included in the mix, slightly too handsome people with slightly too exotic names. (It is not clear how this is economically fruitful.)
Again, Tinder is not the only app, and the experiences of straight people using the app are not representative of all users. My colleague Alex, who is gay, pointed out that apps have different focuses. Tinder "seems more datey" than apps like Grindr or Scruff, Alex said, and "there are other apps like Jack'd, which I would say are more geared toward hooking up." And things move in trends, as with any other app. "Grindr used to be the dating app back in the day because it was the first location-based app that everyone was using," Alex said. Now it's not.
Alex also theorizes that web-based dating is more accepted in the gay community. "Gays have gone to great lengths to meet other gay men (and have gotten beat up/barked up wrong trees/gone to secret bars/etc.)," he pointed out. "Going online was a lot easier. So we had sites like Manhunt, Adam4Adam, etc. which streamlined the process and connected us with one another."
Dating websites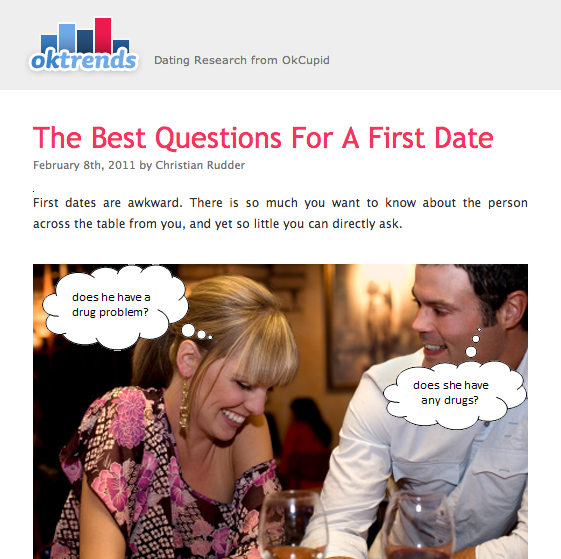 Dating sites — and meeting people online — obviously predates iPhone apps. (My father, who was married this weekend, met his wife online.) Now, though, there's an entire ecosystem of sites tailored to any possible romantic outcome and to any possible internet subculture. There are dating sites specific to Christians, to Jewish people, to black people, to farmers, to people that wear uniforms, to Green Bay Packers fans.
The more important distinction, at least as articulated by my coworkers, is between pay and free sites. OKCupid is a popular free site that one coworker called "stressful," because it involves a lengthy survey to fill out. Sites like JDate and Match.com — which are pay sites — seem more explicitly focused on establishing a long-term relationship. "When you pay for the sites, it's like a higher level," my colleague Arit said. "Like the guys who are just casting their net on there are not going to go on eHarmony to do that." Perhaps expectedly, the kids don't really use the pay sites.
There's also Craigslist, which is free. But Allie — who is very sensitive about being murdered — points out that its reputation is iffy: "There's literally a killer called 'The Craigslist Killer.'" (At least one person has met someone on Craigslist without being murdered.)
The real lesson is that there is no medium online which people don't use to try and find dates. There's the phenomenon of "fave flirting," using Twitter favorites as a way to build a relationship with someone online. This sounds made up, but, my colleague David assures me, "is not bullshit." Someone reached out to Allie on Tinder after faving her on Twitter. What a sentence; what a world.
How relationships work
All of my colleagues who used phone apps had ended up going on dates. The dates were generally fine, generally the same as any other date. No one was chopped into pieces.
How the dates work and what counts as a date seems more fluid than it has in the past. There's no set expectation that the guy will pay, as tradition has it, and the man's insistence on paying was seen as a signal that two people hanging out was, in fact, a date. My female colleagues usually offered to pay early on in a relationship, and actually began to split the bill once the relationship progressed. When my colleague Ben asked a girl he met at a bar to dinner and a movie, he says his friends considered this "oddly formal."
By the way: Even if two people go on a date or two, that doesn't mean that they are "dating." The more common terms for the beginning part of a relationship is to say that you're hooking up or talking to someone.
At some point it's time to DTR — to define the relationship. This is slang, mostly, used between friends to ask what the status of a hook up happens to be. But it's a real thing; my colleagues suggested that there can come a time when two people agree to "be exclusive," the modern incarnation of pinning or going steady or whatever.
What's particularly interesting is how this new relationship is signalled to the world. Once, a few years ago, two people became Facebook Official, signalling their new status as "in a relationship" on Facebook. This is now passé, in part because "Facebook is stupid," as the always-quotable Allie put it. But also because relationships end, and that can be awkward when people start liking and commenting on your "no longer in a relationship" Facebook status. (Allie: "It's so awkward.") Instead, a key signal to friends about a new relationship is the "couples selfie" on Instagram, the first time two people appear in an image on the photo-sharing site.
Meanwhile, those online dating profiles sit there on Tinder or Scruff or whatever, collecting dust. There doesn't appear to be a formalized moment in which people officially delete their accounts because they're in a relationship. One girl, who'd gone out on a date with a friend of Ben's immediately deleted her OKCupid profile immediately after the date. "He went to show me her profile the next day, but she'd deleted her account," Ben said. "We were trying to decide if that was a good sign." Happily for Ben's friend, it was; the two of them went out on a second date shortly thereafter.
Sex
Which leaves only one remaining question: How do the kids today have sex? How soon in a relationship does it happen? Do they do weird, vague things that previous generations did not?
And, what, you think I asked my coworkers about this? Ha ha, no, I did not do that. As far as I know no one under the age of 30 has ever had sex, and, quite frankly — given what I've seen on TV of the people that are out there dating these days — that is very much for the best.
This article is from the archive of our partner The Wire.