'Go' Cast Power Rankings, Then and Now
Fifteen years ago today, Dawson's Creek was a television phenomenon, "rave culture" was the buzz when it came to adults defining youth culture, and Go premiered in movie theaters.
This article is from the archive of our partner
.
Fifteen years ago today, we were all much younger people, Dawson's Creek was a television phenomenon, and "rave culture" was the buzz when it came to adults defining youth culture. Which is to say that fifteen years ago today, Go premiered in movie theaters.
At the time, Go was seen as a knock-off in a few respects. The split-narrative style, complete with character title cards separating the film into thirds, put Go at the top of the list when it came to late-'90s Tarantino-influenced cinema. And then there was director Doug Liman, red hot off of the cult success of Swingers, trading neo-swing culture for X and raves. (Both films would give a healthy chunk of attention to Vegas, though.) The thing about Go that sets it apart, however, is that it's COMPLETELY FANTASTIC. Energetic and quotable and stylish and neither overly enamored with nor overly dismissive of the culture it's inhabiting.
Go was also right in the middle of a wave of Hollywood youth, with the rise of the WB and the resurgence of teen horror resulting in a massive influx of pretty young faces getting tried out for their shot at stardom. The cast of Go sampled from all corners of the youth market at the time — some current TV stars, indie darlings, at least one Saturday Night Live refugee.
So whose careers were hottest at the time, and whose hold up best to fifteen years of scrutiny?
Go Power Rankings (1999)
1. Katie Holmes: Go premiered smack dab in the middle of Dawson's Creek's second season, and after the previous year's Disturbing Behavior, this was Holmes' biggest stab yet at transferring her TV stardom to movies. People often forget how interesting Holmes' early film choices were — this, Wonder Boys, The Gift — before she seemingly just stopped trying and married Tom Cruise and became more celebrity than movie star.
2. Scott Wolf: Party of Five was in its final season when Go came out, and Wolf was certainly ready to break out of the teen-star mold. He'd already dipped his toe into image-breaking fare in 1996's The Evening Star, but that Terms of Endearment sequel kind of came and went. Playing a gay soap star in Go was another good effort, and Wolf is quite good at it, but the movie career never really happened for him. It turns out, he's really well-suited for TV, though apart from a few solid seasons on Everwood, he hasn't been able to find a true hit.
3. Taye Diggs: Diggs' only real exposure before Go was as the object of Angela Bassett's affections in How Stella Got Her Groove Back, but it's hard to overestimate how big of a splash Diggs made with that movie, at least with straight women and gay men.
4. Breckin Meyer: Meyer broke out in 1995's Clueless as amiable stoner Travis Birkenstock, and the year before Go, he tried something new as go-go-boy bartender Greg in 54. It takes a good bit of guts to be the other shirtless bartender standing next to Ryan Phillippe for a whole movie, though sometimes you get the consolation prize of making out with Ryan Phillippe.
5. Jay Mohr: Mohr had already been through a roller-coaster career up to this point. Two fraught, fruitless years at Saturday Night Live, a buzzy part in Jerry Maguire, scattered indie parts in Playing by Heart and Suicide Kings and 200 Cigarettes. If there was one weak link in the Go cast, performance-wise, it was Mohr, but he was certainly more of a name at the time than most.
6. Sarah Polley: Polley's fame level at the time of Go's release largely depended on whether you were Canadian or not. She was a child star on TV's Road to Avonlea and had a breakthrough film performance in Atom Egoyan's The Sweet Hereafter, but America was generally unaware of her. 1999 was a big year for Polley, at least in the indie world, including a role in David Cronenberg's eXistenZ, but it was Go that showed off her potential the best. If there was anyone who was going to use Go to springboard themselves into success, it was Polley.
7. Jane Krakowski: Ally McBeal was in its second season at this point in 1999, but while Krakowski was an oft-featured player in that cast, Calista Flockhart took up most of the oxygen when it came to getting any kind of mainstream attention. Krakowski makes the most of her brief role in Go as a cop's wife/Amway entrepreneur, at the very least.
8. Timothy Olyphant: Olyphant's previous exposure prior to Go: one episode of Sex and the City (as a too-young-for-Carrie fling) and playing the killer in Scream 2 (oh it's been 17 years, you had your chance to watch it unspoiled). Other than Polley, it's Olyphant who fares best in Go, as the dangerous, sexy, sarcastic, sexy, secretly-not-that-bad, sexy drug dealer Todd Gaines. Guy will make you blush at the sight of a Santa hat for the rest of your life.
9/10. Nathan Bexton/James Duval: Both of these guys had pretty much zero mainstream recognizability previous to Go (well, unless you count Duval playing Randy Quaid's kid in Independence Day, which I guess you could), but if you were a fan of queer cinema icon Gregg Araki's films, you knew them quite well. Both were in Nowhere, Duval starred in The Doom Generation and Totally F*cked Up, and Bexton showed up in Splendor.
11. William Fichtner: Character actor extraordinaire, Fichtner managed to emerge from a crowded Go cast fairly prominently, thanks to one memorable nude scene in particular.
12. Melissa McCarthy: We were still over a year away from Gilmore Girls' debut, so no one knew who McCarthy was when she showed up for her single-scene cameo, memorable as it was. She shows up as the roommate of the guy that both Mohr and Wolf are cheating on each other with, and her giddiness at both the intrigue of the situation and the fact that two soap stars have arrived on her doorstep are rather infectious.
Go Power Rankings (2014)
1. Melissa McCarthy: What a difference a decade and a half makes. After Go came Gilmore Girls, after Gilmore Girls came Samantha Who? and a movie called The Nines from Go writer John August that is actually well worth checking out if you haven't seen it. And then, all of a sudden, there was Bridesmaids and Mike and Molly and an Oscar nomination and an Emmy win and a bunch of box-office triumphs, and now Melissa McCarthy is one of the most bankable stars we have. And her one scene in Go STILL belongs on her reel.
2. Sarah Polley: She never did become a movie star, not really, though I'd still recommend movies like the Dawn of the Dead remake and Splice. She did become a director, however, and I can't imagine she or her fans would have had it shake out any other way. Her three feature films — Away from Her, Take This Waltz, and Stories We Tell — have set her up as one of the most promising and exciting young filmmakers working today.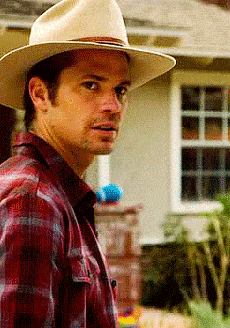 3. Timothy Olyphant: The rare example of boyish sexy that translates into adult sexy quite well. Which isn't to say that Olyphant's virtues are purely surface level. He was quite good, if often overshadowed by more dynamic supporting characters, as the mightily clenched Seth Bullock in Deadwood, and now he's finishing up the fifth season as the lead in FX's Justified. Still waiting for the movies to figure out what to do with him, though I'd highly recommend checking out The Crazies.
4. Katie Holmes: Yes, still. Is she more of a fascination than a viable acting force at this stage? Certainly. But I still believe she'd be a perfect fit for a TV series that wanted to capitalize on her charm. Plus, she's still within that post-Tom-Cruise-divorce window that saw such professional success for Nicole Kidman and Penelope Cruz.
5. Jane Krakowski: Jenna Maroney is gone, Krakowski fans. Long gone. She's got quite the legacy after her time on 30 Rock, but it's time for a follow-up. Here's hoping Dead Boss for FOX makes it happen for her.
6. William Fichtner: Still character actor extraordinaire, only now most film/TV buffs know his name. And he'll be playing The Shredder in this summer's Michael Bay-ified Teenage Mutant Ninja Turtles, so there's that. 
7. Taye Diggs: You know. He's doing okay. He'll be headlining TNT's summer series Murder in the First, Stephen Bochco's attempt to bring himself into the limted-series genre that he attempted to start back in the '90s with Murder One.
8. Breckin Meyer: Watching those fat Franklin & Bash checks come rolling in.
Everybody else from the Go cast has faded a good bit. You'll see James Duval and Scott Wolf around some, but they're not really headlining much. Every once in a while TV will try to make Jay Mohr happen again. The real loss is Nathan Bexton. What happened to that guy? It just never happened for him, which is too bad, because whenever I think of Go (and I do a lot), it's Bexton's closing line of "So. What are we doing for New Year's?" that lingers.
This article is from the archive of our partner The Wire.