Auto Worker Had $50 Million Worth of Stolen Art Hanging In His Kitchen for Nearly 40 Years
This article is from the archive of our partner
.
Italy's cultural heritage police recovered two stolen works of art from the home of a Fiat employee, who bought the valuable masterworks at an auction of lost-and-found train items in 1975. The man, who police described as a lover of art, reportedly purchased the two items for somewhere around $30 in 1975, and was allegedly unaware that they were stolen ... or that they're worth about $50 million today. Call it the ultimate (unintentional) heist.
The paintings, Paul Gaugin's "Still Life of Fruit on a Table With a Small Dog" and the lesser-known Pierre Bonnard's "The Girl With Two Chairs," were stolen from the U.K. home of Sir Mark Kennedy and his wife in 1970. The original burglary was pulled off in the most British way possible: Three thieves dressed as "burglar alarm engineers" asked the couple's housekeeper to make them a cup of tea, and escaped with the paintings while she was in the kitchen. They were apparently later abandoned on a train from Paris to Turin, and eventually sold to the auto worker at a lost property auction. He then displayed him in his kitchen in Turin for nearly forty years before taking them with him to his retirement home in Sicily.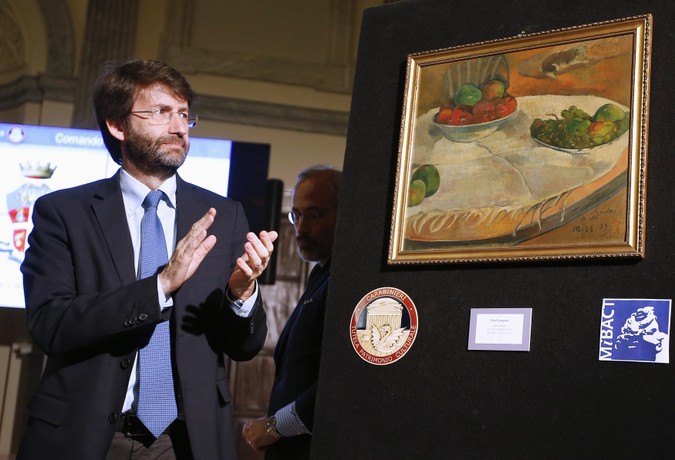 A spokesman for Italy's Art Theft Squad told ABC News that police learned of the painting's whereabouts when the man's son started advertising them for sale, adding that "he did so in good faith, as he did not know they were stolen. That is when we became aware of them and started researching." According to the BBC, "the worker only grew suspicious about their origins when his son saw another Gauguin in a book and noticed similarities with the painting in his father's kitchen."
It seems like a pretty fortuitous find, but Italy's police took full responsibility for the discovery. "It's an incredible story, an amazing recovery. A symbol of all the work which Italian art police have put in over the years behind the scene," said Italian culture minister Dario Franceschini.
The rightful owners of the painting are both deceased, and have no heirs who could take possession of the works. Also: Italian law may allow the man's family to keep the painting if they can prove he bought it in good faith, so it's possible the worker could end up regaining custody of the art. But the works are being kept in a police safe... for now. 
This article is from the archive of our partner The Wire.