All Celebrities Went to the Desert to Find Themselves
Today in celebrity gossip: One million celebrities converged on Indio, California, for a music festival, Andrew Garfield wants you to stay out of his business, and Zac Efron's shirt was ripped off.
This article is from the archive of our partner
.
Today in celebrity gossip: One million celebrities converged on Indio, California, for a music festival, Andrew Garfield wants you to stay out of his business, and Zac Efron's shirt was ripped off.
So it came to pass that all of the chosen celebrities made their pilgrimage to the desert where they entered a secret, underground city through a hole in the ground and waited out the society-ending race war as predicted by the subliminal messages in the White Album. Just kidding, that's a description of Charles Manson's concept of Helter Skelter, not the Coachella Valley Music and Arts Festival. But Coachella is basically the same thing, just with more surprise appearances by Beyoncé. Anyway, if you went anywhere near Instagram this past weekend (during the times it wasn't down), then you're probably aware that a three-day music festival transpired in Indio, California, and that many famous people attended! Background: Common internet wisdom dictates that Coachella is a terrible thing that must be avoided and/or made fun of, but don't listen to those jealous haters. It is actually a wonderful outdoor event that attracts one hundred thousand people in good moods and minimal clothing while genuinely great bands play so much music. I mean, sure, it's no staying-indoors-and-complaining-on-Twitter, but it's definitely pretty worthwhile. Just ask all the celebrities!
Among the festival's highlights both scheduled (an Outkast reunion!) and surprising (Beyoncé!): Jay Z appeared for a quick duet during Nas' set, a historic moment between two former enemies; aforementioned Beyoncé did some essential backup dancing for sister Solange during her set; Gwen Stefani came out to sing with Pharrell; Janelle Monae performed with Outkast; Justin Bieber hopped onstage during Chance the Rapper's set to perform his new track (while wearing a bucket hat); Michelle Pfeiffer, Kesha, Katy Perry, Jared Leto, Paris Hilton, Shenae Grimes, Aaron Paul, Minnie Driver, Lance Bass, Hillary Duff, and countless other teen stars were also in attendance. Page Six has a fun gallery of celebrities who donned their best hot weather gear to brave the masses, but to be honest THIS is the only photo that matters: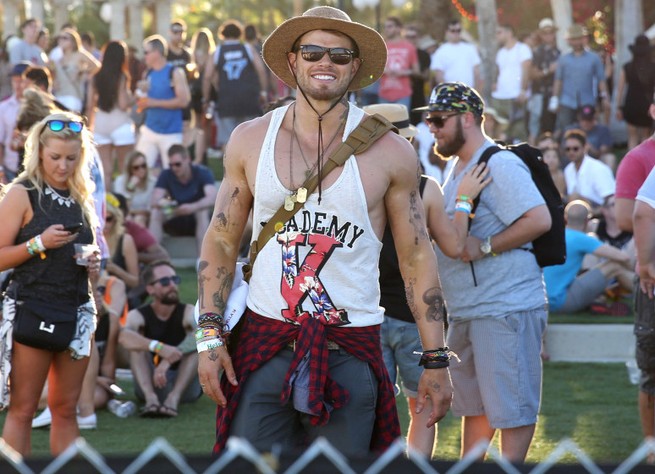 Please explain these tattoos, Kellan Lutz. Was Kellan Lutz attacked by a crazed fan with a ballpoint pen? It's a Coachella mystery! What's not a mystery is that Lindsay Lohan herself threw caution-about-her-sobriety to the wind and embraced the notoriously substance-friendly climate on her own terms. As TMZ reports, Lohan capped off Friday's festival lineup (which ended at 12:30am) with an appearance alongside her little brother Michael at the Flaunt Magazine party and remained there (sober!) until around 3:30am. So, uh, congrats! You did it, girl.
Meanwhile, Leonardo DiCaprio was spotted busting out some tight and sick dance moves during MGMT's set:
To be fair, "Kids" is still a perfect song all these years later, so Leonardo DiCaprio was definitely doing it right. Not as right as the hilarious woman filming him, but still very right all right. [BuzzFeed]
Anyway, don't worry, this was only the FIRST weekend of Coachella. Next week the entire thing (up to and including set lists) will happen all over again. Which celebrities will attend? Will all of them survive? What are the actual chances of a society-ending race war breaking out? Stay tuned!
Moving on from Coachella for a second. Andrew Garfield and known girlfriend Emma Stone are currently on the rounds promoting their new film about a human spider and Garfield grew suddenly uppity when a reporter casually mentioned that Emma Stone was his girlfriend. Apparently the woman had the gall to point out that a question he'd just answered had been answered the same way by his "girlfriend" Emma Stone, to which Garfield responded like this:
"Who's my girlfriend? You're making an assumption about my personal life, and my personal life is not public property."

"Isn't it?" the reporter rebutted. "Nope," Garfield told her.

The reporter then pointed out, "You're in a massive film with her."

Garfield lowered his guard a bit and replied, "We're acting together, yes."
Probably the #2 topic of conversation when it comes to celebrities (the #1 being what they look like without makeup) is the line between what the public feels entitled to know about that celebrity's private life and what celebrities actually want to divulge. But come on, this feels like overkill. Andrew Garfield doesn't want people to discuss the fact that he's been in a serious relationship with another very famous actress (and his repeated in-movie love interest)? The phrase that comes to mind is 'deal with it, Andrew Garfield.' But the way Andrew Garfield is dealing with it is by getting haughty with entertainment journalists, who, believe me, would probably rather not be asking questions about celebrity relationships. Plus, everybody knows that when you sign the devil's contract to become famous, in not-so-fine print it clearly states that you must talk openly about your celebrity relationships from then on. Somebody revoke Andrew Garfield's fame, he's abusing the system! Anyway, moral of the story: Don't ask Andrew Garfield about his famous girlfriend. [E! Online]
You've seen the links your aunt posted on Facebook, but here it is officially: Ginnifer Goodwin and her Once Upon a Time co-star Josh Dallas are very married now! Everybody knew they were engaged IRL, but according to Us Weekly "the costar couple said 'I do' in a wedding on Saturday, April 12." Oh, also, they are pregnant, but so far Us Weekly has not broken the story on how that happened or when or how. How'd they get pregnant? It's another celebrity pregnancy mystery! [Us Weekly]
Sunday saw the return of the MTV Movie Awards, and it was the usual amount of shilling for still-to-be-released summer blockbusters broken up by occasional Conan O'Brien hosting interstitials. But one undeniable highlight was probably when noted hobo assault victim Zac Efron received an award for "Best Shirtless Performance" in That Awkward Moment and during his acceptance speech presenter Rita Ora ran up ripped his shirt off:
Which, fine. You got us, Zac Efron. That is a very good way to steer the conversation away from your verrrry suspect skid row incident. But come on, there was nothing impromptu about this moment. Unless Zac Efron had the spent the better part of the afternoon getting spray-tanned within an inch of his life just because. The snap-button shirt was very convenient also. Look, nobody's mad at Zac Efron for getting his shirt ripped off in mixed company, it just felt like maybe when it comes to Zac Efron the thrill is kinda gone? I don't know. I can't speak for you guys. I'm still worried about him. Looking healthy on the outside only gets somebody so far. [Us Weekly]
As far as staged bits involving self-deprecation go, this Drake appearance on Jimmy Kimmel Live went much better. To promote his upcoming gig hosting the ESPY awards, the R&B star allowed Jimmy Kimmel to dress him up in disguise and take to the streets to interview people about how Drake did as host (even though he hadn't done it yet). And some people did not say very nice things to Drake about Drake!
I love it when towards the end when he straight-up tells the people that he's Drake and they don't listen. The secret's been out for a while that Drake is a gifted actor with great comic timing, but seeing his facility with people just casually talking trash about him is especially charming. He seemed very cool with it! Both do and don't quit your day job, Drake. [Us Weekly]
Now please enjoy this important video featuring Emma Watson:
Haha sorry! Okay, we can't end with that. To cleanse your mental palate, here's a photo of Beyonce and Jay Z looking very chill while backstage at Coachella:
Whew, that's better.
This article is from the archive of our partner The Wire.