A Definitive Casting Primer on 'Jem and the Holograms'
The Jem and the Holograms is moving forward, poised to capture an as-yet-untapped source of '80s nostalgia. But they haven't yet gotten to the most important stage: casting. Before any decisions are made that the producers can't take back, it's time to offer our considered and official recommendations.
This article is from the archive of our partner
.
The Jem and the Holograms is moving forward, poised to capture an as-yet-untapped source of '80s nostalgia. The production is underway, but they haven't yet gotten to the most important stage: casting. Before any decisions are made that the producers can't take back, it's time to offer our considered and official recommendations. These recommendations are based on a multitude of factors: talent (can she sing?), star power (gotta put asses in the seats), and budget (we can't just shell out for five Jennifer Lawrences and call it a day).
The Lead
For the role of Jerica Benton, the regular young woman who is able to adopt the glamorous persona of pop star Jem through the magic of her sentient supercomputer Synergy, you're looking for a few qualities: fresh-faced yet earnestly ambitious, and an ability to play meek and ferocious in equal measure. Also, she's going to handle the lion's share of the singing.
Possibilities: Five years ago, this might have been the place to take a chance that Rachel McAdams could sing, but that time is likely past. Anna Kendrick is the hot property when it comes to casting young female leads in musicals — the three next films due for her are stage musical adaptations Into the Woods  and The Last 5 Years, plus a Pitch Perfect sequel — but (and this is going to sound stupid) she's not blonde enough.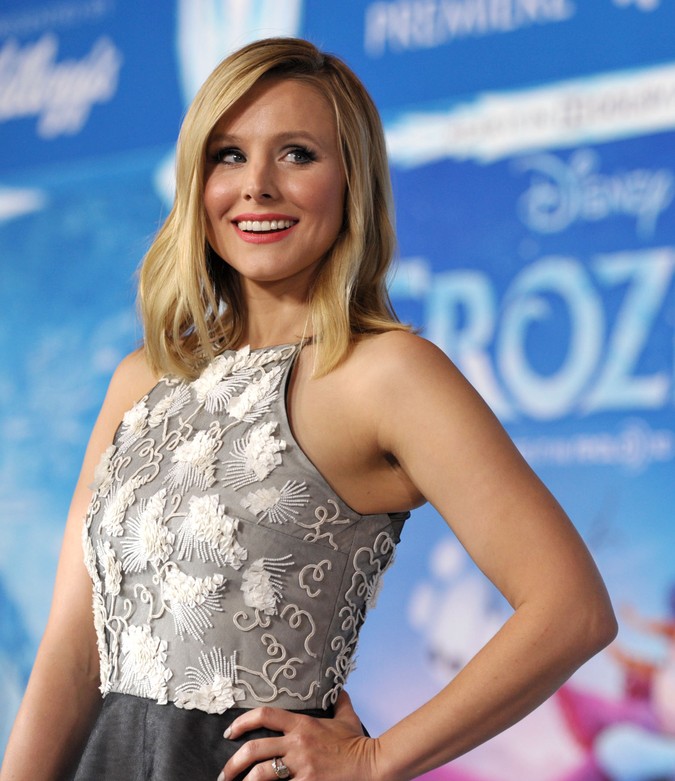 The Pick: This was a very difficult choice until about six months ago, when Kristen Bell came out guns blazing in Frozen and showed everybody she can sing. Have you seen this clip of Bell singing Frozen's "Do You Want to Build a Snowman" with all the voices? Girl's ready for prime-time with this singing thing. She's the perfect choice for this role, able to play both sides of the Jerica/Jem divide and enough of a star to hang your picture's financial hopes on without paying through the nose for her.
The Holograms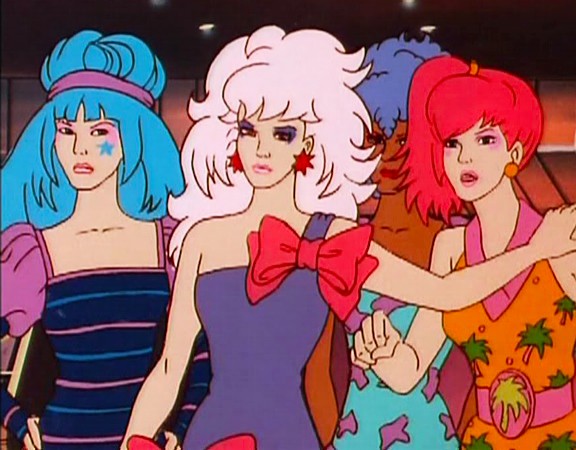 There are three other women who make up Jem's backing band: Kimber, who is Jerica's younger sister, as well as Aja and Shana. The latter two never really had much to do with the storylines, so you'll want to cast them in a way that they will pop from the sidelines, either through vocal talent or personality. Also, in the cartoon, Shana was black and Aja was Asian, which smacked of tokenism when you took their lack of story focus into account. Tokenism is annoying, but it'd be equally annoying to be like, "Nah, cast a couple more white girls," so we'd like to preserve the status quo at least. The most important Hologram is Kimber, since her status as jealous/ambitious/impulsive younger sister ended up driving a lot of story. Obviously, that relationship will be a big deal in the movie's plot. It's pretty much the secondary lead role.
The Possibilities: Kendrick's actually a better choice for Kimber than she is for Jem, so she goes on the list. As anyone who's seen Camp knows, the girl can play ambitious second-banana quite well. Also possible Kimbers: Ashley Tisdale, who should be considered for every musically-inclined film going forward; or Demi Lovato, who would bring a lot of baggage to the role, in a good way. As for Shana and Aja, you could throw all diversity imperatives out the window and look to the likes of Krysta Rodriguez (Smash), Annaleigh Ashford (Masters of Sex), or Lindsay Mendez (Broadway's Wicked).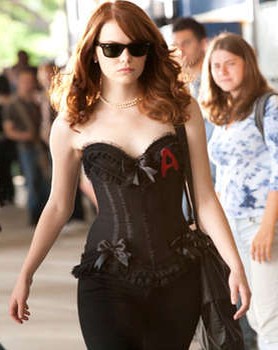 The Picks: Kimber's a redhead, and hair color matters more than you think it would when it comes to this show. The best redhead at our disposal is Emma Stone, who would do well playing a girl with a bit of ambition and less of the it-girl status that has come to characterize her more recent roles. Plus, questions of "can she keep up vocally?" might actually play into Kimber's underdog status. As for Shana and Aja, they need to shine from the sidelines, so cast Naturi Naughton, whose vocal talents were on display in the Fame remake and who could really belt out a bridge and make a statement, and Liza Lapira (Super Fun Night; Don't Trust the B-- in Apartment 23), who instantly becomes your secret comedy weapon.
The Misfits
Your major antagonists are a rock band called The Misfits. Three women: boss bitch Pizzazz, the equally ruthless second-banana Roxy, and the comparatively mild Stormer, who is forever the weak link in the Misfits' chain, always tempted to do the nice thing in defiance of her bandmates.
The Possibilities: Anybody we haven't picked yet. Ashley Tisdale is probably not as aggressive as Pizzazz would need to be, but Krysta Rodriguez would be a fantastic Roxy. This is also the prime position to do a little stunt casting, since Roxy especially doesn't really do much but sneer and sing. Pink could work here. Nicki Minaj could work here. Rihanna could work here (though would probably pull too much focus).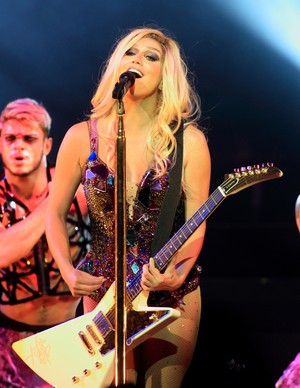 The Picks: It's a different style of singing than she's used to, but Emmy Rossum's time on Shameless has convinced us that she can do badass, and her performance in Beautiful Creatures has convinced us she can hold up to some crazy costumes/makeup and still make an impression, so she's our Pizzazz. As for the Roxy stunt-casting, there is simply no better choice than the recently de-dollar-signed Kesha. Stormer's the secret weapon here, as she will probably have to do a bit of real acting and draw out some audience sympathy. The much-beloved, little-watched Carrie Diaries has presented Katie Findlay as an actress able to play characters who are flawed but ultimately well-intentioned, and she's got a face that stands up to big hair (a surprisingly crucial attribute for this film).
The Boy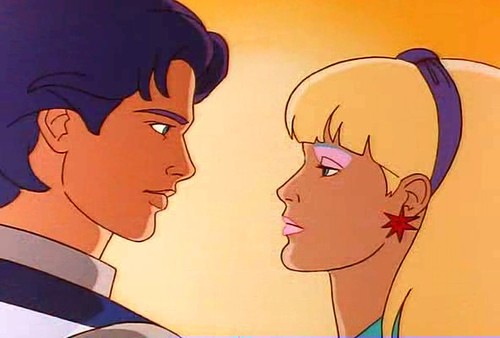 Jerica/Jem's major love interest is a bland fella with the soap-opera name of Rio. Rio's distinguishing characteristic is that he has purple hair and nobody else seems to think this is strange. He doesn't really sing, so you've got a bit of leeway there.
The Possibilities: This is your basic "round up all the hot young things" role, so seriously, have a blast. Channing Tatum would let you sell the movie on Channing Tatum, but he's at his best in roles that are way quirkier/funnier than this would allow him to be. Jared Leto has lost a good bit of his Jordan-Catalano dreaminess (and his Oscar win has probably upped his quote a bit). Jai Courtney is the new hot thing but can he play dreamy good-guy? Would we want him to? Liam Hemsworth is too boring. Aaron Taylor-Johnson works better as a semi-jerk.
The Pick: Matt Bomer might be a shade too old, but he's only three years older than Kristen Bell, and more importantly, as his role in Magic Mike proved to great effect, he's a walking Ken doll. Perfect for these purposes.
The Supercomputer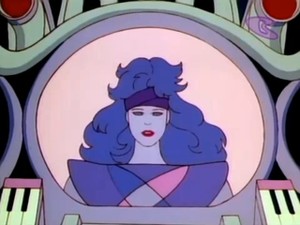 Synergy only appears on a computer screen, so here is your chance to go hog-wild with a high-profile cameo. There are literally no restrictions, so basically the tone of your movie should dictate.
The Possibilities: Playing things largely straight? A Charlize Theron or a perhaps a Viola Davis. Famke Janssen is probably exactly the type you want, but you can go bigger on star power. Julia Roberts? Put a pin in that one. Looking for an archly comedic tone? Helen Mirren would do nicely. Totally campy? RuPaul is probably available. If Kristen Bell is your Jerica/Jem, the wickedly talented Idina Menzel would be a nice wink to Frozen fans.
The Pick: Honestly? Beyonce. You know it has to be Beyonce. And if Bey is too busy recording a secret album, give Gwyneth a call.
This article is from the archive of our partner The Wire.