Why Meryl Davis Will Destroy This Year's 'Dancing with the Stars' Competition
Charlie White, we hardly knew thee.
This article is from the archive of our partner
.
Not satisfied with the taste of Olympic gold and two years of toying with her Canadian rivals, Meryl Davis has her eyes set on the Mirror Ball— the prize of the Hunger Games Dancing With the Stars competition. This of course means that the Capitol public will be treated to a Katniss Everdeen-like domination of all the other tributes celebrities. Charlie White, Meryl's non-sexual Olympic partner, will even be in the games, giving us a cute Katniss-Peeta parallel to play with. But make no mistake, it will be murder on the dance floor— an utter bloodbath because unlike Katniss Everdeen and her berries, Meryl does not play. 
Davis, White, and a whole crew of "celebrities" like Drew Carey, Danica McKellar (Winnie Cooper from The Wonder Years), and Candace Cameron Bure (DJ Tanner from Full House) will be competing this year. They're fine. Like a Real World  reunion, it's nice to see all these celebrities who have been out of the public eye sporting new haircuts, possible weight loss, and full sets of teeth. But let's be clear, they're just foxtrot fodder. Here's why Meryl will win this competition: 
Kristi Yamaguchi's Track Record
Not everyone is on equal footing when it comes to Dancing. If you look at the past few seasons, the top dancers tend to be people with a music background (Mel B./Nicole Scherzinger), people that are familiar with choreography (Amber Riley), and athletes (Jason Taylor). Combine those three things, and you pretty much have a figure skater. Kristi Yamaguchi won the sixth season of Dancing, and fellow skater Evan Lysacek got to the finals in the tenth season. Meryl is, of course, better than Evan. This is good news if you're betting on Meryl.
Meryl Is Not Here to Make Friends
One of the more foolish things said during the Sochi Olympics came from the mouth of Canadian ice dancer Tessa Virtue. "They're the only two who know what we've gone through. That friendship and that respect has continued, particularly with Charlie," Virtue said following the Olympic competition.
That's a subtle (but about as flagrant as you can get in ice-dancing) jab that Meryl isn't as friendly as Charlie. Virtue forgot that they were in a twice-in-a-lifetime (if you're lucky) competition and not a sleepover. Kids, this is why Tessa got the silver and Canadians get swindled.
Tessa, look who has the gold.
Meryl Will Show No Pity to Charlie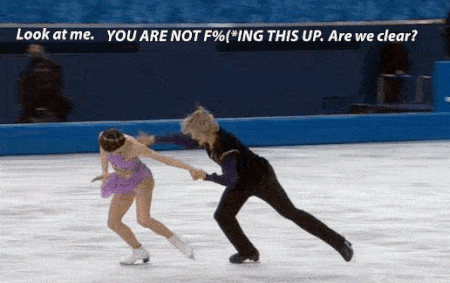 Charlie White, as Virtue mentioned, is a friendly guy. And some people even think he's dating Meryl. That isn't true. He's actually dating fellow ice-dancer Tanith Belbin. Belbin was, at one time, one of Meryl's most formidable domestic rivals. Don't think Meryl has forgotten this.
Meryl's Partner
Maksim Chmerkovskiy has a reputation for being an intense partner. If there's anyone on the planet who will out-intense Chmerkovskiy (who is still hungry for a Mirror Ball win), it will be Davis. Davis was the motor that made her partnership with White go. Meryl's willpower and determination alone could get her silver, no matter what partner she chooses. 
"May the odds be ever in your favor," Effie Trinket tells her tributes in the Hunger Games. This, of course, is what you also tell those dancing losers who are about to get destroyed by Meryl Davis.
Dancing With The Stars will premiere on Monday, March 17.
This article is from the archive of our partner The Wire.