The Rise of Expensive Big Data Is Bad News for College Basketball's Cinderellas
The rise of hugely expensive advanced statistics video programs is threatening to make the gap between the haves and have-nots of college basketball even bigger.
This article is from the archive of our partner
.
During college basketball's March Madness, nothing's better than a Cinderella, an out-of-nowhere team rising up to knock over the big name squads. But the rise of hugely-expensive advanced statistics is threatening to make the gap between the haves and have-nots even bigger.
College basketball's money-backed teams are flocking to purchase SportVU, a video system that tracks every movement of the players and the ball on the court, The New York Times reports. SportVU relies on cameras positioned across the ceiling of an arena, and spits out a huge amount of data, tracking every player, ball, dribble, and shot every 1/30th of a second. That mass of information, combined with some smart analysis, can be used to figure out the best players, lineups, or strategies that might otherwise have gone underused.
Understanding of that SportVU data is still in its infancy, but there is a huge room to get an edge on the opposition. The cameras were installed in all NBA arenas last year, but are only just reaching college teams.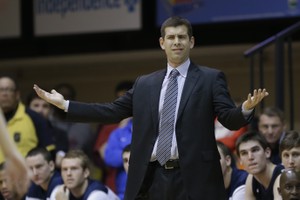 All that for a tidy sum of $100,000. Though The Times notes that the cost will be lower for universities, only Duke and Louisville, two of the most profitable programs in the country, have installed the systems so far. (Marquette uses the system, too, because it plays in the same arena as the NBA's Milwaukee Bucks.)
That price is proving to be prohibitive for smaller schools with less financial support. While a team like Butler used some advanced stats during its national title game run in 2010, big-name schools with SportVU will have plenty more data to work with. That will give those with more money an even bigger advantage then they already had. "It will separate the haves and the have-nots a bit more," Michigan State Coach Tom Izzo told The Times. That's good news if you're a Duke fan (boo!), but a bit concerning for fans of a small school like Mercer, for example. A growing divide portends bad news for fans of any Cinderella team.
In addition, should ESPN become an investor in the technology, that data would likely be used more for high-interest teams that appear most often in ESPN's highlights, Deadspin points out. "Which conferences do you think will be first in line for ESPN or FOX network deals, and subsidized data analysis?" Deadspin asks. Not Mercer and the Atlantic Sun Conference, for sure.
In the past, smaller schools have been a breeding ground for testing novel strategies, like at Butler, VCU's "Havoc" defense, or UNLV's high-octane "Runnin Rebels" teams. Giving the best schools more information might shift that trend. Brand name universities with the most money can employ the smartest people and use SportVU to get the best possible lineups, techniques, and plays. That's probably great for your favorite big-name team. But it makes the uphill climb of Butlers of the world a little more steep.
This article is from the archive of our partner The Wire.