'RuPaul's Drag Race' Power Rankings: The Snatch Game Edition
This week on RuPaul's Drag Race, were were treated to an annual tradition: The Snatch Game.
This article is from the archive of our partner
.
This week on RuPaul's Drag Race, were were treated to an annual tradition: The Snatch Game. The game test a queen's ability to ad lib, their pop culture savvy, and how well they can impersonate a celebrity. It separates the drag chaff from the wheat, the good from the bad, the Laganja Estranja from the talented.
In the end, Ben De La Creme rode his adorkable Maggie Smith impression to a first-place finish. Gia Gunn and Ms. Estranja sunk to the bottom two, with Estranja barely eeking out a victory thanks to a couple of death drops. Here's how we saw things this week:
The Tops
Adore Delano: There's a messiness — not to mention a youthful obnoxiousness — to Adore that makes it hard to love her. Or, rather, hard to admit you love her, lest you incur the incredulity and scorn of your friends. But honestly, forget that. Why waste time equivocating with Adore after that uncanny Anna Nicole Smith in Snatch Game? Adore managed to do more than just nail Anna Nicole, though. While her runway look still pinged Michelle's radar as messy (the wig was a problem, for sure, although if this week's runway task revealed anything, it was the wide gulf between the quality of wigs that Ru wears/can afford and the ratty abominations most of these queens come with), that cinched waist, courtesy of an assist from Bianca, pulled her look together, quite literally. And Adore continues to nail it in the backstage segments. Her assessment of Gia Gunn's misbegotten Selena impersonation ("What's she gonna do? 'Oh, I love pizza, I got shot by Yolanda'?") was hilarious, and she shut Laganja's bullshit down immediately on Untucked. Team Adore, honestly.
Ben De La Creme: De La is on a roll — she's been in the the top for the last couple of weeks. And Ben got the "touching story" spotlight on the show this week. He talked about growing up gay, a little weird, overweight, and having (then losing) a mom who was his biggest cheerleader. It might have been one of the saddest and most touching moments in Drag Race history. 
Bianca Del Rio: Is it naive to think Bianca honestly didn't realize RuPaul was a Judge Judy superfan? Nothing Bianca has done this season suggests that she'd bother being anything but honest, but however it came about, the impersonation was inspired. The secret key to Snatch Game is a three-ingredient formula: be accurate, be funny, and be someone who RuPaul has personal affection for. Year after year, the queens who do best at Snatch Game invariably go into the challenge dressed as Ru-bait. Pandora Boxx's Carol Channing; Jinkx Monsoon's Little Edie; Sharon Needles' Michelle Visage. Both Adore and Bianca picked impersonations that dropped right into Mama Ru's wheelhouse. Also, points to Bianca for choosing to help out Adore with that cincher. There's a tough-love aspect to Bianca's bitchiness, and those brief moments where she lets you know she's not some reality-TV not-here-to-make-friends monster make her act all the more potent. 
Joslyn Fox:  Who saw this coming? From the beginning, Joslyn was an airheaded little sprite with an annoying voice, no fashion sense, and essentially zero chance at winning the competition. Now ... well, she still doesn't have a chance at winning the competition, but damned if she hasn't proved herself to be a quick wit and a charming presence in the workroom. Her Teresa Giudice wasn't quite uncanny, but Joslyn made some smart choices. She pulled that surname bit out of a tailspin with a good punchline delivery, "prostitution whorses" was legitimately clever, and the "cumin" bit was smartly observed. And all that was before she served Courtney her lunch in an interview where she laid down a Fran Drescher impersonation to shame all of Melbourne. 
The Verses
Courtney Act: Courtney's most entertaining contribution this week was turning in a mediocre Fran Drescher and setting the table for Joslyn Fox.
Darienne Lake: How are you gonna do Paula Deen and not make any reference to old-timey antebellum weddings? Too many Snatch Game performances have been characterized by missed opportunities, and while Darienne's Paula was far from a flop, it could have been so much more. Of note, also: Darienne's getting a good bit saltier in her interview segments. Eye of the tiger, or beginning a slide into bitter Delta Work territory? Stay tuned!
Trinity K. Bonet: Trinity was another one who flew under the radar this week. She picked Nicki Minaj (a great choice) for Snatch Game, but her impersonation mostly consisted of Trinity changing her wigs up ... which is kinda funny at first, but ultimately one-note. During Untucked, we got to see more of the guarded Trinity as she opened up about being HIV-positive. Like Ben's mom moment, this gave us more insight and empathy toward Trinity who has, maybe unfairly, been edited as a bit icy. Trinity is someone that you're rooting for, let's just hope she gives us something root for next week.
The Bottoms
Laganja Estranja: This queen is hot garbage. When she isn't complaining about people coming after her, her sentences are a Mad Libs-like pastiche of catchphrases like "mhmmm okay", "trust and believe", "mama", and "grrrl." Here she is in action, talking big game about smoking plants: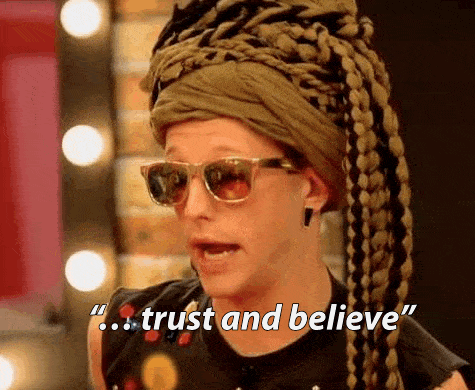 And this is her some 40 minutes later, being read by the judges and completely devoid of all that trust and belief:
Milk: So very torn on Milk, which I guess puts us right in line with the judges. The truth of the matter is, Milk is being the kind of drag queen that Milk is, which is a decidedly androgynous, high-concept, non-glamour queen. Michelle Visage articulated the judges' struggle with that well, as half of her thought the runway look as boy-Ru was inspired, but there's still a part of her that bristles at Milk's refusal to compete on the other girls' level. Milk's confession that she's not eager to put herself on the line in drag without some ironic distance is commendable honestly, but it's real easy to counter that by asking why the other girls shouldn't be given even more credit for taking those risks every week. 
Gia Gunn: G-G-G-Gia. Gia is a funny queen. But the problem is that you're laughing at her instead of with her. Take, for example, her choice to be Selena during the Snatch Game and coming to the realization that Selena is not a comedic character. That's funny, but poor Gia is not in on the joke. Neither was her set of false eyelashes:
Goodnight sweet Gia:
This article is from the archive of our partner The Wire.