Our Official, Non-Negotiable 'RuPaul's Drag Race' Power Rankings
Who were the best, worst, and just-good-enough queens of the week? It wasn't close. Here are our picks ...
This article is from the archive of our partner
.
Now that all the season six queens have been introduced and competed in their little groups, it's time for the full squad to combine, size each other up, and then jump into this week's challenges, both of which relied on teamwork. The mini challenge was a silly little beach-blanket performance in which one queen played the top half, while the other played the bottom. Giggle it up, girls. After the team of Adore Delano and Milk's decidedly untucked package emerged victorious, each was made team captain for the Scream Queens challenge. At which point, they picked exclusively queens who were in their initial divided group for their respective teams.
The result was not close. Team Milk obliterated a poorly-prepared Team Adore, and along the way, it was the performances of disembodied heads that determined the week's winner (Darienne Lake) and loser (Vivacious). But who were the best, worst, and just-good-enough queens of the week?
Full disclosure:  I (Alex) had Thanksgiving with Bianca Del Rio twice. I was nervous that she would make fun of me and spent the entire meal fearing it might happen. I consider her a friend. Bless her heart. 
The Tops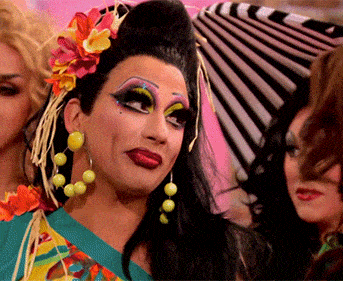 Ben De La Creme: DeLa, as it seems she's being called, had the unfortunate luck to be stuck with the Bad News Bears of the scream-queens challenge, a.k.a. Adore's team. Of course, it was probably a whole lot easier to stand out as a talent when on set with slack-jawed doofs like Adore and Gia Gunn. Still, the judges took the time to single her out, so that bodes well. She's easy to like, our DeLa, and she manages to blend performative instincts with fun, thought-out looks quite well. Still, Darienne Lake's observation (on Untucked) that she may run into trouble if she doesn't let some of her own personality shine through that perky artiface rings true.
Bianca Del Rio:  Bianca has become the LeBron James of Drag Race, and is operating on a completely different level than most of the queens left in the competition. It wouldn't be that far out of reality to see a future episode showing Bianca finishing sewing up her costume with enough time to sew clown outfits for the other queens, burp babies, and find that missing Malaysian plane. Like LeBron, she does have her haters. But really, do you trust the judgment of Gia "faulty eye-lash" Gunn or Adore Delano?
Darienne Lake: Nice job winning the challenge despite only being able to use one's head. (Of course, face was Darienne's best attribute last week, even when her outfit was flailing, so we shouldn't be surprised.) She was much more on her game runway-wise this week, with a flowy, shimmery Lady of the Lake-type number. The big girls on this show tend to get caught in traps where their personalities are asked to overcompensate for their wardrobe limitations. This week, Darienne nailed both.
The Verses (could go either way)
Milk: Milk is our weird queen this season. The conceit here is that he's a really good-looking boy out of drag. She picked the winning team this week, which basically meant avoiding anyone named Adore or Vivacious.
Courtney Act: Props to Courtney for showing some design inspiration, with her patriotic Australian explosion, rather than just relying on body. Gotta stay ahead of Michelle Visage at all times!
Joslyn Fox: Joslyn is sweet and ditzy. She'd be the perfect contestant on the Puppy Bowl.
Laganja Estranja: Probably good for Laganja that she didn't get very much screen time this week. A little of that girl goes a long way.
Gia Gunn: Gia isn't the sharpest tool in the shed. But she is determined. That counts for something.
Trinity K. Bonet: Trinity's tough to get a bead on. Her levels of self-awareness and theatrical bitchiness ebb and flow, making her a frustrating sparring partner for the always-on Bianca Del Rio.
The Bottoms
Adore Delano: Adore is becoming the Shangela of the season, meaning she's messy and not that polished, but Ru seems to have a soft spot for her. Shangela was good at comedy. Adore is allegedly good at singing. Look for her to stick around for the singing challenge and quickly booted thereafter.
April Carrion: In our opinion, April should probably have been spared a lip synch for her life in favor of Adore. That umbrella during the runway presentation was far more creative a statement than Adore's Myrtle Snow fright wig. Still, she didn't let bottom-two placement faze her, delivering a very Selena Gomez rendition of a Selena Gomez song. Vivacious came to play during that lip synch, so it's not like April won by default. She's still probably not long for this show, but that was a moment to hang her hat on.
Vivacious: Vivacious did not have her game face on and just didn't seem up to speed with the competition. She represented that club-kid vibe but didn't adapt to the challenges very well. (Big mistake ditching Ornacia.) She just didn't seem like a good fit for Drag Race. I will give her props for knowing and lipsynching that Selena Gomez deep cut, though how is she going to explain that to the rest of the club kids?
This article is from the archive of our partner The Wire.