This article is from the archive of our partner
.
The Philadelphia Eagles have cut Pro Bowl wide receiver DeSean Jackson, only minutes after the publication of a newspaper report that linked Jackson to alleged Los Angeles gang members, some of whom have been involved in murder investigations.
The decision to cut Jackson wasn't completely unexpected, among football watchers, as the Eagles have been trying to trade the 27-year-old star since last week. However, the timing of the roster move and the NJ.com story by authors Eliot Shorr-Parks and A.J. Perez has surely raised eyebrows.
According to the report, the Eagles have become concerned by Jackson's friendships with some reputed members of the L.A.'s Crips gang. In 2010, an associate of Jackson's who worked for his "Jaccpot" rap label was arrested for a gang-related murder. To be clear, Jackson wasn't a suspect or witness to the crime and was not at all involved in the investigation, though police confirmed they did speak with him over the phone. And the associate was later acquitted of the murder charge. However, the friendship appeared to be cause for concern in the Eagles' front office.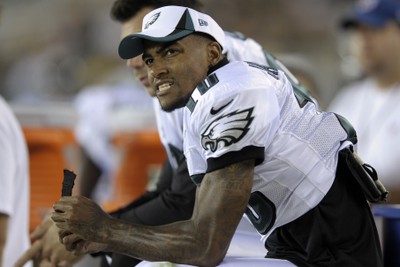 In 2012, another gang-related murder occurred near an L.A. building that a member of Jackson's family owned or leased, LAPD detective Eric Crosson told NJ.com. A search of the place turned up some of Jackson's old receipts and gun permits. He was never considered a suspect in that case, either. 
Crosson does note, though, that Jackson has been seen in several photos with one of the murder suspects and flashes Crips gang signs in photos and in games. His "Jaccpot" rap label, Crosson argues, is spelled with two Cs on purpose to denote his Crips affiliation.
That's the extent of the case against Jackson, essentially, and he was never accused of any criminal wrongdoing. However, those associations appear to be just the last of several other actions that have made the Eagles sour on their superstar receiver. "Rather, sources close to Jackson and within the Eagles' organization say, it's Jackson's off-field behavior that concerns the front office," NJ.com writes. "A bad attitude, an inconsistent work ethic, missed meetings and a lack of chemistry with head coach Chip Kelly are the reasons, sources told NJ.com." Without blaming his friends, the Eagles reportedly found they have been a bad influence in his life.
Jackson quickly issued a statement flatly denying any gang allegiance. "I would like to make it very clear that I am not and never have been part of any gang," Jackson said in a statement. "I am not a gang member and to speculate and assume that I am involved in such activity off the field is reckless and irresponsible." Jackson, a speedy receiver who notched over 1,300 yards for the Eagles last year, is likely to be in-demand now that he is a free agent.
That is, unless other teams are also scared off by the report. Since the arrest last year of Aaron Hernandez the former New England Patriots tight end who is awaiting trial for murder, NFL teams are noticeably skittish about their players' off-the-field activities.
Last week, the Eagles released quarterback Michael Vick, who they had previously signed after he spent two years in prison for his role in leading a dogfighting ring. Vick quickly signed on with the New York Jets, suggesting that most teams aren't concerned about his legal troubles resurfacing. With Jackson, however, there may be concerns that his friendly "associations" are future troubles waiting to happen.
While the timing of the NJ.com story and Jackson's release is curious, it seems clear that the Eagles have already decided that Jackson would not be around next season. ESPN's Adam Schefter notes that they were clearly preparing for this for a while.
Notice how Eagles re-signed Jeremy Maclin and Riley Cooper Before free agency, then traded for weapon Darren Sproles. Knew this was coming.

— Adam Schefter (@AdamSchefter) March 28, 2014
Jackson is now a free agent and can sign with any team.
This article is from the archive of our partner The Wire.