A Definitive List of Rob Ford Tackles, Ranked
Today in Rob Ford, Toronto Mayor Rob Ford violently tackled a journalist on his way into City Hall
This article is from the archive of our partner
.
Today in Rob Ford, Toronto Mayor Rob Ford violently tackled a journalist on his way into City Hall. But we at the Wire know that this is neither Ford's first tackle, nor is it his best one. Here are the Rob Ford tackles of record, in order from least amazing to best.
Near miss: the Women's Hockey Victory Celebrant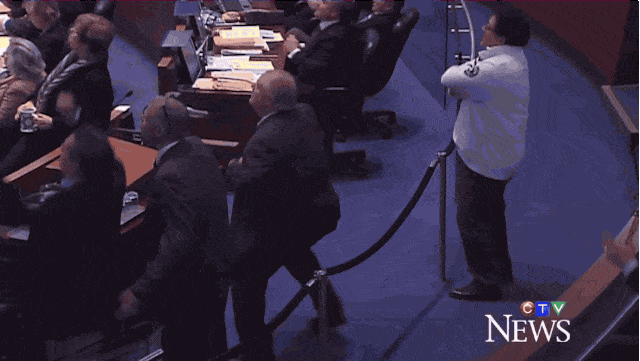 I could write a novel about the man standing just to the left of Ford at the moment of a Canadian women's hockey team Olympic win. First, he is denied a victory hug from the man in front of him, who instead joins the herd of whooping Toronto legislators. He looks around for someone, anyone, to hug instead. The only man in range: Mayor Rob Ford. Canada's national pride retreats from this one man's heart in the face of Ford's thunderous jumping and he freezes in place for a moment. Now a shell of a Canadian human being, the man half heartedly returns the high five of his intended co-celebrant.  While not strictly a tackle, Ford surely broke something in this man. 
Honorable Mention: The Man with the Camera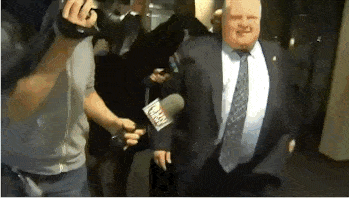 Ford's final gallops towards his office are the stuff of legends at City Hall. When he regularly arrives for work, usually between 12:30 p.m. and 1:30 p.m., The final trot to his office usually quickens in pace, and regularly doubles as a contact sport. It's rare that everyone escapes unscathed.
Sometimes, to avoid the violence, Ford just doesn't show up for work at all. Most recently, Ford took the Monday off after a video appeared of showing Ford loaded and trying to hail a cab in front of City Hall on Saturday night. 
Second Runner Up: Councilwoman Pam McConnell
This tackle is from the day Rob Ford lost most of his powers as Toronto mayor, so Ford was already having a bad day when he decided to literally take down Councilwoman Pam McConnell with him. The collision apparently left her with a fat lip.
First Runner Up: Ford's Best Journalist Tackle Yet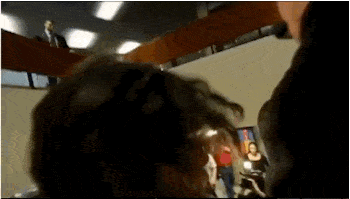 Today raised the stakes, though. In what was probably one of the more violent scrums in Toronto city hall history, Ford called on his experience as a high school football player to ram through a reporters like a running back breaking tackles. At one point, when sealing the edge just before heading for pay dirt — er, his office — Ford used a forearm shiver to evade the last would be tackler — er, cameraman — and take off down the field with three offensive linemen — er, security guards. Ford was avoiding reporters after new documents were released this morning that seems to pant a picture of Ford and his former driver, the accused extortionist drug dealer 'Sandro' Lisi, as part of a criminal conspiracy. Their actions, police say in the documents, are "indicative of drug trafficking." The investigation is still ongoing, and Ontario provincial police were recently brought on to handle oversight. You really should watch the full video of Ford's walk to City Hall today:
Champion: Rob Ford, the Only Person Who Can Take Down Rob Ford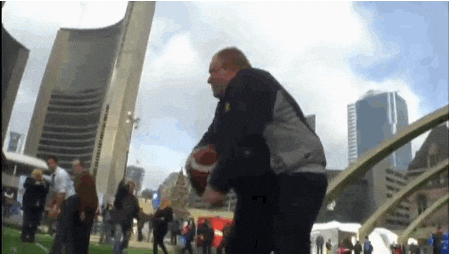 Of course, Rob Ford will probably never top the moment at which he managed to tackle himself. Toronto hosted and eventually won the Grey Cup, the Canadian Football League's version of the Super Bowl, two years ago and Ford could not make it through the weekend without some kind of blooper. In fact, this may have been his one shining moment, if we can borrow a seasonally-appropriate phase. Ford fumbling and bumbling on his ass, literally, is probably the best metaphor for his political career. It was a sign of things to come. 
This article is from the archive of our partner The Wire.